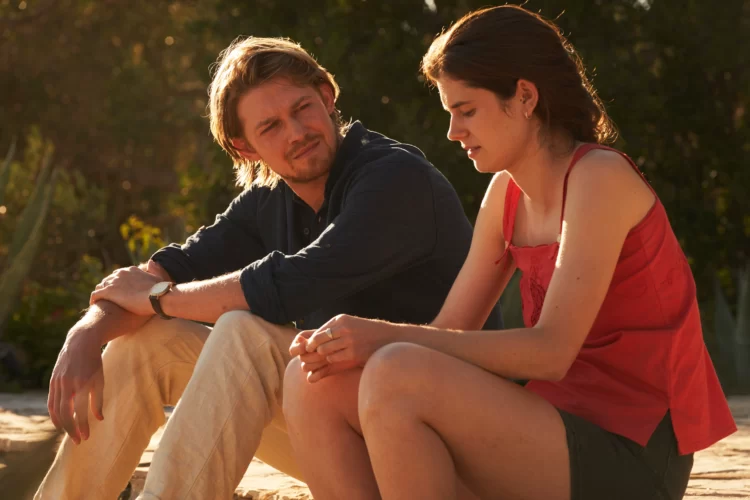 Conversations with Friends is an upcoming TV series coming to Hulu. It is based on the novel by Sally Rooney. Here's the plot of the show, according to Elle: "Conversations with Friends follows Frances, a 21 year old college student, as she navigates a series of relationships that force her to confront her own vulnerabilities for the first time. Frances is observant, cerebral and sharp. Her ex-girlfriend, now best friend, Bobbi is self-assured, outspoken and compelling. Though they broke up three years ago, Frances and Bobbi are virtually inseparable and perform spoken word poetry together in Dublin. It's at one of their shows that they meet Melissa, an older writer, who is fascinated by the pair. Bobbi and Frances start to spend time with Melissa and her husband, Nick, a handsome but reserved actor. While Melissa and Bobbi flirt with each other openly, Nick and Frances embark on an intense secret affair that is surprising to them both. Soon the affair begins to test the bond between Frances and Bobbi, forcing Frances to reconsider her sense of self, and the friendship she holds so dear." The show is helmed by Lenny Abrahamson, who received an Academy Award nomination for his work on the drama movie Room. If you are interested to know more about the cast members of the upcoming show, read ahead. Here are the cast members of the upcoming Hulu series Conversations with Friends.
Jemima Kirke
Jemima Kirke will be starring in Conversations with Friends as Melissa. The English-American actress and director is most popularly known for her role in the hit HBO series Girls, portraying Jessa Johansson. Girls was her TV debut, and she has since appeared on shows like Axe Cop, Maniac, High Maintenance, and Sex Education. She's also lent her voice to The Simpsons in 2015. On the big screen, she's worked on movies like Tiny Furniture, Ava's Possessions, The Little Hours, Untogether, All These Small Moments, and Sylvie's Love. In an interview with Byrdie, Kirk talked about how she takes care of herself when she's not working in front of the camera, saying: Ever since the pandemic started, I've kept a journal that I write in every single day. "Since I was a kid, I've always kept a journal but wrote in it much more sporadically than I do now. I'm building up quite a collection of journals. My hope is one day, my kids will read them when they're adults and get some clarity on whatever it is that they're upset at me for. Hopefully, it's when I'm dead or on my deathbed because they won't want to be around me after reading some of that stuff. Another way I try to take care of myself is by going to sleep early if I can tear myself away from my phone. The phone is attractive because it's a tool for organizing your life and connecting with people, but it's making things endless because of how accessible we are on it. I'm accessible to anyone's question, and everyone is accessible to my question, so we have no excuse for not completing something right away, which makes me anxious sometimes."
Joe Alwyn
Joe Alwyn will be playing Nick in the upcoming streaming series Conversations with Friends. The actor has appeared in movies like Mary Queen of Scots, Harriet, The Souvenir Part II, The Last Letter From Your Lover, and Boy Erased. He is set to appear on two upcoming movies: The Stars at Noon and Catherine, Called Birdy. Alwyn hasn't been too active on TV. Conversations with Friends will be Alwyn's second TV work after the miniseries A Christmas Carol, which aired in 2019. According to Elle, featuring his work on Conversations with Friends, "It took just five days after sending in his audition tapes for Alwyn to learn he'd landed the role."
Sasha Lane
Sasha Lane will play Bobbi in the upcoming series Conversations with Friends. Her TV debut was in 2020's Amazing Stories. Since then, she's appeared in Utopia and Loki. Alongside Conversations with Friends, Lane will also be starring in The Crowded Room, an upcoming Apple TV+ drama. On film, she's appeared in American Honey (her film debut), Born in the Maelstorm, The Miseducation of Cameron Post, Hearts Beat Loud, Shrimp, After Everything, Daniel Isn't Real, Hellboy, and most recently, If I Can't Have Love, I Want Power. In an interview with The Face, Lane talked about how she feels a deep connection to the character she plays is essential: "I want to feel like I can see myself in [the character], or that it's something that I believe in," says Lane. "It's funny because I feel like [my roles] find me where I am at that moment in time, which is kind of beautiful. I very much felt myself in Star four or five years ago, and I'm happy to say I feel like I've evolved out of that for the better – it's very much changed how I interact with people. I'm very thankful that those are the [roles] that find me, or that I can make the choice to be a part of."
Alison Oliver
Alison Oliver will be playing Frances in the upcoming series Conversations with Friends. The actress is also set to appear in Best Interests.
Tadhg Murphy
Tadhg Murphy plays Derek in Conversations with Friends. Prior to this brand-new show, Murphy worked on shows like Boy Eats Girl, The Northman, and Wrath of Man. Murphy is blind in one eye. For the movie Boy Eats Girls, Murphy received an IFTA nomination. In an interview with IFTN, Murphy talked about whether he has plans to return to film, saying: "I do, definitely. I think it's started for me in the last two years that I've done more and more film and TV so I'd like to stay in that medium for a while as I'm really enjoying it. Having said that, I love theatre. The ideal thing for me is to do a play, a show and a movie all in a year but I guess that's everyone's ideal!"
Emmanuel Okoye
Emmanuel Okoye plays Andrew in Conversations with Friends. He's worked on Strangers on a Bench and Aisha.
Other cast members
Other cast members expected to appear in Conversations with Friends include Abril Keinrath, Sarah Jane Seymour, Charlie Maher, Anthony Kinahan, Nikhil Dubey, and Christopher Livingstone.
Tell us what's wrong with this post? How could we improve it? :)
Let us improve this post!