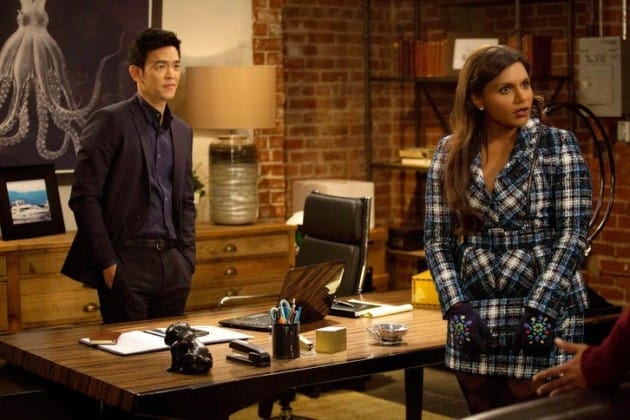 Don't get me wrong, I love the Castellanos.  Danny's Ma was only just introduced this season, but it feels like she's been around forever.  However, last night's episode of  The Mindy Project actually paid some attention to Mindy's family.  Her little brother Rishi visited her in New York before, but we find out what he's been up to since, and it's not the most ideal situation.
Apparently Rishi has been living in San Francisco, and Mindy has yet to see him in all her time spent at Stanford.  The stars align when she discovers she's being rejected for a business loan because of a bad credit score, all thanks to the apartment she co-signed for Rishi.  The eviction notices covering his door are only the first sign of trouble, when later Mindy and Rob witness Rishi's job as a drug dealer.  Being the protective sister Mindy is, she demands he quits this "job" and come work for her in her new practice.  The Big Murder character was revealed to be played by none other than John Cho!  When it was first announced that Cho would be guest starring on The Mindy Project, I secretly hoped it was possible to have his Henry character from Selfie crossover.  That wasn't the case here, but his negotiations to keep Rishi on his payroll were hilarious.
At this point, Mindy was still going ahead with plans to move to San Francisco, but by the end that all changed.  Danny had already decided he had to do anything to be with her, even settling for moving to San Fran and flying out to take his Ma to church every Sunday.  The best storyline of the episode was the huge misunderstanding that Danny's big news for the Shulman & Associates office was that he was dying.  In Morgan's defense, it is weird to be speaking with your lawyer about changing your will with your office door wide open.
Morgan gossiped with everyone else in the office, which only made Jeremy and Danny's conversation about the future of the practice and where Danny was moving on to that much more funny.  Once Danny realized that they all thought he was terminal, he had no other choice but to spill the beans about the baby.  Their reactions were so perfect, especially Morgan kissing Danny on the lips out of pure excitement!  He even threw out a name suggestion right on the spot: Morgan Grandmother Castellano.  Haha!
It's a good thing Mindy needed Cliff's advice earlier, which he promptly refused and hung up on her.  His appearance felt a little confusing but it all makes sense in hindsight.  For whatever reason, he's vacating his office in their building.  Coincidentally, Mindy just decided she wants to start her own practice but not so far from New York.  Here's to hoping she invites Rob and Rishi to move cross country to work with her.  I'm curious to see if she goes ahead with the fertility clinic idea because otherwise, she would be in direct competition with her friends and boyfriend/baby daddy.
So far so good with this surprise pregnancy.  Now I'm patiently waiting for the time to come to finally meet Mindy's parents!  She and Rishi threaten to tattle on each other, but neither go through with it.  Mindy squashed Danny's "quickie shame wedding" idea instantly, so when the time comes for a real proposal, hopefully we meet Mr. and Mrs. Lahiri then.  If that'll occur before or after the baby is born is yet to be seen, but I have no doubt the wait will be worth it!
Notable quotables:
– "Alright, fine. My credit's bad.  Do you accept street cred?" – Mindy
– "They call me Big Murder because I killed it in business school." – Greg (John Cho) shattering our expectations of a drug kingpin.
– "My counter offer is if you continue to be a drug dealer, I will kill you." – Mindy "negotiating" with Rishi.

What did you think of "Lahiri Family Values"?  Do you want to see more of Rishi and/or Rob Gurgler?  
[Photo via FOX]