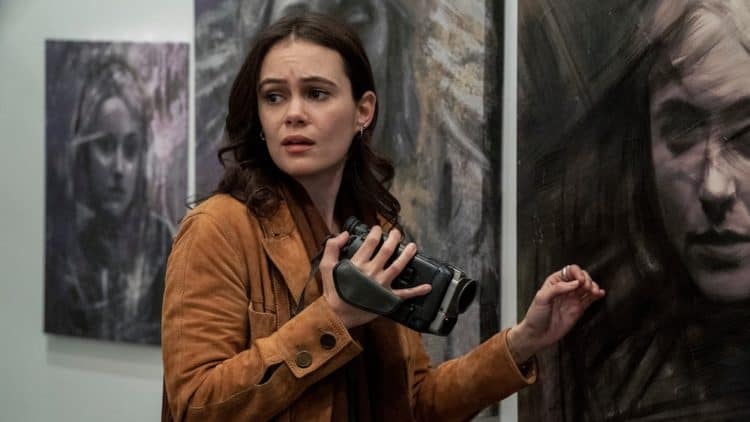 Netflix has been on a roll with the original content lately, and the new series Archive 81 has added to the momentum. The series centers around an archivist named Dan (Mamoudou Athie) who is hired by a mysterious businessman to restore a collection of old videotapes that have been damaged in a fire. Along the way, however, he realizes that the tapes hold a sinister secret that open the door to a world of darkness. Not only is the storyline captivating and suspenseful, but Archive 81 has an awesome case that does a great job of bringing the story to life. While you may already be familiar with some of the show's stars, others are just getting their feet wet. Keep reading to learn more about the cast of Archive 81.
Mamoudou Athie
Born in Africa but raised in the United States, Mamoudou Athie is a formally trained actor who earned an MFA from the Yale University School of Drama. He made his on-screen debut in 2015 and it didn't take long for his career to start gaining traction. He got his first big break in 2017 when he was cast in the Netflix series The Get Down, and he has been landing great opportunities ever since. Unfortunately, Mamoudou is a private person who isn't active on social media, so there isn't much information about his personal life.
Dina Shihabi
Dina Shihabi was born in Saudi Arabia but raised primarily in Dubai. Dance was her first love, but she eventually began to gravitate towards acting. She moved to the United States when she was 18 years old with hopes of pursuing a career in the entertainment industry. Dina got her first on-screen role in 2010. Although she has been part of several successful productions, her role in Archive 81 is her biggest to date. She is currently working on a mini-series called Painkiller which is set to be released in 2022.
Evan Jonigkeit
Evan Jonigkeit began his acting career on the stage and he has found great success in the theater world. He has been in two Broadway productions and the stage will always have a special place in his heart. In recent years, though, he has been focusing on on-screen opportunities and he has proven that he also has what it takes to light up the screen. While it's clear that acting has been his top priority, Evan also has experience as a writer, director, and producer. On a personal note, he has been married to actress Zosia Mamet since 2016. Zosia is best-known for her role in the HBO series Girls.
Julia Chan
Julia Chan has been acting professionally for more than a decade. She has also been credited under the name Julia Taylor Ross. Julia was born in England, but she also has Chinese ancestry on her father's side. We weren't able to find any information on how she got into acting, but we do know that she has received lots of training. In addition to earning a bachelor's degree from Harvard, she also has an MFA from The New School in New York City. Prior to Archive 81, some of her best-known credits include Saving Hope and Katy Keene. When Julia isn't working, she loves spending time with her young son.
Ariana Neal
Ariana Neal is the youngest cast member in Archive 81, but she still managed to hold her own. The talented teen has already gotten a good amount of experience under her belt and she has gotten to work with some of the biggest names in the entertainment industry including Michael B. Jordan. That said, Archive 81 is Ariana's first TV role and there are lots of people looking forward to seeing what she does next.
Matt McGorry
Matt McGorry may not have the biggest role in Archive 81, but he is arguably the most well-known cast member. He is probably famous for his roles in shows like Orange Is The New Black and How to Get Away with Murder. Throughout his career, he has constantly shown that he can play any kind of character and his role in Archive 81 continued to prove that point. In addition to his career, Matt McGorry is also an activist who is passionate about several human rights causes.
Martin Donovan
Martin Donovan is easily the most experienced cast member in Archive 81. He has well over 100 acting credits and the list grows a little more each year. Martin has been in a mixture of movies and TV shows and he puts 100% into every project he's a part of. On top of the success he's had on the screen, Martin has also been a part of several theater productions. Martin's career isn't the only thing he has to be proud of, though. He is also a proud husband and father.
Tell us what's wrong with this post? How could we improve it? :)
Let us improve this post!