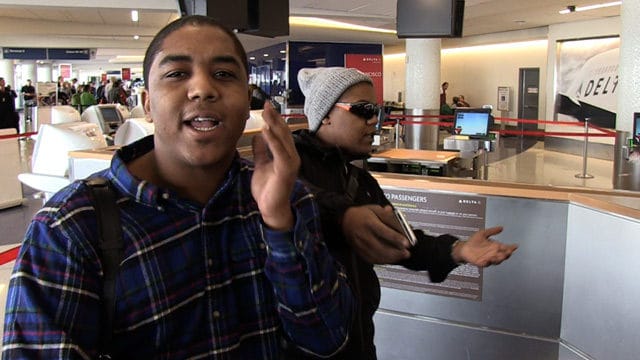 You may remember Chris Massey from his role as Michael Barret from the popular teen's show "Zoey 101."He was a favorite on the Nickelodeon TV series. Chris also appeared in the series "That's So Raven" in 2004, "Everybody Hates Chris" (2006), "Mary and Max" (2009) and other TV series appearances. He went on to develop his career in music as a songwriter and rapper. He has had some interesting developments recently. His life has been anything but calm. Here are five things that you may not know about Chris Massey.
1. He has a daughter
Chris has a two year old little girl. Her name is Mariah, and she lives with him. Massey and her mother Cassalei Jackson, have not been married and he retained custody of the little girl when the couple split. The mother gets child visitation sessions so they can both spend time with their child.
2. Chris filed charges against Shar Jackson
Shar Jackson is the mother of Massey's baby mama. Chris dropped his daughter off with Cassalei and Shar Jackson to spend a couple of weeks with them. When he picked the little one up to bring her home, he noticed that she had a razor type cut on her forehead. The cut was four inches long and he asked his daughter what had happened. She said that her grandma Shar had caused the cut. Massey wasted no time in seeking a restraining order against the grandmother and alleged possible child abuse. Jackson was not allowed to come within fifty feet of Mariah as a result of the court hearing.
3. He has a famous brother
Chris' brother Kyle Massey is also an actor. Kyle is known for his role as Jeremiah in the television series "Grandpa's Garage" in 2000. He has also appeared in multiple recurrent roles in various TV series and films. He has a total of 25 credits in his acting portfolio while his brother Chris has twelve.
4. Massey was arrested for domestic violence
Chris was in Las Vegas with the mother of is daughter, Cassalei Jackson. The incident occurred at the Marquee Club at Cosmo. According to law enforcement, Chris allegedly pushed Jackson to the ground while the two were arguing. Security at the club detained Massey until the police came and arrested him. He was booked for the charge of misdemeanor domestic violence. He was released on bail and explained to friends that they were arguing and she fell accidentally. Jackson did not press charges.
5. Massey was the victim of a violent attack
Lil Twist, a close friend of Justin Bieber was arrested for breaking into the home of Kyle Massey, where his brother Chris was living at the time. Massey was robbed of his Rolex watch and brutally beaten by Lil Twist. The case wet to court and Lil Twist pleaded no contest to six charges that were filed against him because of the incident. He faced the possibility of ten years in prison but he agreed to a plea deal that ended up in him receiving a one year sentence with the possibility of time off for good behavior.