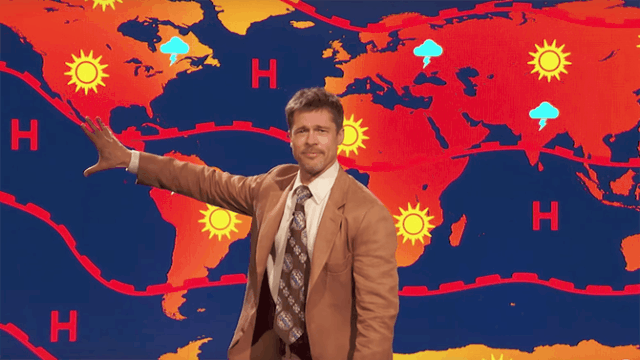 Brad Pitt made a surprise appearance on "The Jim Jefferies Show" this week to give a weather report in light of President Donald Trump's decision to back out of the Paris climate accord. According to Variety:
"To help us understand climate change and what it means for the world, here's our own Jim Jeffries show weather man," the show's host introduced the clip. "How's it looking out there, weather man?" The camera cut to Pitt, wearing a tan suit and a wide, brown patterned tie, who stood in front of an apocalyptic looking map of the world. "So things are going to be getting warmer in this area here," Pitt said, waving his hand across the Eastern Hemisphere, "and this area here," as he gestured to the West. "Do you have any future forecasts for us?" Jefferies asked. "There is no future," Pitt replied.
Looks like the Jim Jefferies show is definitely off to a solid star. I think the key to its success is going to be doing more stuff like this. If he can keep reeling in big names to do bit parts it'll be a great little segment that viewers can look forward to. Also, if Jefferies acts anything like he did when he appeared on Real Time with Bill Maher, he'll do just fine.
Check out Pitt's clip below: