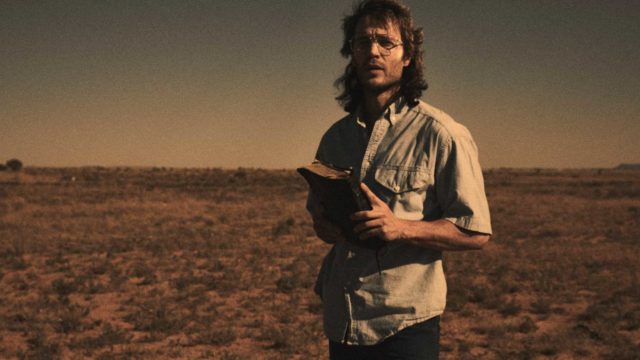 The Waco Seige in 1993 was a horrible time that a lot of Americans can still recall. Unfortunately it kind of looks like we might be headed in that direction again with the mass shootings and the general unrest in the country that continues to grow. Michael Shannon and Taylor Kitsch are going to be leading the way for this six part drama that will help to remind Americans of just what can happen when religious fanaticism is taken to such extremes that people start believing anything they're told and never question the one authority figure in their lives that tells them what to do.
Waco isn't quite that simplistic obviously, especially since the incident was steeped in controversy from its beginning. The entire siege was essentially began when the Branch Davidians under the control of David Koresh were suspected of owning illegal firearms. It was discovered that they were arming themselves in a very big way, and automatic gunfire had been heard on a few occasions coming from the compound where they all resided. It was an uneasy and troubling time before the siege, and ever since Waco has been counted as one of the more horrific and undeniably disturbing scenes of American history that many people want to forget.
Taylor Kitsch has taken up the role of David Koresh, whom some might call a madman even while others seek to defend him and claim that Koresh was somehow in the right. No doubt the show won't go into that portion of it, and will instead show perhaps that neither side was completely in the right, but that Koresh was a certified nightmare for the military and law enforcement individuals that came to root him and his people out of their compound.
Michael Shannon will be portraying Gary Noesner, the FBI Negotiator that had to speak to David Koresh and still keep things on his side of the fence at a reasonable level. Nothing was easy about Waco as both sides were firmly set in their way on how they wanted to do things. The standoff was very real and showed no signs of getting better until finally the armed forces decided to storm the compound, which ended up being a very costly mistake.
It's rumored that the armed forces assaulting the compound fired first, and that those inside were simply trying to keep them back and defend themselves. The entire mess escalated so quickly that many people didn't have a clue as to what was really going on. When the compound began to burn however it was rumored that the residents had been the one to start the blaze, though for what reason many people don't recall.
The fallout of the Waco siege was that the government was severely berated for the mishandling of resources and personnel and the cries of murder and manslaughter were heard from coast to coast. Many believed that the situation could have been handled much differently and without the loss of so many lives. When the armed forces and firefighters were able to enter the building they found only a handful of survivors, as the others had either committed suicide or been shot. This included Koresh and several children, a fact which only exacerbated the situation.
Waco was a terrible time in American history. And yet now it's considered to be a must see show.
https://www.youtube.com/watch?v=v7V3qXP8ylw&feature=youtu.be