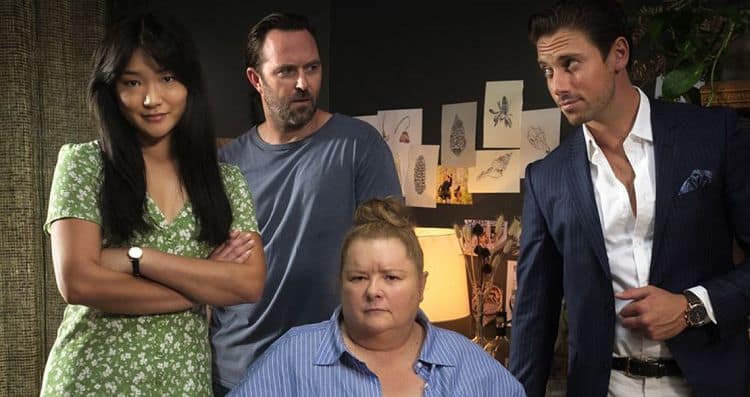 After the Verdict is an upcoming Australian drama TV series set to premiere on Nine Network this year. The show is created by Ellie Beaumont and Drew Proffitt, and written by Beaumont, Proffitt, and Romina Accurso. The show will be directed by Peter Salmon, Lisa Matthews, and Fadia Abboud. Here is a description of the plot of the series, according to an IMDb write-up: "Following a high profile murder trial, four everyday people try to piece together their lives again as they begin to question the case, the outcome and the day that changed their lives." Some of Australia's finest performers are set to star in this much-anticipated series. If you want to learn more about the actors scheduled to appear in this series, look no further. Here are the cast members of the upcoming Nine Network drama television series After The Verdict.
Lincoln Younes
Lincoln Younes will be starring in the upcoming Australian drama TV series After the Verdict. Younes is most notably known for playing Romeo Kovac in the Fox Showcase drama series Tangle, which earned him an ASTRA Award for Most Outstanding Performance by a Male Actor. He also portrayed Casey Braxton in the highly popular soap opera Home and Away. Since then, he's starred in TV shows such as Down Under and Grand Hotel. Prior to appearing in After the Verdict, Younes performed in the drama series Barons, playing the role of Buddy Fraser. Younes dated Australian actress Amy Ruffle from 2011 to 2016.
Sullivan Stapleton
Sullivan Stapleton will also be starring in the upcoming Nine Network series After the Verdict. He is best known for his roles in the television series The Secret Life of Us, Strike Back, Animal Kingdom, and 300: Rise of an Empire. Stapleton also starred in the crime drama Blindspot, which aired on NBC. In the show, he appeared as Kurt Weller for exactly 100 episodes, while in Strike Back, he portrayed Sgt. Damien Scott for a total of 42 episodes. In an interview with Collider, Stapleton expressed a desire to take on less action-oriented roles, a departure from characters he's usually known for. He said he had wanted to do a rom-com to change the scenery a bit: "I'm with you. I wanna sit behind a desk, or do a rom-com. I love the action. I love this stuff. And then, there are some days, when you get thrown a story arc where you have to hallucinate and cry and get angry. Acting is acting. It was fun to explore a different side of my craft, with these episodes, and with doing this show. There were days that I'd get to do stunts, and there'd be explosions or I'd be fighting five guys at once. What's next? I don't know. The way things are going with COVID, I'd just like to work, doing whatever. I'd be happy doing anything, even if it's behind the camera. I'm just waiting to see what the next stage is, the next chapter."
Magda Szubanski
Veteran Australian comedian Magda Szubanski will be starring in the upcoming series After the Verdict. A highly popular figure in Australia, she polled as the most recognized and well-liked Australian TV personality in 2003 and 2o03. Szubanski's more recent television work includes appearances in Neighbours, Chris & Julia's Sunday Night Takeaway, My Life is a Murder, and Weakest Link, in which she appeared as herself. On film, she's most notably known, especially among international fans, for her appearances in Babe and Babe: Pig in the City as Esme Cordelia Hoggett. Recently, she worked on movies such as Three Summers, The BBQ, Ride Like a Girl, and 100% Wolf.
Michelle Lim Davidson
Michelle Lim Davidson will be one of the actors set to appear in the much-anticipated Nine Network series After the Verdict. She portrayed Amy in two seasons of Utopia, the highly acclaimed TV series. Davidson is a daughter of South Korean parents. She grew up in Newcastle, Australia, and attended the Hunter School of Performing Arts. In an interview with Joy House Productions, Michelle Lim Davidson explained why she pursued a career in acting, saying: "I started dance lessons when I was five & had a keen interest in singing too. Even though I was up on stage dancing in competitions almost every weekend I was extremely shy. Acting started for me when parents sent me to drama lessons to 'bring me out of my shell'. It worked and I feel in love with acting. I never in a million years thought I would be an actress." She also described the challenges she experienced especially during the advent of her show business career: "I graduated from WAAPA in 2010. At my graduation showcase I had some industry professionals tell me 'As an asian girl you'll never work on television, it's not us it's the networks they just won't hire you' and 'You should learn karate if you want to have a career on film'. I was shocked, this may sound completely naive but during my time at drama school I was never aware that my ethnicity could possibly limit my future employment. Ironically I booked my first job on television and there was no karate required."
Tess Haubrich
Actress Tess Haubrich stars in the Nine Network series After the Verdict. A former teen fashion model, her career took her to places such as Hong Kong, France, and Germany. She appeared in The Wolverine, Infini, Alien: Covenant, and Bleeding Steel. Most recently, she appeared in Nekrotronic and the upcoming Spiderhead, which is currently in post-production. On TV, she played a lead character in Wolf Creek and Bad Mothers. On the TV show Treadstone, she portrayed a recurring character named Samantha.
Richard Brancatisano
Richard Brancatisano is also announced as a cast member in the upcoming Nine Network drama TV series After the Verdict. A frequent TV performer, he's had multiple lead roles in a couple of hit TV shows in Australia. He starred in The Elephant Princess in 2011, portraying the character of Caleb. He also starred in Underbelly: Razor as Guido Calletti. These were followed by main roles in shows like Reef Doctors and Chasing Life. Most recently, he appeared in two episodes of Harrow as Sgt. Gabriel Capello.
Virginia Gay
Actress Virginia Gay has been confirmed to be a part of the upcoming Nine Network series After the Verdict. She is best known for her work on the Australian TV dramas Winners & Losers (as Frances James), and All Saints (as Gabrielle Jaeger). Gay's more recent film work includes a role in Judy and Punch.
Other actors
Other performers expected to appear in After the Verdict include Nicholas Brown, Coco Jack Gillies, Vivienne Awos, Emma Diaz, Jim Punnett, Bernard Curry, Libby Tanner, and Hazzam Shammas.
Tell us what's wrong with this post? How could we improve it? :)
Let us improve this post!