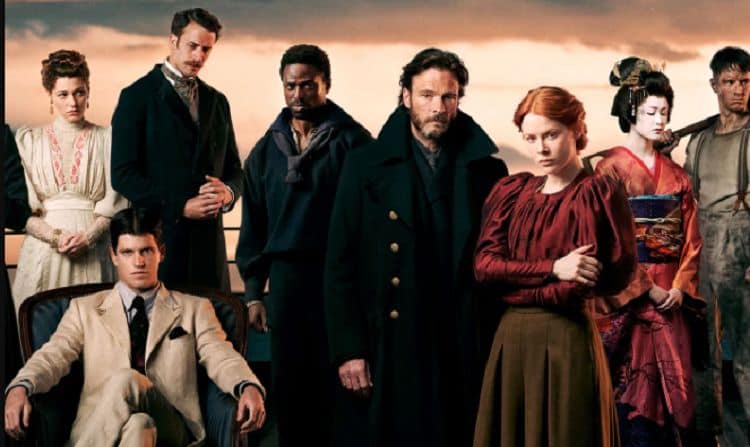 Netflix is going international with its announcement of a new German multilingual epic period mystery-horror TV series, which is set to drop on the streaming service sometime this year. Titled 1899, the show is created by Jantje Friese and Baran bo Odar. Friese is best known for co-creating the Netflix series Dark, a German science-fiction series that aired for three seasons. Baran bo Odar on the other hand worked on movies like Who Am I – No System Is Safe, Sleepless, Dark, and Tyll. The plot of the upcoming show is as follows: "The eight episodes tell of the mysterious events during the voyage of an emigrant ship from Europe to New York. The passengers from the most diverse backgrounds look forward to the dawning century with hope. They all dream of a better future abroad. When they discover a second ship on the open sea that has been missing for months, their journey takes an unexpected turn. What they find on board turns their crossing to the promised land into a nightmarish mystery. A web of secrets seems to tie the past of each passenger together." 1899 features some of the greatest performers in the international scene, all appearing in one much-anticipated TV show. If you want to learn more about the actors in this series, read ahead. Here are the cast members of the upcoming Netflix epic period mystery-horror TV series 1899.
Emily Beecham
Actress Emily Beecham is set to star in the upcoming series 1899. Most fans would recognize Beecham for her role in the Coen Brothers movie Hail, Ceasar!. She also appeared in the AMC series Into the Badlands. In the 2017 movie Daphne, Beecham played the titular character. Beecham is a Cannes Film Festival award winner, having snagged the Best Actress trophy for her starring role in Little Joe. She starred in the TV series The Village and, more recently, played a lead role in the romance drama TV series The Pursuit of Love. On film, she performed in recent blockbusters like Cruella and Outside the Wire. She is set to appear in two upcoming movies: Slingshot and an untitled Guy Ritchie movie, which is currently being filmed. In 2020, Harper's Bazaar described Beecham as "the actress set to dominate 2020." In an interview with the publication, Beecham talked about her insights on Cruella, in which she appeared. "It's an edgy Disney story," Beecham reveals. "Cruella is an anarchic girl with a rebellious streak, so Craig brought out that menacing fun, coupled with a certain vivacity and a real London feel. There was a naturalness to the shoot. It was this massive production and he would have us improvising lines, writing new scripts – it was very fresh and authentic. It's going to be a really fun and interesting film." The movie's costumes are "fantastical, Vivienne Westwood-inspired" creations whose outlandishness did prove challenging for the actress' co-star. "Emma [Stone]'s costume was very elaborate. She was slightly paralysed in it because she couldn't really move her head," Beecham says, laughing. "She had to lie down an awful lot between takes because she literally couldn't move." Until we see Cruella's origin story, prepare to be moved by Beecham's faultlessly modulated turn in Little Joe, a masterclass of quietly unravelling containment."
Aneurin Barnard
Aneurin Barnard will also be starring in the upcoming series 1899. The Welsh actor played Davey in Hunky Dory, Claude in The Truth About Emanuel, Bobby Willis in Cilla, Tim in Thirteen, King Richard III in The White Queen, William in Dead in a Week (Or Your Money Back), Gibson in Dunkirk, and Boris Pavlikovsky in The Goldfinch. On TV, Barnard's more recent appearances include Midsomer Murders, Barkskins, The Pact, Time, and Peaky Blinders. In an interview with Interview Magazine, Barnard talked about how he decided to pursue a career in acting: "For me, it started off very early on in my life. I came from a very, very small valley in the middle of South Wales. I grew up there with my father, who's a coal miner, and my mother worked in a normal factory. I used to just daydream all the time about being in movies, from the age of like, four onwards. I would sit down and watch movies with my father and my grandfather, and always pretended that I was in the stories. So I would spend my time reenacting them around the house, while annoying my sister and my mother and father with me pretending to be a cowboy or pretending to be James Bond. For me, it was really difficult because I didn't know how I could fall into that world, and, of course, no one in my family had connections in the industry. A friend of mine once, when I was 11 years old, mentioned that there was a youth theater, a local amateur youth theater nearby where young people could go every Sunday. And that's where it began, really."
Andreas Pietschmann
Andreas Pietschmann is a German theater, film, and television actor who is announced as one of the stars of the upcoming Netflix series 1899. He is best known for his appearances in Dark, Die Chefin, Cologne P.D., The Team, and SOKO Munchen.
Miguel Bernardeau
Spanish actor Miguel Bernardeau will also be starring in the upcoming horror series 1899. On the big screen, Bernardeau has worked in It's For Your Own Good, Crime Wave, and Josephine. He also has an extensive TV resume. Most of the television work he's been involved in are Spanish productions, like Todo lo otro, Playa Negra, and Caronte.
Maciej Musial
Polish actor Maciej Musial will be starring in the upcoming Netflix series 1899. Most people would recognize Musial for his role in another Netflix project titled 1983, which he also executive produced. Musial has achieved so many things throughout his relatively short time in show business. He's had recurring roles in The Witcher, The Trap, and Klangor.
Anton Lesser
Veteran actor Anton Lesser will be starring in the upcoming Netflix series 1899. He starred in the HBO fantasy drama Game of Thrones, portraying the character of Qyburn. He also portrayed Thomas More in Wolf Hall as well as Harold Macmillan in The Crown. His more recent on-screen work includes appearances in Killing Even, A Discovery of Witches, The Trial of Christine Keeler, and Benediction.
Rosalie Craig
Rosalie Craig will also be starring in the Netflix mystery show 1899. The English actress is a prominent stage performer, having worked in stage productions of As You Like It, The Threepenny Opera, The Ferryman, and Company. She's received multiple accolades, including an Evening Standard Theatre Award both in 2013 and 2018 for Best Musical Performance, for The Light Princess and Company respectively.
Other cast members
Other cast members expected to appear in 1899 include Clara Rosager, Maria Erwolter, Martin Greis-Rosenthal, Yann Gael, Mathilde Ollivier, José Pimentão, Isabella Wei, Gabby Wong, Jonas Bloquet, Fflyn Edwards, and Alexandre Willaume.
Tell us what's wrong with this post? How could we improve it? :)
Let us improve this post!