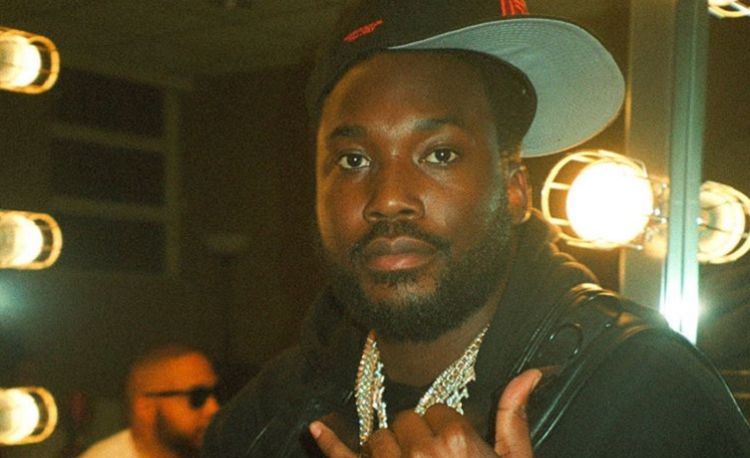 "There is a light at the end of every tunnel" is a saying that Meek would have disregarded had someone said it to him when he was young. He has been to hell and back and maybe never thought he would one day be a force to be reckoned with in the music industry. Meek continues to try and make a difference in both his life and the lives of the society but let's learn more about what has led him to be where he is today.
1. He deleted his Instagram account
We are living in an age when people feel the need to hashtag everything they are doing or feeling on social media platforms. With the details people put in their accounts, we become a part of their lives and a day without an update makes us feel like we are missing out. Meek Mill is tired of seeing all the capping and wants to be on real-life vibes as Complex reported. In April 2019 Meek deleted his Instagram account (it has since returned) but has remained active on Twitter.
2. His first arrest was when he was 19
According to Pitchfork, when Meek was 19 and yet to be famous, he was arrested. After one and a half years, Judge Genece Brinkley convicted him of 7 charges relating to drugs and guns and consequently sentenced him to 11 and a half months to 23 months in county prison, with seven years of probation. The sentence was not as harsh as the prosecutors were pushing for since Judge Brinkley wanted to offer Meek an opportunity to turn his life around from selling drugs and focus on his musical talent.
3. He teamed up with Jay Z to launch prison reform organization
Meek opened up to CNN about his troubles with the law saying that the criminal justice system targets marginalized people and many black people are in prison despite being innocent. Meek said that although he was arrested for carrying a gun at 18, it was necessary since in his neighborhood at least seven people died every week. Meek, although he is not a keen follower of politics, even went ahead to praise President Trump's bipartisan efforts to reform the prison system. He, however, has not gone without criticism with some saying his run-in with the law disqualifies him from pushing for reforms.
4. He started his music career as a battle rapper
The journey of a thousand miles begins with a single step, and Meek's first step was being a battle rapper, according to Cheat Sheet. He released mixtapes in the attempts to make his music known and in 2004, he formed a group called Bloodhoundz. His efforts paid off when one mixtape, Flamerz, caught the attention of the big names in the music industry in 2008. When he released Flamerz 2-Hottest in the City" T.I's label Grand Hustle Records signed him, and Meek later joined Maybach Music Group in 2010.
5. His uncle sparked Meek's interest in hip hop
Everyone has something or someone that pushes them to be who they are, and for Meek, that person was his uncle. Meek met his uncle, who went by the name Grandmaster Nell, at an early age and since his uncle was a pioneering disc jockey, it is no surprise that Meek decided to venture into music. His uncle is behind artists such as Will Smith and DJ Jazzy Jeff, and the more Meek interacted with other people who were in his uncle's circle, the more his thirst for hip hop grew.
6. He has a PUMA endorsement deal
Once you are a celebrity, companies will want to make money through you, and of course, it will also be worth your while. However, Meek was not interested in the PUMA endorsement deal when the German footwear company approached him. Meek instead, according to DJBooth would have been happier wearing Reebok. It took his friend James to convince him to take the million dollars PUMA was offering him and invest it. Now that he is endorsing the brand and people are wearing the shoes he recognizes what he brings to the table.
7. He dated Nicki Minaj
While cheat sheet reports that Meek has been involved with several women including K Michelle and Bernice Burgos, the relationship that attracted lots of attention was with Nicki Minaj whom he began dating after being released from prison in 2014. So tight were they that Nicki had Meek be her opening act during her 2015 world tour. Unfortunately, they broke up in 2017 although reasons for the break up were not clear. However, it seems like Meek was at fault since he told Nicki that he did not do right by her.
8. His father died when he was five
Nowadays women are choosing to be single parents, but when a woman has to raise her children on her own because someone killed the father, it is a life-changing experience for the entire family. Meek still feels the person who denied him of his father's love will have to pay as he expresses his pain through the second verse of his song "Traumatized." Meek says he had to step up and be the man of the house when his father died and adds that if he catches the person who murdered his father, there is going to be a homicide.
9. Meek took almost a decade to speak again after his father's death
You might wonder why Meek titled his song "Traumatized," but when you barely speak a word for almost ten years, then no word can better explain your condition. His mother talked to Vibe revealing that for ten years, her son barely spoke a word and he spent his time in his room drawing cartoons. It was when he turned 15 that the teenage hormones hit him hard and maybe the best he could do to express his pain was through rap battles.
10. He did not allow his family to visit him in prison
Being away from your family can take a toll on you especially when you know that you have no choice but remain separated. While many people will try everything to have their family members visit them in jail, Meek is different. While he was in prison, the only people he allowed to see him were his lawyers and only a few close friends. Meek reasoned that if his family saw him behind bars in a sorry state, they would accept that he was in there which according to him, he was not.
11. Meek promised that he would not leave his son again
Growing up without a father has Meek understand how important it is for a son to be with his father. However with his constant arrests, Meek barely has time to be with his son, and when he was suspended from school, it dawned on Meek that his serving time was doing a great injustice for his son. Although the son would call him while he was in prison, it is not the same as spending quality father-son time, and that is something Meek is determined to be a good role model for his son, as boombox.com reported.
12. He has two children
Meek Mill dated Fahimah Raheem for six years and nine months starting from 2006. Together they have two sons, Rihmeek Williams and Murad Williams whom he reportedly loves and shares happy moments with, according to heightline.com.
13. His baby mama has been to prison
A mother will do anything for her children, but while some opt to work for a living regardless of how tough the job is, others choose the easy way out which is stealing. Fahimah falls in the latter category as is evident from her decision to steal $17 worth of groceries specifically two containers of hot food from a buffet each worth $6.99, and $2.50 bag of frozen pineapples. She pleaded guilty to the misdemeanor in September 2014, and it was ironical that while she could barely feed her children, her baby daddy was having the time of his life with his then-girlfriend, Nicki Minaj.
14. He had a feud with Drake that lasted three years
Disagreements can be sparked by one word, and for Drake and Meek, all it took was for Meek to claim that Drake did not write his own lyrics. The allegations angered Drake so much that he released two diss tracks one of which got a Grammy nomination. Meek could not take it sitting down, so he also released two songs hitting back at Drake. Well, that was back in 2015, and after three years of pure dissing, the duo decided to put their hate for each other behind them. On September 9, 2018, USA Today reported that the pair shook hands in front of their fans signifying that their beef was over.
15. He owns prestigious cars
Meek has had a rough life, and it is only fair to himself that he smoothens it with a few prestigious cars. Among the cars he owns is an Aston Martin Rapide that is not only stylish but comfortable. According to hippoleasing.co.uk, Meek loves salon cars, and the Mercedes Maybach is part of his many rides. Another car included in his collection is the Bentley Mulsanne whose interior sets it apart from the rest; the hand-trimmed seats take 150 hours to complete while it requires 5,000 stitches to detail out the logo on each seat.
16. His net worth is $14 million
Meek's net worth has been on upward trend considering that in 2017 it was $3 million and in 2019 it's been estimated at $14 million. Most of his money comes from music either selling albums or doing tours, but the endorsements he has have also put some money in his bank, most notably the PUMA deal he has had since 2012.
17. His mother struggled to support the family
Her husband's death hit her hard and Kathy, Meek's mother, had to move the family to North Philadelphia where they lived in a three-bedroom apartment. Although Meek confesses in his song that he had to be the man of the house, his mother had to look for ways to sustain the family. Kathy, therefore, began cutting hair and doing other menial jobs that are not worth mentioning. Their financial situation was so bad that she had to resort to shoplifting sometimes.
18. He values education
Meek may not have the ideal time to get a college education when he spends most of his time in and out of prison, but the rapper is determined to make the most out of every opportunity he gets. He, therefore, announced in 2016 during a visit to Overbrook High School that he would enroll in college, as he encouraged the students to stay in school and get their education. Meek announced that he enrolled in college to acquire knowledge to be the best at what he does and consequently make more money to enable him to support his family.
19. He is philanthropic
Most people make it in life and forget where they came from but not Meek Mill; he always has a love for his hometown Philadelphia which he expresses in various ways. Meek, having experienced financial struggles, donated more than 6,000 backpacks to students who come from financially-struggling families. The bags were not empty; they were filled with school supplies appropriate for each student depending on grade. He felt a personal commitment towards giving back to his community that he ensured he was involved with the handing out of the backpacks and stopped by several schools. Further, he debated $10,000 to Colin Kaepernick's million dollar initiative.
20. He is the CEO of Dream Chasers Records
Meek Mill announced the launch of his own record label, Dream Chasers Records, in October 2012. The label imprint was named after Meek's mixtape series, and it aims at promoting other budding rappers. In April 2017 Meek announced on his Instagram that he had added YBS Skola to his record label through a major record deal.
Tell us what's wrong with this post? How could we improve it? :)
Let us improve this post!