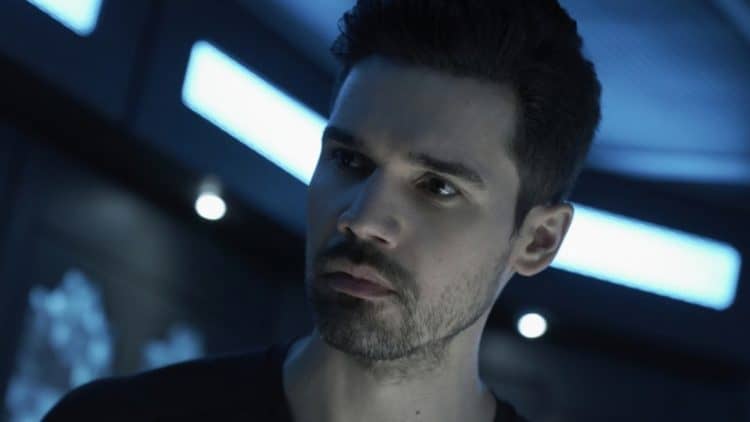 Every actor dreams of finding consistent work, and Steven Strait has been fortunate enough to be one of the lucky few whose dream has come true. Since 2015, he has played Jim Holden in The Expanse, and as a result he's become a fixture on countless TVs. Even though he's been playing the same role for over five years, it's important to note that Steven is a very versatile actor. No matter what kind of character he's tasked with playing, Steven knows exactly how to bring it to life. If you haven't been keeping an eye on Steven yet, now is the perfect time to find out exactly what he's all about. Keep reading for 10 things you didn't know about Steven Strait.
1. He Got His Start As A Model
Steven's handsome face is impossible to ignore, and it's actually what lead him into the acting world. Steven began his career as a model and during that time he got to work with several major companies. He also appeared in magazines such as Pop Magazine and Spoon Magazine.
2. He's Also A Producer
Steven always works wonders when he steps in front of the camera, but that isn't the only place where his talent shines through. He is also a producer and he has produced nearly 30 episodes of The Expanse over the years. It'll be interesting to see if he decides to add more production work to his resume.
3. He Didn't Always Like Acting
Anyone who has seen Steven in action probably feels like he was born to be an actor, but he didn't always feel that way. In fact, Steven was a very shy child growing up and acting wasn't something that came naturally to him. However, during the early 2000s he began taking classes at the Stella Adler Studio of Acting.
4. He's A Musician
Steven is a true creative and acting isn't the only art form he likes to use to express himself. He is also a talented musician and he is signed to Lakeshore Records. He is supposed to be releasing a solo album at that point, but there's no information on when the project will come out.
5. He's Married
Steven has always been the kind of actor who prefers to keep his personal life to himself, but as with any other celebrity it's not always possible to keep everything under wraps. He was married to actress Lynn Collins from 2007 to 2013. He married a model named Daria Zhemkova in 2019.
6. He Isn't Into Social Media
As a young and handsome actor, Steven has everything it takes to build a strong social media following. Unfortunately for his fans, however, Steven doesn't seem to have any interest in social media. As far as we can tell, he doesn't have a verified account on any platforms.
7. He Was A Fan Of The Expanse Books Before The Series
Even before being cast for The Expanse, Steven was already familiar with the franchise. During an interview with Deepest Dream, Steven said, " I was a fan of the books before we started shooting the series actually. One of the things that I always appreciated about the novels was just how meticulously well plotted they are. There is literally nothing superfluous within the show or within the novels. Everything means something."
8. He Loves To Try New Things
Plenty of people are perfectly fine with staying inside their comfort zones forever, but that has never been Steven's idea of living life to the fullest. Instead, he has always liked to push the limits and he's never been afraid to try new things. Having this mentality can definitely be beneficial in the entertainment business.
9. He's All About Staying Humble
With all the success Steven has had over the years, it would be very easy for him to get a big head and think highly of himself. Steven prefers staying down to earth, though. He is a very humble person and he understands just how important it is to stay grounded.
10. The Expanse Has Been The 'Greatest Joy' Of His Career
Every actor has at least one job that they feel has had the biggest impact on their careers, and for Steven that job has been The Expanse. When talking about his experience on the show he told Geeks of Color, "It's truly been the most gratifying creative experience of my career. I was a fan of the books before I knew it was being adapted. So I came in as a fan, and to play the evolution that is so big for this character…You know, for an actor, that's the greatest joy you could possibly ask for. I mean, it's so rare that you get that opportunity. So it's been, it's been amazing."
Tell us what's wrong with this post? How could we improve it? :)
Let us improve this post!