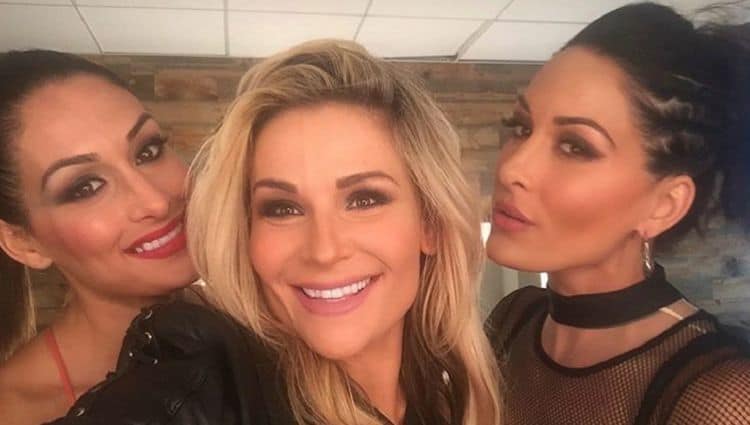 There's a good chance you might not be aware of precisely who Kathy Laurinaitis is, but you know her daughters. Twin wrestlers Nikki and Brie Bella are her daughters. They both have fabulously successful careers in the pro-wrestling world, and they are both pregnant at the same time with their babies. The sisters are identical, which means that many people cannot tell them apart, but it also means that they are even more famous for it. Their mother is a special person to them, and we want to get to know her more.
1. She's Suffering Health Issues
Her daughter's have their own reality show "Total Bellas," and their mother appears on the show regularly. They are a close family, and it was shocking and upsetting to them to learn that Kathy is suffering from Bells Palsey on the season finale of their show. Her diagnosis is devastating.
2. She Just Went Through Surgery
Unfortunately, the problems do not stop there when it comes to Kathy's health. She also suffered from a mass on her brain stem, and it required her to recently go through surgery to have it removed. She was, thankfully, able to come out of her surgery doing well and feeling good. Her daughters kept fans updated on her condition.
3. She's Been Working A Long Time
Kathy may have taught her daughters their ability to work hard and to have such amazing work ethic thanks to the fact that she's been working since she was in the 7th grade. She had a job with her father's produce company. You have to learn at some point, and her family felt that their daughter would learn best as a young teen in El Centro, California, how to work hard and earn a living.
4. She's a Positive Person
And, she learned it from her father. He once told her that you have to wake up and make a choice. That choice is how you will face your day, and we are here for it. Will you face it with a bad attitude and an ugly heart, or will you open your eyes, choose a happy day, and face things with a positive attitude? It makes a lot of sense, and we can see that her father was clearly a wise man.
5. She's Know the Business for a While
She's a woman who knows this business inside and out, and not just because it's what her daughters do for a living. Her husband, Johnny Ace, is a man who was once a wrestler, but later became a producer for WWE. She married her current husband in 2016, and we think it's probably because she met him through her daughters. We can only assume, though.
6. She Doesn't Have a Good Relationship with her Daughter's Father
Sadly, she was involved in a marriage that was not good for her or her ex. They fought. They had issues. They showed their kids what marriage that is all wrong looks like, and her daughters even admit that they have some trouble in the relationship situation because of it. They thought that fighting and arguing were normal in a marriage, and that's just not true. She's not in a good place with her ex of 15 years, but she's in a much better place now.
7. She Still Works
She lives in Arizona, where her daughters live, and she works as a recruiter. She is a driven women who grew up learning that hard work is something you do every single day of your life, and she's never let down that motto. She's feeling good about it, too.
8. She Was a Teen Mom
If there is a reason she looks so young, it might be because she is so young. She is only 55. She had her twins when she was only 19. There's something slightly terrifying at the thought of giving birth to a set of twins when you are only 19-years-old. It's a lot when you're 31 (like I was), so it must be so much when you're not even 20. She did a great job, though, if her kids are any indication.
10. She's Already A Grandmother
At the age of 55, she's a grandmother to three (almost 5). She's got one granddaughter from Brie, and her son, JJ, also has two daughters. When both of her daughters found out they were pregnant and due less than two weeks apart in 2020, it was shocking news to everyone. But, shocking means amazing in this sense.
Tell us what's wrong with this post? How could we improve it? :)
Let us improve this post!