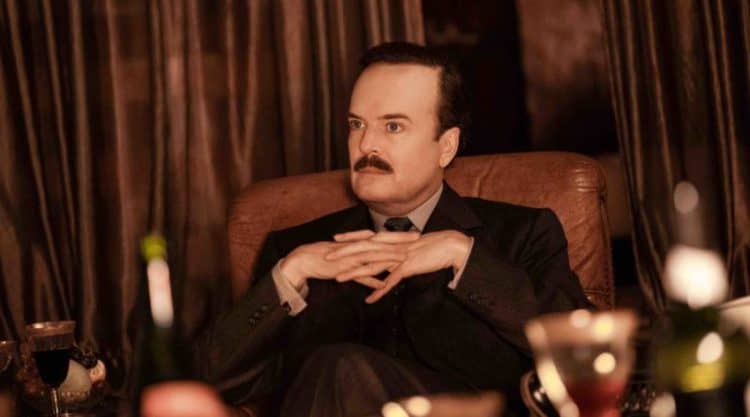 If you don't know Jefferson Mays, you might be mistaken. You see, he has one of those faces. You know you've seen him before, but you might not be able to put your finger on precisely where since he's been in just about everything ever made in Hollywood (okay, that's a bit of an exaggeration, but not entirely). He's award-winning. He's respected by his peers. He's talented. What else do you need to know?
1. He's from the East Coast
Born and raised in Connecticut, he lived with his family in Clinton. He was born on June 8, 1965. His dad was a naval intelligence officer, his mother was a librarian, and he also has a few siblings of his own. They lived there his entire childhood, which is kind of a cool thing for any child to deal with.
2. He's a Married Man
Sorry, ladies, this man is taken, and he has been since 2003 when he made it official. He's married to Australian actress Susan Lyons, who has her own long list of accomplishments. We don't know how long they were together prior to their wedding, but he's a man who is celebrating 17 years of marriage this year, which tells us he is very much off the market, and he's doing a good job of keeping his wife a happy woman.
3. He's Well Educated
We mean well-educated. He graduated from Yale with a Bachelors of Arts Degree, and he went on to the University of California to obtain his Master's Degree. He's a man who knew what he was ready to do with his life, and he knew to take the path that would give him the most advantages to get there.
4. He's a Tony Award Winner
What an accomplishment to even be nominated for a Tony. To win one? Well, that's another level of success that we can only imagine. He's a man who did so well in his life, and he's done that with his talent and his intelligence. His Tony came from his role in the famous play, "I Am My Own Wife," back in 2004 as the Best Actor. He was nominated again in 2017 for another Tony for his role in "Oslo," but he did not take home the win.
5. He's a Dashing Criminal
Excuse us for a moment while we mention how much we adore "The Blacklist," before we mention he was the dastardly – and exceptional – Norman Devane back in 2019. He was so good in this role, even if it wasn't a long-standing role. He played it to perfection, and it was impossible for us to see him as anything other than a complete criminal as he played the role.
6. He Lets His Roles Choose Him
One of the best things about this actor is the fact that he allows his roles to choose him. He leaves himself open to what is right for him rather than what is available to him any given moment. He likes the difficult characters, and we are so glad he does.
7. He Was Reluctant to Play a Villain
When he was approached to play the role of the Black Dahlia killer, he was initially unsure. It's an unsettling role to play a man who does such horrible, awful, unimaginable things, but he found that his director in the movie was good for him. She was able to help guide him through this and he was able to take the role and use it as a way of exorcising his own demons. It takes a strong character to be that dark.
8. He's Done Fun Guest Appearances
If there is one thing that being a famous actor allows you to do, it's star as a guest in some of your favorite television shows. This is a man who has done a lot of that, and we love that. He's been in shows such as "The Closer," and "The Blacklist," as well as "The Good Wife," "Law and Order," and even "Nurse Jackie," and we promise that we are only naming a few. He's been in everything, and he's always recognizable as exceptional talent when he is.
9. He's Won More Times Than He's Lost
Being an actor is not as easy as it sounds, but he makes it look easy. He's been nominated for 11 awards, and he's taken home more than he has not. Out of 11 nominations, he's won six awards. This includes his Tony, a Drama Desk Award, two Theatre World Award, and two Outer Critics Circle Award. That's an impressive list.
10. He Won Every Nomination from "I Am My Own Wife"
Back in 2004 when he was on stage and winning his Tony, he was probably playing the role of a lifetime. He was nominated for four awards that year, and he took home each one of them for that role. That's something that not many people can say is true of their own lives, but this man is not some people, now is he?