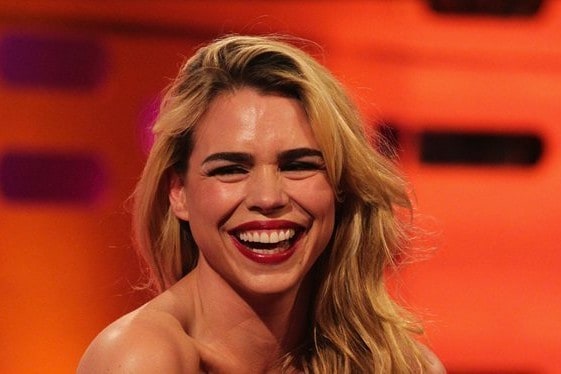 Born on September 22, 1982, Billie Paul Piper is a British singer, dancer and actress. She grew up in Swindon, Wiltshire and started her rise to fame in her teens. Since then, she has had platinum and double platinum hits, but her singing career only went so far before she decided to retire from making hit recordings in 2003, and move on to focusing on an acting career, which also proved to be a big success. Her transition to taking acting roles began in 2004. She has had roles in television series, and has played roles in theatrical plays. Her performances have been so impressive that they have earned her awards, and she is still on the rise in her career. Piper has an impressive collection of accomplishments, and you may even have seen her talent if you have ever seen any of the hit series she's been a part of over the years. If you recognize who this gorgeous young actress is, you may want to know more about her, so here are ten things you didn't know about Billie Piper.
1. Billie isn't her birth name
While it's common for a lot of actors and actresses to change them name for professional reasons when they get into showbiz, but the name change Billie Piper went through was not due to her own choice because of her career. She was actually born with her first name being Leian, however, her parents, Victor Piper and Mandy Kane Kent, weren't happy with the name they'd given their daughter pretty much from the get-go, so by the time she was six months old, on April 25, 1983, they had her name legally changed to Billie.
2. Her career started on children's TV show
Piper landed her first gig at a young age. She chosen to appear on a children's TV show, Scratchy & Co., which aired on Saturday mornings. Later, she got a commercial deal, promoting Smash Hits, a popular pop magazine. By the time she was 15, Piper became the youngest artist in the UK to hit the UK Singles Chart with a number one hit. Because We Want To, was released under her stage mononym, "Billie," and she followed up that number one with a second number one hit, Girlfriend.
Loving my new #rosetyler doll. Delighted with the leg length , #tardis key and ability to swap out my hands . No complaints here . #drwho for life!!!!!! pic.twitter.com/cu5x6DioKS

— Billie Piper (@billiepiper) May 15, 2018
3. Has a double platinum album
After the release of her number one hit, Because We Want To, Piper released her album, Honey to the B (1998), which soared with the ratings and became a platinum album by the Recording Industry Association of New Zealand (RIANZ), and rated platinum by the British Industry (BPI). Not many young artists can claim a platinum and double platinum recording at just 15 years ago – tremendous accomplishment.
4. Has won several awards
Piper's talent has really gotten her noticed, and because of her incredible performances on screen and on stage, she has been both nominated for multiple awards, and won some. In 2016 she starred in an adaptation of Federico Garcia Lorca's 1934 lay, Yerma at the Young Vic. For her part, she won several Best Actresses awards that year, including a WhatsOnStage Award, an Evening Standard Theatre Award, and the Olivier Award. She was also nominated for Best TV Supporting Actress in 2015's Fangoria Chainsaw Awards.
5. One role she doesn't miss
Piper was cast as Rose Tyler in the revived series known as, Doctor Who. Piper talks about her fond memories of doing the show, but at the same time, she is also glad to be done with that part of her career. Her role ran from 2005-2006, and as she told The Guardian, her time on the show made it difficult to have a normal life. It was difficult to take care of her family due to the fact that she always had to be away from them in Cardiff, filming. She also discussed how it was a different type of fame, a different level of fame that she simply doesn't miss. All actors have their pros and cons about roles they take on, and this one definitely gave Piper some challenges that she is glad to have behind her.
https://twitter.com/billiepiper/status/982507101674143744
6. She's in love with London
She says that filming Collateral in London made her feel so lucky, because she not only got to work in the city she loves so much, but she was living in her favorite, adopted city. She's talked about her love affair with London, saying that while growing up, the city always impressed her. She is from a small town that resembles nothing of London, and it always blew her mind to think that just a short 50 minute drive down the road, you could get to something and someplace so vastly different than her home town. She describes the culture, opportunity and diversity of London and says that she will never shake her love affair with London.
7. Says her days as a popstar were the toughest days of her career
While many popstars love their time in the spotlight, churning out music, and making music videos, Piper says that her popstar days were the toughest of her career. She described her experience as actually being traumatizing, and so traumatizing, in fact, that she says she can't even remember the detail of making music videos or going Smash Hit tours in the 90's. Piper says her lack of memory of those days isn't due to spending her time being inebriated, but simply that she just shut it all out due to all the extremely hard work she had to do in those years, not like a child slave, but according to her, she has never worked as hard as she did in those days.
8. Her first marriage was to a much older man
In 2001, in Las Vegas, Nevada and after just six months of dating, Piper married a multi-faceted man who was a television presenter, DJ, and a businessman. His name is Chris Evans and he just happened to be 16 years older than Piper. Due to the huge age span, their marriage gained a lot of attention from the media. The marriage didn't last very long before they separated in 2004 and ultimately divorced in 2007. One thing she was adamant about, was leaving the marriage without making any claims against her husband's 50 million pound wealth, nor from his 540,000 pound salary from BBC Radio 2. She told Radio Times, "I'm not taking a penny from him. I think that's disgusting." Piper admitted it was their age gap that sparked an end to the marriage, although they still remain food friends.
9. Tried marriage a second time, it spawned two kids, and another divorce
Piper didn't have a successful first marriage, but it didn't stop her from trying again. Her second marriage took place in December of 2007, when she married Laurence Fox at St. Mary's Church in Easebourne, West Sussex. The couple set up home there and had two children together, Winston James, born October 2008 after an emergency C-section, and later, in April of 2012, Eugene Pip was born. This marriage lasted longer than the first, however, it too ended in divorce. They announced their split in May of 2016. According to reports, there was no third party involved in the decision to end the relationship.
10. Has a fear of arguing
Not all people like confrontation or handle it well. Piper admits that arguing and confrontations scare her. She told Stylist that she handles her professional affairs much different than her personal affairs, and in her personal life, she claims she is afraid of everything. When it comes to confrontations with people, she says that she is afraid of being yelled at, she doesn't like getting hurt, or hurting others, so she tries to avoid it at any cost if she can.
Tell us what's wrong with this post? How could we improve it? :)
Let us improve this post!