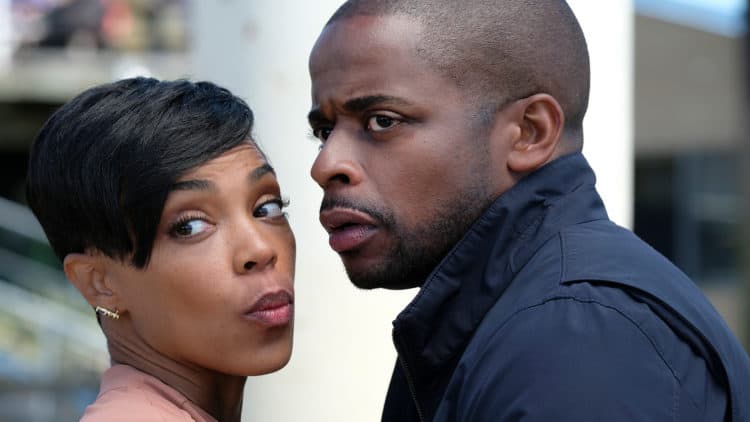 Dule Hill actually started attending dance school at age 3, meaning that his course was kind of laid out for him very early and there was never much doubt that he would go on to become someone famous. He's had some of the best roles in TV and in movies that have really catered to his person and have allowed him to shine in ways that help to accentuate his acting skills. Dule is the kind of actor that's there to support and still be a well-developed character that can affect the story and assume his own place in it. You've likely seen him in a few roles that are memorable just because of the way that he played them, and have helped to make him a very recognizable person in Hollywood. Despite not being a leading man all that often, if ever, he's still highly valued for his skills and is a valued member of any cast.
He's pretty easy to recognize whenever he shows up in a film.
5. He's an accomplished tap dancer.
From the age of 3 he was learning how to dance and over the years he became quite the skilled tap dancer. A lot of people don't know this about him as they've seen him on The West Wing, Psych, and various other shows and movies where his role didn't call for a lot of tap dancing. But in all honesty he can get out on the floor with some of the best of them and show his stuff.
4. He performed on the MDA Telethon when he was 10-years old.
He was on the telethon with Jerry Lewis and unfortunately the music he was going to dance to was lost or misplaced. So in order to make it possible for him to dance Jerry managed to get the orchestra to play so that he could have some music to dance to and complete his act. It seems like it's kind of hard to dance without music unless you have the tune in mind and can go by memory.
3. He spent six seasons on The West Wing.
By the time the sixth season ended Dule had decided that he needed to move on before the seventh could get going. A lot of actors tend to at least think about moving on after so many seasons unless they're completely comfortable where they're at and don't want to miss out on a good thing. Dule thought he could find something better and different and so made his way onward.
2. He's good friends with Freddie Prinze Jr.
He was in She's All That with Freddie Prinze Jr. and although he didn't have the biggest role he was still an important cast member since he was among the small group of friends that Prinze's character hung around with. It might have been seen that he was the ethnic minority character but really he was more or less the secondary popular guy that hung out with the other popular guys.
1. Martin Sheen was his acting mentor.
How cool is it to be able to say such a thing as that? Martin Sheen is one of the greatest actors ever and Dule got to learn the ins and outs of the business from him. A lot of actors can claim that a famous actor was their mentor but this is something that's pretty special.
Dule Hill seems like a cool guy. He's a pretty good actor as well.
Tell us what's wrong with this post? How could we improve it? :)
Let us improve this post!