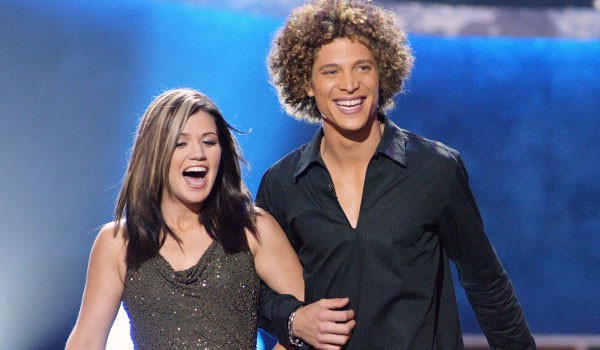 There was a time when Justin Guarini was a big hit and the kind of act that people thought was going to take off and become one of the hottest things that anyone had ever seen. But as is proven so often in the entertainment business, things have a way of happening that a lot of people don't tend to foresee since the truth is that while Justin is still doing his thing as far as theater and music goes, his movie career was pretty short-lived. One could say that he's still doing what he wants to do and that it's all great, and it is for the most part since doing what you love and what you're passionate about is in fact one of the great pleasures in life. But saying that he's still just as famous as he was when he was on American Idol is a bit of a stretch. There are plenty of people that might need to be reminded of who he is simply because they didn't follow his career and would need to hear his name next to Kelly Clarkson's in order to remember that at one time he was at the top of his game and couldn't be touched. But then the movie From Justin to Kelly came out and, well, things didn't really advance from that point.
Some folks are naturally talented, and this is great since it gives them something they can cultivate and lean on for the rest of their lives so long as they know how to use it and when. But when it comes to acting, Justin appears to have been far better on stage than in front of the camera. Whether it's because he's not quite that versatile or he's just not what people want at the time is hard to say but to say that he's not talented at all wouldn't be fair or even accurate considering how far he went with his singing. To think that he might find a way back into the mainstream and take on another role at some point might be kind of optimistic but it doesn't sound impossible since he's been there and done that and there's no reason to think that he couldn't earn his way back and possibly make another go of it. After all, some people that have been away from the spotlight for years without any acting or anything else going on have been able to do this and be successful, and Justin has been active for a while, so he has a leg up to be certain and could possibly make it work in a way that might surprise a lot of people. It might sound like a lot of lip service to someone that doesn't really need it, but the truth of the matter is that pretty much anyone in show business can make a comeback or earn their way back into the good graces of the fans, it just takes the right hook and the ability to realize that it's not about ego, it's about giving the people something and someone they can support.
Justin's already proven that he has what it takes to exist in show business and he has thrived in his own way since he's been staying busy since his inclusion into the world of entertainment. While personally, I'm not a fan it would be too dismissive to say that he's not worth much since he hasn't been seen in anything big to date. There are plenty of individuals that are currently active in the entertainment industry that choose to do their own thing and stay away from the mainstream quite a bit. A lot of individuals have a number of reasons for doing this, and to be fair, some of them probably could make a very easy return to the mainstream while some might have to work at it. Justin's on-screen presence didn't always inspire or wow a lot of people, but he did manage to make it, which is enough to say that he might have the ability to change it up a bit and get the support of the people that he needs to be seen as a serious and very entertaining individual. The only real and lasting roadblock at this time would be the idea of whether he wants to do this or not. Some folks might scrunch up their faces at a question such as this since many people would likely jump at the chance to make more money and be more well-known, but the fact is that there are several celebrities out there that have stepped away from the spotlight and are glad for it. Whether Justin would be one of them is hard to say, but considering that he's been plenty busy over the years it does appear that he's doing just fine where he's at.