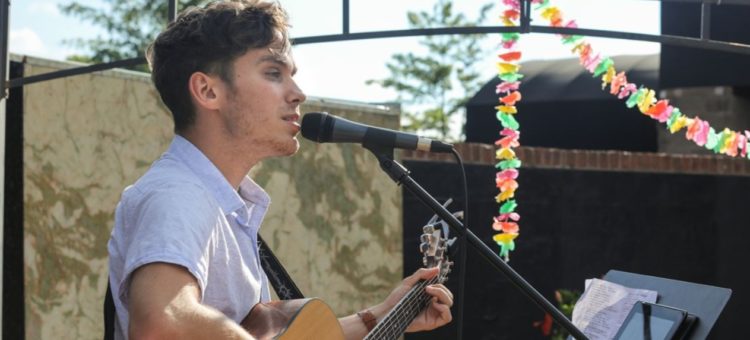 Max Boyle is a talented young singer who appeared as a contestant on the popular singing competition "The Voice." He made it through the various battle rounds of the show and advanced past the early knockout rounds to become a serious contender for the grand prize. He's shown us so far that he has what it takes to make a big impression and by coming on the show, he's gaining the much-needed exposure to the audiences that every artist needs to gain popularity and recognition for their music. For fans who think that Max Boyle is something special, and those who are merely intrigued by him, here are 10 things you probably didn't know.
1. Max is multi-talented
Max Boyle has shown us all just how gifted he is with a wonderful vocal range and stage presence. He carries himself well on stage, presents the songs like a professional, and he's also a songwriter in addition to being a singer. This just makes him all the more valuable in the world of professional music. The ability to write and perform original works is a definite edge over those with comparable vocals who do not write their own songs.
2. He already has music released
Max is on "The Voice" to augment a career that he has already set in motion. The young singer and songwriter has already released songs that he has written and performed. His most recent single is titled "Always," and it was released in May of 2019. His first release was in 2018, as an EP titled "Something to Hold" featuring the lead single "Angle" which has gained over 400K streams on the Spotify site.
3. He's had his heart broken
Max has already experienced his first big relationship breakup. He was in love with someone, but the relationship didn't work out so they decided to go their separate ways. This momentous event in his life served as the inspiration for his single "Always." He is very open about the fact that it was the impact of the breakup that led him to write a song that let the world know that even though it might not work out, you can still always love that person while moving on with your life.
4. Max grew up in a big family
Boyle was born to a family of six kids. He is the youngest of them all, so he has five elder siblings who are all rooting for him in his competition to win "The Voice." He is a native of Ohio and was raised in Maumee. He has something in common with his brothers and sisters. They all started singing and getting into music at a young age, so it's something that he grew up with.
5. Max was in a Band
We also learned that Max Boyle was a member of a band. He performed with a group that was called The Ripz. Other members of the band included Reid Smith, Dylan Penna-Powell, Matt Forsthoefel, and Max Duffy. What this lets us know is that he's a seasoned musician who has not only had solo experience but he's also been involved in performing with a group. It lends to his diversity as an artist.
6. Max went to college
Max Boyle is an educated man. After graduating from high school, he continued his education. He enrolled in classes at the University of Dayton. He fulfilled all of his requirements and then graduated from the school with his degree in psychology. He continued to perform even while he was in college, and he continued to sharpen his skills as a musical artist
7. He was also an athlete
When Max was still in high school he enjoyed participating in sports. Although he had grown up singing, it wasn't something that he had taken that seriously, at least not yet. He really got into high school athletics, but his athletic career was interrupted when he was injured with a broken arm in his freshman year. Being benched and placed on the sidelines, he could only watch and not participate. He went back to his music and posted a video on Facebook. When his coach viewed the video he suggested Max join the school choir, where he was promptly made the lead soloist.
8. He has an Instagram account
Max Boyle has made a lot of great posts on his Instagram account. For fans who would love to keep up with what he's doing or who want to see some photos of him in performances and just joking around with friends and family, this is a great place to find those resources. So far, he has made a total of 263 posts on the site, and he has 12.1K followers. He makes announcements of his new releases and where you can find them here.
9. Ed Sheeran is an inspiration for him
Max's musical inspirations include Ed Sheeran at the very top, and we can hear that influence in his own music. When it came time for him to choose a song for the Blind Auditions portion of "The Voice," he chose a Sheeran favorite titled "Wayfaring Stranger." His rendition was enough to turn chairs and get him on the show. Other musical inspirations for Max include JP Cooper, Bon Iver, John Mayer, and several others.
10. He is already a mature professional artist
When we reviewed the responses that Max Boyle gave to questions about his music and his reasons for appearing on the voice, we saw a very mature professional artist. His rationale was simple. He wanted to gain exposure for his talents on national television. He had already laid the groundwork by launching his first releases, but he wanted to let the rest of the world know who he is. He also wanted to work with icons in the music industry, and John Legend was one that he had hoped to work with. He got his wish. He has very mature thought processes and he's not after fame or glory, as much as to give his music career, which he's passionate about, a big boost.
Tell us what's wrong with this post? How could we improve it? :)
Let us improve this post!