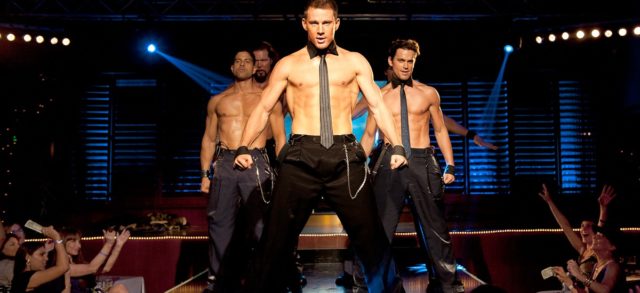 While making their way across country Channing Tatum and his crew decided to make their way into a small convenience store to get some refreshments. Even celebrities need to get their snack on from time to time. Of course Channing Tatum is going to be known when he walks into a convenience store, he's only one of the biggest stars in Hollywood at the moment. What the woman behind the counter likely didn't count on was that she'd be getting a free show ala Magic Mike all for her pleasure. She definitely got into it though and made a good showing of it. The little girl he tried to say hi to was a little too shy to get down and bust a move but her reaction was pretty cute. Like a lot of kids would do she was being a shy little bug which is only natural with some kids when they encounter strangers. Channing took it in stride though and gave her a smile and a wave.
But the lady behind the counter, Beatrice, had no trouble getting down as Channing started busting a move, getting fully into it as both of them were feeling the beat and giving the store patrons a show. Beatrice was all set and ready to turn it up with Channing and wasn't shy about getting him in close for a hug and a smile. Channing was an awesome sport about it as he was all smiles. He even managed to get a little time behind the counter just to chill.
It might be little more than a publicity stunt with some actors that do such things but this seemed like a genuine good time that was had by everyone in attendance. It's good to know that actors can be as down to earth as those that enjoy watching them since it grants people the idea that they're really no different when all is said and done. As to the Magic Mike performance I wonder if Beatrice has surveillance going in the store. If so do you think she'd be rewinding the tape over and over to remind her of the pleasant moment she had with one of Hollywood's biggest stars?
There was no doubt that people were recognizing him pretty easily as he has the kind of look that doesn't allow him to hide from the public all that much. For the most part though people were pretty calm about it, calling out to him as he called back to them in turn. It was almost like he was a part of the neighborhood in a way as he talked to people so easily. No one was mobbing him, no one was trying to rush up and get an autograph or a picture. Even the woman that did ask for his picture was extremely polite about it. Considering how many celebrities do get mobbed by paparazzi and fans when they make their way outside it was nice to see that at least one of them gets to just be himself.
But one thing is certain, Beatrice will probably be talking about this night for a long time to come.
https://www.facebook.com/channingtatum/videos/10155617612574116/
Save
Tell us what's wrong with this post? How could we improve it? :)
Let us improve this post!