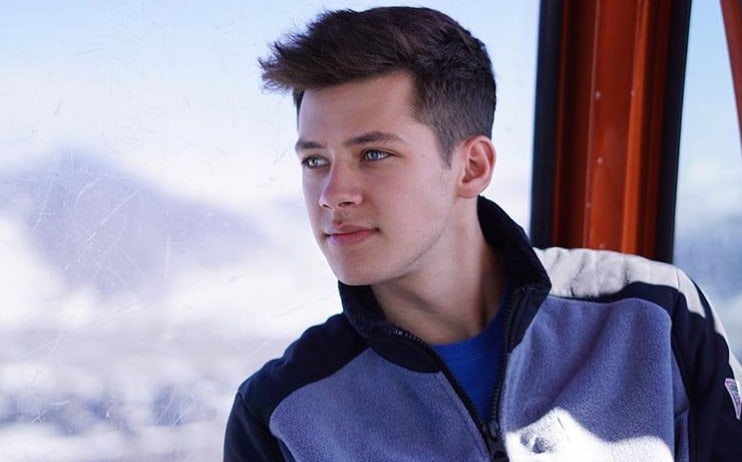 Matt Cornett is an American actor who is best known for his role in the television series "Bella and the Bulldogs" in the role of Zach Barnes on the popular Nickelodeon show. He's done a lot of other acting work in addition to this, and he has a huge following of fans. We wanted to learn more about Matt, so we looked into his history and career and made some interesting discoveries. Here are 10 things that you may not know about Matt Cornett.
1. He was born in Arkansas
Matt was born in a rural part of the state of Arkansas, in a small town named Rogers, to his parents Art and Rhonda Cornett. He is the youngest child in the family. he has an older brother and sister and they were all raised in this rural atmosphere. It's something that he still values to this day and he goes back for a visit whenever he can.
2. He moved to Los Angeles in 2012
Living in a small rural town in Arkansas kept Matt Cornett too far from where the action is for an aspiring young actor. He moved to Los Angeles, California in 2012, to pursue a career in acting. He had to be close to the scene to fulfill his recurring guest star role in "Bella and the Bulldogs."
3. He is a multi-award-winning actor
Cornett's performance was amazing and it gained him a lot of attention in the teen world. He also received recognition in the form of a Young Artist Award for Best Performance in a TV Series-Recurring Young Actor for his portrayal of Zach in 2016.
4. Matt Cornett is successful but he's worked hard for it
The success that Matt Cornett has achieved as an actor has not come easily or without a lot of hard work. Since he moved to Southern California, he's stayed busy in filming, and when he's not in front of the camera for a series or other acting gig, he's doing some other kind of work. In between the major productions, he's also appeared in advertisements and commercials both in print and in national television commercial campaigns.
5. He's appeared in a lot of different television roles
Matt has appeared as a guest star as well as in several recurring roles and a few pilot leads. A few of these include appearances in "Criminal Minds," "Life in Pieces," and "Game Shakers." He has even served as a hot on Disney's Movie Surfers. He is a hard-working professional actor who takes his profession seriously and he's doing everything that he can to build success by putting in the time and effort.
6. Matt has a lot of other interests that he pursues
It's very clear that Matt Cornett is a hard worker who dedicates a lot of his time to his acting career, but we see that he has also found a sense of balance in his life. Even though he works hard and often, he still makes time for other things that are important in his life. For example, he goes back home every chance that he gets because he enjoys spending quality time with his friends and family who live in Arkansas. He also enjoys his car, playing video games, singing, playing guitar, and watching football. It sounds like he is a very well-rounded young man with a strong work ethic.
7. Matt Cornett is a dog lover
Matt has a Siberian Husky named Kota. He's a dog-lover at heart. This is a large breed of dog, but Matt is a tall guy who is just a little over 6 feet tall, so it makes sense that he would own a larger breed of canine. We're not sure if the dog lives with his family back in Arkansas or if he has him at his residence in California.
8. His Birthday
Matt was born on October 6, 1998. This means that he just turned 21 years old in October of 2019. We learned that before he became famous, he started booking roles and training at acting studios while he was in his early teenage years. All of the hard work that he put in as a teen is paying off now, but he did sacrifice several years of his life for his career. Even though he continued doing the things that normal teenagers do, he had a focus that was determined and it pushed him forward to make the sacrifices of his time to build a solid foundation for his future.
9. Matt has an Instagram account
Fans who didn't previously realize that Matt Cornett has an Instagram account will be happy to learn about this fact. He does a good job of keeping the posts rolling. He's made a total of 531 posts so far and this is an excellent resource for viewing some great photos of him and keeping up on what's new and trending in his personal and professional life. So far, Matt has 118K followers on the site and he is following 955.
10. Matt Cornett is a rising star
Matt is a young actor that we need to keep our eye on because he has all of the earmarks of becoming one of the next celebrities of the future. He has already established himself as a popular actor with the teen crowd and as they age along with him, they are going to remember his contributions to shows that they grew up with and appreciated. His career is still growing stronger and at the age of 21, he is already a multi-award winning actor. If he continues on the same trajectory, he has a very bright future in the entertainment industry. This is why we refer to him as a rising star because he is one of the up and coming actors who represent the future of the industry which will be here in a few short years. He's a part of the upcoming generation that will keep us entertained in the years to come.
Tell us what's wrong with this post? How could we improve it? :)
Let us improve this post!