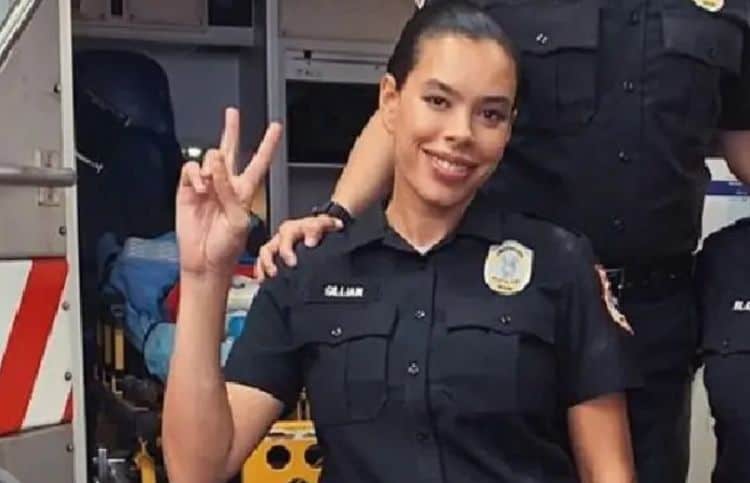 One of the most talked-about shows is 9-1-1: Lone Star. It is an American procedural drama created for Fox Network and premiered in mid-January, 2020. It is an excellent show that will have you captivated to your screen as you watch the drama unfold. Among the show's standout actors is Brianna Baker, who plays the part of Nancy Gillian, a paramedic. Although she has a recurring role, she puts her all into the part, and you cannot help but be impressed. So, who exactly is Brianna Baker? To answer your question, we bring you ten facts you didn't know about this actress.
1. Her Early Life And Growing Up
One thing that is known about Brianna Baker is her preference for privacy. She hardly divulges any personal details, such as her date of birth or hometown. However, her social media pages provide some clues into her family life. On her Instagram handle, she often posts pictures of her sister, who bears a strong resemblance to her. According to Better Off Wed, she has hinted that she grew up in Rantoul, Illinois.
2. Her Ancestry
Looking at Brianna's complexion, you get an immediate hint that she is of mixed ancestry. She has a caramel hue, a subtle indication of her white and black heritage, possibly. While not confirmed at all, you can find her childhood pictures on Instagram with her white mother. There is a strong likelihood that her father is African-American.
3. Schooling
Not much information is available on where Brianna schooled, though it is clear that she attended several Improv and theater schools. It is from these schools that she honed her acting skills, becoming the professional she is today. Among the theater schools, she has an association with the Groundlings theatre and school, which has been established since 1974.
4. Beginning As A Child
Despite her schooling history being in the dark, she has opined in several interviews that she got into acting while in fourth grade – a remarkably young age that speaks to the amount of experience she has in the entertainment industry. She got her start in a school play, when the teacher in charge was searching for someone with the complexion to play a Native American boy. It was this role that acted as her introduction to the world of acting and she instantly fell in love with it.
5. Behind The Scene Venture
Aside from acting, Brianna takes on behind-the-scenes roles in areas such as production, directing, and writing, demonstrating her versatility and ability to easily adapt to any set in various capacities. Per IMDb, she has writing credits in several episodes of Young Couple and has produced notable works such as the documentary, Will Smith's Bucket List. Having recently gotten into production, we expect to see many of her works in the coming days.
6. Her Authoring Career
Brianna Baker is a creative genius, as demonstrated by her other venture as an author. She is an exceptionally talented writer with one published work, Little White Lies. The young adult novel focuses on the Tumblr account of honors student Coretta White, after her stories go viral. The catch is that she has not been the one writing the stories; instead, she has a ghostwriter. Once she admits that she has not been the author of the stories, things begin to spiral out of control. It is an excellent read, published by Soho Teen, and currently has a 2.71 rating on Goodreads from 78 reviews. There is a chance that more literary works will come from Brianna in the future.
7. Filmography
Brianna has been a fixture in the entertainment industry for nearly a decade and has an impressive body of work to show for her time. Her film credits include the 2012 short How to Seduce Michelle Obama and the 2013 feature Chasing the Green. She has also made a name for herself on television, appearing in such shows as Take My Wife, Cleansed, Throwing Shade, Magical Girl Friendship Squad: Origins, and the new series 9-1-1: Lone Star.
8. Her Relationships
Maintaining her low-key persona, there is not much detail available on her relationships. It is still uncertain whether she is dating, her orientation, or if she has any children. From a professional perspective, this is an excellent move as it helps draw a boundary between her personal and professional life.
9. Social Media Presence
Social media is an invaluable tool when it comes to the entertainment scene, and celebrities can leverage it to their advantage in connecting with their fans. Baker is well aware of the power of social media and maintains an active Instagram account where she frequently posts her photos. At present, she has posted over 1000 times and has amassed nearly 3000 followers. Her posts usually feature the different places she visits, along with several dedicated to her family and friends.
10. Her Favorite Food
The actress isn't shy about labeling herself a foodie, and she appears to be quite the cook. Among the dishes she simply can't resist, should they appear on a menu, are turkey baste, fish, and pasta.
Conclusion
Brianna Baker has had a decent number of appearances in several series during her nearly decade-long career. She tends to keep a low profile, meaning that few of her personal details are known to the public. Here are some facts about her that you may not have been aware of. You can follow her on Instagram or watch her performance on Fox Channel's 9-1-1: Lone Star.
Tell us what's wrong with this post? How could we improve it? :)
Let us improve this post!