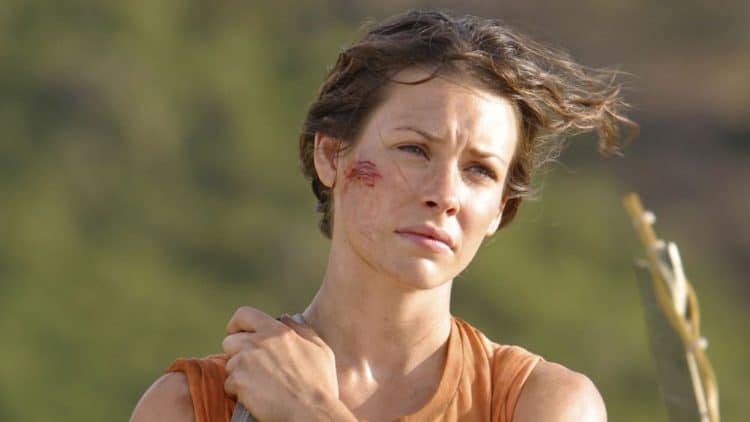 Evangeline Lilly's big break came in 2004, when she was cast in the role of Kate Austen in the ABC show, Lost. The show, which aired until 2010, made household names of its cast, and turned the aspiring actress into one of the biggest film draws of the noughties. After a brief, self-imposed exile from Hollywood, Lilly returned to our screens in 2013 with The Hobbit, and has since gone on to rack up the credits with such films as Little Evil (2017), Ant Man and the Wasp (2018) and Avenger: Endgame (2019). Following the recent announcement that Lilly is set to return to television in new mystery drama series Albedo, 2019 is already shaping up to be the star's finest year to date. If you're interested in finding out more about the actress (and why wouldn't you be?), here's 20 things about Evangeline Lilly that may surprise you.
1. Her name isn't Evangeline
We may know the former Lost star as Evangeline, but her real name is, in fact, Nicole. Lilly joins the ranks of John Legend (real name: John Roger Stephens), Aaron Paul (real name: Aaron Paul Sturtevant), Joaquin Phoenix (real: name Joaquin Rafael Bottom) and Miley Cyrus (real name: Destiny Hope Cyrus) who all abandoned their birth names when fame came calling. In Lilly's case, her actual birth name is Nicole Evangeline Lilly, which, while nice enough, doesn't have quite the same ring as Evangeline Lilly… which may explain the switch.
2. She's bilingual
Canadian Lilly has many talents, and languages are one of them. In her youth, Lilly attended various immersion programs between kindergarten and 7th grade that have given her full fluency in French. Lilly's skill in the language was highlighted during the promotional rounds for Lost, in which she gave several complete interviews in French, flooring her interviewers and impressing her fans all at the same time.
3. She used to work as an oil changer
Before she got her big break in Lost, Lilly made ends meet by working a variety of jobs, including flight attending, waitressing, and perhaps most surprisingly, changing the oil for big rig trucks. In an interview with Metro, Lilly described the experience as one of the toughest she's endured, worse even the constant jet lag of being a flight attendant: "Doing oil changes and grease jobs on big rig trucks in the winter in Canada was harder. I was a mobile grease monkey. I'd drive a one-tonne truck to parking lots and work on vehicles. It wasn't glamorous.".
4. She was a missionary
In her youth, Lilly spent a brief stint as a missionary in the Philippines. The church -organized trip, which lasted 3 weeks and saw Lilly living in grass huts as she and the rest of the group roughed it in the Jungle, took place when Lilly was 18. It wasn't the first time the Lilly family had tried their hand at missionary work; according to IMDB, both of Lilly's paternal grandparents served as missionaries in Africa.
5. She's a devout Christian
Lilly had a deeply religious upbringing (although reports vary as to whether she was raised in the Mennonite, Evangelical, or Baptist tradition). As well as participating in her church's missionary outing in Asia, Lilly regularly attended bible camp, and taught the children of her local Sunday School for 9 years. Lilly's faith continues to this day and has even seen her turn down lucrative modelling work when she's struggled to reconcile the sexy shoots with her beliefs. According to her Lost castmates, the devout Lilly would always carry a Bible with her wherever she went… although she was sometimes slightly less than angelic, with Jorge Garcia commenting:- "There's a lot of that Christian good girl in her, but sometimes certain things come out of her mouth. She's got the devil mixed in there too".
6. She thought Lost would fail
When she initially heard the premise to Lost, Lilly was less than impressed. At best, she thought it would be "mediocre" and at worst, "real crap". When she got the callback from her audition, Lilly was in two minds about whether to accept, even saying to her agent:- 'Are you sure that I should go back for this? I mean, it sounds really cheesy". Fortunately, Lilly changed her mind completely after meeting up with director JJ Abrams and getting the chance to read the script, which she described as "really, really interesting and really exciting".
7. She doesn't aspire to fame
Unlike some actors and actresses who are clearly in the game for the fame and the fortune, Lilly professes to be completely uninterested in the trappings of the celebrity lifestyle. As something of the shy and retiring type, Lilly would rather be left alone to get on with her job than worry about looking camera ready for the paparazzi. In an interview with indieLONDON, she revealed "My goal as an actress is to be able to work for as long as I want to work with as little attention and fame as possible".
8. Visa problems nearly cost her Lost
Lilly may have seriously impressed Lost director JJ Abrams (when she walked into the casting room, he reportedly declared "That's the girl"), but she had a much tougher time charming the immigration authorities. After being offered the role of Kate, Lilly got straight to work applying for her work permit for the United States. However, it took 20 attempts in total, and a lot of stress, sweat and tears along the way, before the authorities finally relented and issued the required visa. The final documents came just in the nick of time… the day after the permit arrived, Lilly flew off to Hawaii to join the rest of the cast, landing just in time to film her first scene.
9. She never turns down a dare
She may have an angelic face, but Lilly is a dare- devil at heart. Never one to back down from a challenge, Lilly shocked her Lost cast-mates when she took on Jorge Garcia's dare to urinate in a garbage can… all for just 20 dollars. "So we're in the middle of a parking lot in Kailua, daring each other to do things", Lilly remembers. "Jorge turns to me and says, 'I'll give you twenty dollars if you pee in that garbage can.' I've got my pants down and my bum hanging into this garbage can, and he has to give me twenty dollars".
10. Her childhood nickname was Monkey
As a child, Lilly was something of the tomboy, preferring to get dirty outside than play house with her dolls. One of her favorite pursuits was climbing the trees around her family home in British Columbia. Her primate- like ability to scale the heights soon earned her the very appropriate name of "Monkey". Years later, Lilly would put her talents to good use again, when she got to spend pretty much every episode of Lost halfway up a tree…. and this time around, she even got paid for it.
11. She's a children's author
If you can't get enough of Lilly, you may want to check out your local library. In recent years, Lilly has turned her hand to writing… although you may need to be very young indeed if you're going to enjoy the fruits of her labor. Following the birth of her first child, Lilly dedicated herself to creating a series of children's books named "The Squickerwonkers". The books revolve around Selma, who, after meeting a group of Squickerwonker puppets, enters the Squicker-Show, a test of character which Selma ultimately fails to pass. Lilly has described the books "as a cautionary tale for kids, teaching them to recognize the vices within them and learn how they can make good choices".
12. She's been in three franchises
Lilly has been known to describe herself as a reluctant actress, and does as much as possible to avoid the spotlight. Strange then, that she's been involved in three of the biggest franchises of recent years. In 2013, Lilly joined The Hobbit franchise, and subsequently starred as Tauriel in The Desolation of Smaug (2013) and The Battle of the Five Armies (2013). The Hobbit series proved even more successful than The Lord of the Rings trilogy it followed, and ranks as one of the highest grossing film franchises of all time. Hot on the heels of the Hobbit, Lilly joined the Marvel Cinematic Universe franchise, and has since gone on to starring roles in Ant-Man and the Wasp (2018) and Avengers: Endgame (2019).
13. She was married for a year
In 2003, it seemed like Lilly had found her soul mate when she married fellow Canadian and amateur hockey player, Murray Horne. However, the relationship was not to be, and the pair divorced after just one year. After her marriage bit the dust, Lilly was involved with Lost cast-mate, British actor Dominic Monaghan, for 5 years. However, the pair eventually called it a day in 2009, leaving Lilly to move on to Norman Pali. Lilly and Pali have been together ever since, and today share 2 children.
14. She's no feminist
Lilly may be a proud defender of women's rights, but she doesn't consider herself a feminist. In 2014, Lilly courted controversy when she voiced her opinions in an interview with the Huffington Post:- "I'm very proud of being a woman, and as a woman, I don't even like the word feminism because when I hear that word, I associate it with women trying to pretend to be men, and I'm not interested in trying to pretend to be a man". Given her somewhat confused interpretation of feminism, it may be an idea for the actress/ author to put aside her pen for a while and try reading some books on the subject instead.
15. She's written a screenplay
As well as authoring children's books, Lilly has turned her hand to screenwriting. During a 2014 interview with Huffington Post, Lilly reveled she had written a screenplay around five to six years previous, and was currently in the process of adapting it into a series of graphic novels. The tale centers around a kick-ass female protagonist… as neither the screenplay nor the books have yet to see the light of day, that's about as much as I can tell you for now.
16. She's a philanthropist
If Lilly is trying to save herself a place in heaven, she's going the right way about it. As a teenager, the one-time missionary did her best to bring God's word to the people of the Philippines (of course, whether they asked for or wanted it is another subject entirely). As an adult, she's kept up her do-gooding ways with non-profit organizations such as the GO campaign, a foundation that helps raise funds and awareness for some of the world's poorest and most vulnerable children. Lilly has participated in various charity auctions over the years: in 2009, she auctioned off lingerie for Task Brazil; in 2010, she offered 3 lucky fans the chance to bid for lunch in support of the widows and orphans of Rwanda; and in 2012, she auctioned off a Hawaiian hike for the Sierra Club Foundation.
17. She lost all her belongings in a fire
In December 2006, Lilly was the unfortunate victim of a house fire at her home in Kailua, Hawaii. Luckily, Lilly was on the set of Lost at the time, and was left none the worse (at least physically) for the experience. It did, however, result in the loss of all her personal belongings… an experience she claims to have found strangely freeing, noting:- " (the fire) was almost liberating, I'm in no hurry to clutter up my life again".
18. She's an award winner
Thanks to her prolific output over the past 2 decades, Lilly has stacked up her fair share of awards, starting with a Screen Actors Guild Award in 2005 for Outstanding Performance by an Ensemble in a Drama Series. In 2010, she and the cast of Hurt Locker scooped a Gotham Award for Best Ensemble cast. 4 years later, she and Orlando Bloom shared the MTV Movie Award for Best Fight. In between award wins, Lilly has received more than just a few nominations, including multiple Teen Choice Award nominations for Lost, an Empire Award nomination for Best Supporting Actress in The Hobbit: The Desolation of Smaug, and a prestigious Golden Globe nomination for Best Actress in a Television Series Drama.
19. The role of Tauriel was written for her
As someone who does her best to avoid the celebrity lifestyle, it was a little surprising when Lilly took on the role of Tauriel in The Hobbit franchise. Given the success of the Lord of the Rings, there's no doubt Lilly would have been aware the role would turn a spotlight on her for quite some years to come. However, her choice is perhaps less of a surprise when we learn the role was written by director Peter Jackson with Lilly solely, and firmly, in mind. Jackson personally reached out to Lilly to entice her to accept the role, and the ploy clearly worked… Lilly signed up and the rest is middle-earth history.
20. She temporarily retired from Hollywood
In 2011, we seemed in danger of losing Lilly permanently when the self-proclaimed "reluctant" actress decided to abandon entertainment altogether in favor of a quiet life as mother and children's book author. The actress claimed the experience of being thrown into the limelight on Lost made her extremely uncomfortable, and she was left unsure at how to handle her new-found fame. "I ended up deciding to retire after I finished Lost", the actress revealed. "I did a film called Real Steel with Hugh Jackman and then I walked away. I said, "I'm done, I'm never doing this again". Lilly did eventually return to the industry and has since gone on to feature in some of her biggest roles to date.