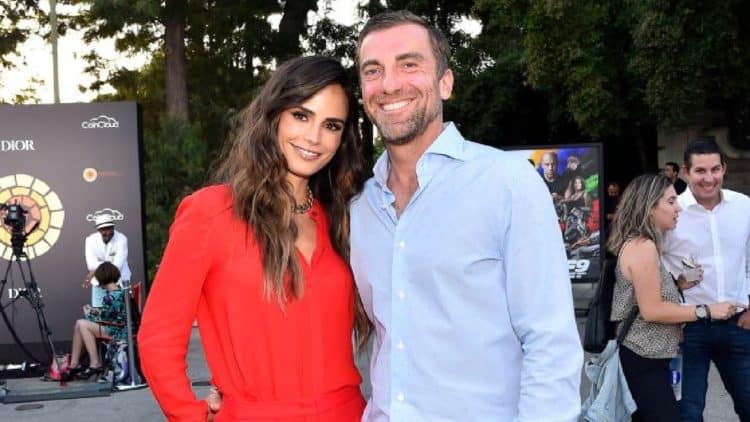 Having a relationship with someone in the public eye often means having to share some of it with the world. That is something that Mason Morfit has learned since he started dating Jordana Brewster in 2020. The couple became an item shortly after Jordana's divorce from her ex-husband, Andrew Form, and they've been inseparable ever since. The couple has officially taken their relationship to the next level by getting engaged, and they couldn't be any more excited about what the future holds. After news of their recent engagement, Mason has become known to the public as Jordana Brewster's fiance. However, there is so much more to him than that. Keep reading to learn 10 things you didn't know about Mason Morfit.
1. He Had An Interesting Upbringing
Since Mason isn't actually a public figure, there isn't a lot of information out there about his life. What we do know, however, is that he was raised in a Quaker household between India and Indonesia. However, by the time he was in middle school, his family had settled in the Washington D.C. area and he attended Sidwell Friends School.
2. He's In A Band
Mason is the kind of guy who is all about his business, but he also has a creative side. He plays guitar in a rock band called Birdseed that was formed in 2012. According to Broadway World, the name is the result of the fact that the group members met while their children were studying at the Bird School of Music. In 2017, the group released a limited edition EP called Not Out of Time.
3. His Instagram Account Is Private
Now that Mason is officially Jordana's future husband, lots of people are dying to know more about him and social media is probably the first place they'll go to find out. Unfortunately for them, they won't be able to find much. Mason likes to keep a pretty low profile and his Instagram account is currently private. The fact that he has just 341 followers also shows that he doesn't accept random requests.
4. He Has An Ivy League Education
Education is something that has always been important to Mason. After graduating from Sidewall Friends School, he went on to attend Princeton University where he earned a bachelor's degree in political economy. While there are tons of people who never get to work in the field they went to school for, Mason has been putting his degree to good use.
5. He Hasn't Been Linked To Any Other Famous Women
There are plenty of people who date celebrities simply because they want to get a taste of the spotlight. These kinds of people tend to hop around from one celebrity partner to another. However, that doesn't seem to be Mason's style at all. From what we can tell, he hasn't dated anyone else in the entertainment industry.
6. He Has Worked With Some Successful Brands
Over the course of his career, Mason has gotten the opportunity to collaborate with some very well-known companies. At the top of the list is computer giant, Microsoft. From 2014 to 2017, he was on the board of directors at Microsoft and he was instrumental in helping the company make some major changes.
7. He's Been Married Before
Just like Jordana, this marriage won't be his first. He was previously married to a woman named Anna-Mieke Ortiz who also worked in the finance world and is a member of the board of trustees at California State University. The couple's wedding was featured in the fall 2004 edition of Martha Stewart Weddings. The couple divorced in 2020. It's unclear if they have any children together.
8. He Is Involved With The Boy Scouts
Even though it seems like Mason's schedule can get pretty hectic, he still has time to do some volunteer work. According to Mason's bio, he is the treasurer for the Boy Scouts troop 14 in San Francisco. Based on this, it seems pretty likely that Mason was a Boy Scout himself.
9. He Left A Lasting Impression On Jordana After Their First Meeting
Mason and Jordana have only been dating for a little over a year, but they've actually known each other for over a decade. They met several years ago while they were both still married. In an article that Jordana wrote for Glamour, she shared that she followed Mason on Instagram shortly after their meeting and she was always excited whenever he liked one of her posts.
10. He's A Star Wars Fan
Star Wars is arguably the best-known science-fiction franchise in the world, and Mason Morfit is a major fan. Unfortunately, since his Instagram account is private and he's an overall low-key person, we weren't able to find any additional information on his love for Star Wars.Star Wars