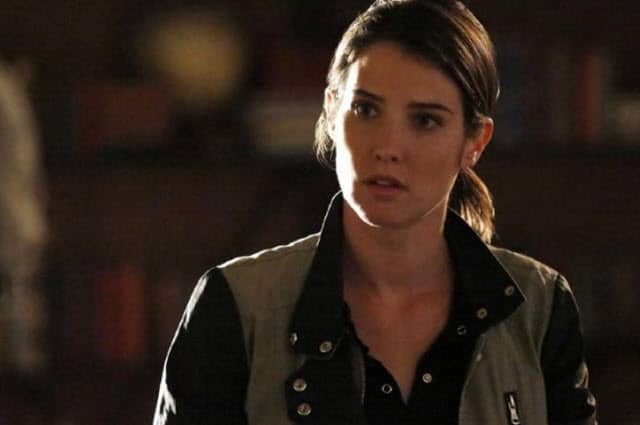 The impressive streak continues for Marvel's Agents of S.H.I.E.L.D. as this week's episode featured the return of Marvel fan favorite Maria Hill (played by the outstanding Cobie Smulders).
The return of Hill was well used by the show-runners and it gave the audience some good updates on what she has been up to since the events of Captain America: The Winter Soldier. While I have always enjoyed Smulders as Hill since The Avengers, the thing that has bothered me regarding the character is the lack of clarity on what they are planning to do with her in the Marvel Cinematic Universe.
But after her last scenes in the latest movie as well as in this episode has given us some ideas of where she is heading. Her interaction with Coulson was strong and it continued to flesh out what their relationship is like. It was nice to see that she had more scenes this time since she only had a few scenes in the pilot. We have known for a long time why Smulders could never be a series regular or a regular guest on Agents of S.H.I.E.L.D. in the first season because of her commitment to How I Met Your Mother.
While I'm not certain what her next project is after Avenger: Age of Ultron, it would be a great addition to the show if they could get Smulders to join the show as a series regular in season 2. However, it's unlikely that she will be a series regular because after having been a main star on a show that lasted for 9 years, it may not be the first thing that she wants to do again. I would be good if they got her as a guest regular for 12-14 episodes so fingers crossed.
Something a lot of people commented on at the beginning of the show was the fact that 4 of the main characters were young S.H.I.E.L.D. agents and I have never been against that concept. But something that we can take away from this episode was a sort of rites of passage moments for some of them, especially for Fitz and Simmons. Seeing Fitz throwing things around and being angry about the revelation that Ward is Hydra, was perhaps one of the most heartbreaking performances Iain De Caestecker has given so far.
Even though he has never really expressed it, you could tell that he looked up to Ward as a role model and obviously as a friend. Then we had Simmons having to examine Koenig's dead body without letting her emotions get to her. Regardless of what you thought previously, these young agents are starting to get into the tough world of S.H.I.E.L.D. (even if it doesn't exist anymore) and that is a great way of telling a story of growth.
It has been fascinating seeing the evolution of Skye and what Chloe Bennet has done with this character. This was one of her best episodes without doubt because you finally see what a whole season has done to her, which has been one improvement after another. Some may disagree, but there were several points in this episode where Skye was Buffy-esque and I rarely do that comparison. While we do have a lot of great and strong female characters on TV, it's hard to top what Sarah Michelle Gellar did as Buffy Summers on that show. Seeing Skye confront Ward in the diner that she knew what he was up to while getting the cops on him was one of the show's strongest moments.
Even the scene on the Bus when she just wanted to hurt him physically (which she did) was awesome, but it was also sad to see the effect that Ward's betrayal had on her. Ward however just managed to get me to hate him even more (in a good way) and Brett Dalton is nailing it in playing evil. Even his cocky attitude towards Hill was just wicked fun to watch.
The last scene with May showing Coulson a video of himself resigning from the T.A.H.I.T.I. project was a very big shock and something that I never saw coming. It expands the whole T.A.H.I.T.I. mystery to a new level and makes it look like that it might even be part of season 2.
Lastly, if B.J. Britt's Agent Triplett doesn't get promoted to series regular in season 2, then Hydra has invaded the production because every episode making me wanting to see more of him. In addition, they better find a way to get Deathlok free from Garrett because like Britt, J. August Richards needs to get promoted as well because the show could use a butt kicking cyborg.
Overall, "Nothing Personal" was a fun and solid episode as it gears everyone up for the last two episodes of season one and judging on the trailer for next week, you better not take a trip to Tahiti anytime soon because you don't want to miss these two episodes.
Marvel's Agents of S.H.I.E.L.D. airs on Tuesday nights, 8/7c on ABC.
[Photo via ABC]