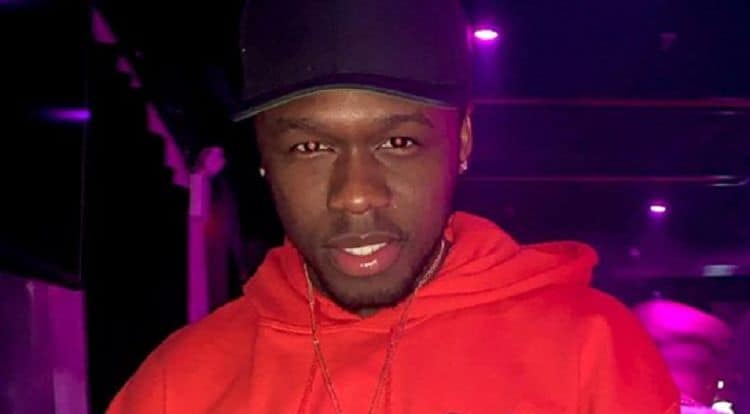 In October 1997, 50 Cent's ex-girlfriend, Shaniqua Tompkins, welcomed the rapper's son, Marquise Jackson, into the world. Shortly after the birth, the couple split… and over 20 years later, they're still fighting (although given that Tomkins tried to sue 50 Cents for $50 million, you can understand where the animosity comes from). Over the last couple of years, Marquise has stepped into the ring, entering into a high-profile battle with his dad that seems to get ever more embittered as the years go on. Find out more with these ten little facts.
1. His birth changed 50 Cent's life
When Marquise was born, it shook 50 Cent's world. "When my son came into my life, my priorities changed, because I wanted to have the relationship with him that I didn't have with my father", he said at the time, later crediting his son as giving him the motivation to push his career in a different direction. As proof of his love, he even had 'Marquise' tattooed on his arm under a depiction of an axe.
2. He modeled for his dad's clothing line
Question: What do Kaia Gerber, Sailor Brinkley Cook, Georgia May Jagger, Hailey Baldwin, and Gigi Hadid all have in common? Answer: They're all models and they've all got celebs for parents. These days, if you're the offspring of a big name, the chances of you walking the runway at some point or another are almost certain. In that, Marquise is no exception. Before the troubles between father and son started, Marquise regularly modeled for 50 Cent's G-unit clothing line, even walking the runway side-by-side with Fiddy on a few occasions. In 2007, he dabbled further in the modeling world when he posed up a storm alongside a bunch of other celeb kids for CHILD magazine.
3. There's no love lost between him and 50 Cent
Marquise's birth may have changed 50 Cent's life for the better, but the goodwill didn't last long. The trouble started when Marquise turned 15. After inviting his dad round to hang out, the teen made the grave mistake of not being around to open the door. As Daily Entertainment News reported at the time, 50 Cent let rip with his anger, sending off a volley of text messages that ended with "don't have a son anymore." "delete my number."
4. His father wouldn't care if he was run over by a bus
Telling your 15-year-old son to delete your number is bad. Telling your 21-year son that you wouldn't care if they got run over by a bus is even worse. And yet that's exactly what happened in November 2018 when Fiddy chose to comment "if both these little … got hit by a bus, I wouldn't have a bad day" under an Instagram snap of Marquise and the son of Kenneth "Supreme" McGriff (someone else 50 isn't particularly fond of — although considering McGriff allegedly plotted to kill 50 at one point, we kind of get his point).
5. 50 Cent would choose 6ix9ine over him
If saying he wouldn't care if his own son was run over by a bus wasn't enough to win him a father of the year award, Fiddy's comments from earlier this year won't be getting him any closer. During an Instagram Live session in April, the rapper showed where his true allegiances lie. When a fan asked whether he'd "seen his son yet," Fiddy seemed to assume the 'son' in question was 6ix9ine. "No, I ain't heard from 6ix9ine. He's his mother's child now. He told on everybody," 50 Cent said, before following his comment up with a snide backhander. "He's (6ix9ine) better than Marquise though," he laughed. "I'll take him before I take my… (cue expletives)."
6. He's released a track about his dad
In 2017, Marquise proved he was his dad's son (whether Fiddy likes it or not) when he took his first steps in the music world. His track, Different, had plenty to say about the pair's relationship (and if you want to know how Marquise feels about it, just look at the line "Lost my pops, he's still alive.") According to an interview with TMZ, however, Marquise credits the song with a much deeper meaning than most people believe, saying it was never intended as just a pop at 'pops'.
7. His dad was his hero
As the saying goes, you should never meet your heroes… although how you manage that when your hero is your dad, who knows? Growing up, Marquise idolized 50. It was only as he entered his teens that the relationship began to sour. "Growing up, my dad was my superhero," he told Rap-Up in 2017. "It was like having a father who was Superman, more or less. But then, as I got older, you start realizing things or you start seeing certain patterns and it takes an effect on your relationship with people. That's what happened to me and my father."
8. Nas is his favorite rapper
In an interview with Rap-Up, Marquise revealed who his all-time favorite rapper is… and surprise, surprise, it's not his dad. "Nas is my favorite rapper, like ever," he shared." Nas' "Hate Me Now" is one of those songs where I don't know what it does. It puts me in a weird place. I was so small, I couldn't understand. I wasn't old enough to know what it was but now, it still does something to me and it was made so long ago." He then went on to say what a huge inspiration Ja Rule has been, which, considering 50 and Ja Rule are sworn enemies, probably went down like a lead balloon.
9. He's over-entitled… according to his dad
In April 2020, 50 Cent released the self-help guide, Hustle Harder, Hustle Smarter. In it, he details some of the less than amicable relationships he's had with the likes of Oprah Winfrey, and, of course, his son. Talking to the Guardian about the relationship, Fiddy was clear that he doesn't feel he's the one to blame for the estrangement. "I've already tried so long with him," he told the newspaper. "That sense of entitlement is scariest when it's someone you love. He still manages to feel deprived when he's had everything. You love the person, he's your child, and he looks at you as if you're the enemy. And, after a while, you go: this is not a kid, it's a grown man we're talking about."
10. He's never met his half brother
In 2012, 50 Cent became a dad again when his youngest son Sire was born. During an interview at the 2015 BET Hip Hop Awards, Marquise confirmed he'd never met his half-brother, despite wanting to. "I would love to meet him, though. I would love to," he shared.