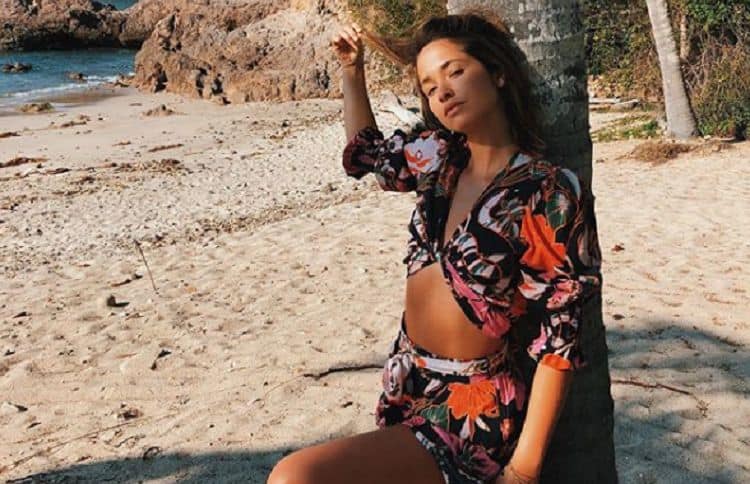 In the three years since making her on screen debut, Paulina Matos has taken the Mexican entertainment industry by storm. Her effortless talent and undeniable make her a perfect fit for being in front of the camera. So far, she has only appeared in Mexican productions such as Lady Altagracia and Mi Familia Perfecta. But her recent role in the Netflix series, Dark Desire, has put her on the brink of international stardom. Although the series in in Spanish, it was released on Netflix in several countries and many believe that it gain popularity all over the world. If Dark Desire ends up being as successful as people are hoping, 2020 could be the biggest year Paula has had yet. Keep reading for 10 things you didn't know about Paulina Matos.
1. She Loves To Travel
Most people would agree that having the ability to travel far and travel often is something to be thankful for. Paulina is originally from Mexico, but she has gotten the chance to travel to lots of places throughout the years. Some of the places she's visited include The Bahamas, Colombia, the United States, and Spain.
2. She Is Signed To A Talent Agency
Some actors prefer to navigate all areas of their career on their own. However, others prefer to work with an agency to help them make the most of their opportunities. Paulina has chosen to sign with a Mexico based agency called eCamp Talent. According to the company's website, its goal is to "develop and manage existing top celebrities via our celebrity relations and entertainment business program."
3. She Has A Strong Social Media Presence
As an actress who is still relatively early in her career, Paulina understands the importance of using social media to her advantage. She has worked hard to create a strong Instagram presence and currently has nearly 40,000 followers. As she continues to land more roles, her social media presence is sure to grow.
4. She's Worked With One Of Her Dark Desire Co-Stars Before
Even though the entertainment industry seems like an entirely different universe, it's actually somewhat of a small world. Especially in countries where the market is a bit smaller. With that being said, it is fairly common for actors to cross paths. She and Erik Hayser, who plays Esteban on Dark Desire, worked together previously on the series, Preso No. 1 .
5. She Participated In Black Out Tuesday
In recent months, the fight to end racism has become much more main stream. Protests and rallies have taken place all over the world, and some of them have even been organized and executed on social media. On June 2nd, people were asked to share a black square on social media to show their solidarity with the movement. Paula was one of the many celebrities who chose to participate.
6. She's A Dog Mom
Paulina doesn't have any children of her own yet, but she's still a mother in her own right. She has a cute dog named Emma Maria and they really are two peas in a pod. Emma has her own Instagram account where people can follow her activities. When Paulina isn't working, she loves hanging out with Emma and going on adventures.
7. She Loves Fashion
Fashion and entertainment are technically two different industries, but they overlap in a lot of ways. Celebrities are typically the people who promote and popularize certain styles and brands. Paulina definitely has an eye for fashion and she loves coordinating outfits.
8. She Speaks 3 Languages
On the journey to becoming an international star, being able to speak more than one language is a skill that will come in handy. Luckily for Paulina, she can speak three languages. According to her resume, she is fluent in written and spoken Spanish and English. She can also speak and write in German although she isn't fluent.
9. She Studied In London
Not all actors believe that formal training is necessary, but others see training as another tool that they can use to help sharpen their skills. Paulina is among the group who believes in training and studied acting at the University of London. In addition to that, she has taken several other acting classes throughout the years.
10. She's Lived In Miami
Paula was born in Guadalajara, Mexico and she spent several years of her life there. However, she has also lived in Miami. It's unclear exactly when she moved to Mexico or what sparked the move. Despite living in the United States, Paulina has had to travel to Mexico often to film projects.
Tell us what's wrong with this post? How could we improve it? :)
Let us improve this post!