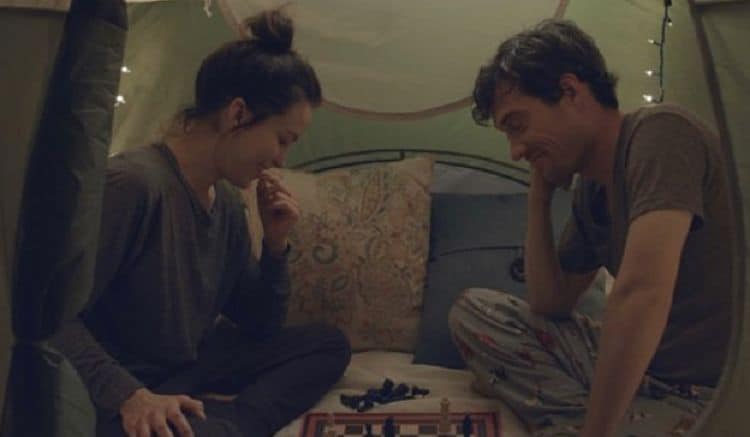 Since making her acting debut over a decade ago, Britt Lower's career has constantly been on an upward trajectory. Over the years, she has had dozens of roles that include both film and TV appearances. Britt is best-known for her role in the shows Unforgettable and Man Seeking Woman. Most recently she had a main role in the 2020 film, Holly Slept Over. The role gave Britt a chance to show just how diverse her talents really are, and fans are excited to see what else she has coming in the future. Continue reading for 10 things you didn't know about Britt Lower.
1. Her Background Is In Theater
Most viewers are more familiar with Britt's on screen work, but her background is actually in theater. Throughout her career, she has been a part of several stage shows including a production Salome of the Moon at the Pearl Theater Company in New York.
2. She's Really Into Technology
Britt Lower is definitely one of those people who has some hidden talents up her sleeve. One of those talents is that she's really good with computers. During an interview with Clique Clack, Lower shared that she recently took apart her laptop to install new RAM.
3. She Was In An Improv Group
Collaboration is one of the best ways for actors to help improv their skills. During college, Lower joined an improv group that helped her get confident in her craft and eventually helped her in her professional endeavors. She said, " I went to a new student orientation and there was this improv group on campus, and I thought, 'Well that's the most terrifying thing I've ever seen.' They had auditions the next week, and I thought, 'I'm just going to go and see what happens.' And it turns out that it was the best training I could have possibly ever had because it is all the things that Man Seeking Woman absolutely requires."
4. Patti Smith Is One Of Her Heroes
At this point in her career, there are probably lots of people who consider Britt Lower a hero. However, she's got one of her own. Britt says that Patti Smith is one of her biggest heroes. Lower also says that she's a big fan of Smith's book, Just Kids.
5. She Was A Basketball Player
Remember when I said that Britt Lower has some hidden talents? Here's another one. On top of acting and upgrading computers, Britt is also a basketball player. She grew up playing the sport and even dreamed of turning it into a career. Although things worked out a bit different, she has continued to play basketball into adulthood in the LA Municipal Women's League.
6. She Has An Adorable Dog
Britt may not have had any biological children, but she's a mom none the less. She has an adorable little fur baby named Babaji. The dog was found wandering the streets by Britt's friend and colleague, Sarah Timberman.
7. She Loves The Outdoors
Even though Britt has a career in the entertainment industry, she hasn't lost touch with the basics. Getting out and enjoying nature is one of Britt's favorite things to do. Whether it be hiking, gardening, or going on various adventures, Britt really loves to explore the outdoors.
8. She Might Not Own A TV
Britt spends a lot of time on people's TV screens, so it's kind of ironic that she may not have one of her own. While talking to Clique Clack, Britt shared that she didn't own a TV. This was a few years ago, so she may have gotten one by now.
9. She Plays The Trumpet
Britt is truly a creative who loves expressing herself through the arts, and that also includes music. She plays the trumpet although it's unclear if she does performances or if this is just something she does for fun. Either way, it's yet another thing that proves just how insanely talented Britt Lower is.
10. She's A Face Painter
Known as The Zoo Lady, Britt Lower's mother is a professional face painter who has been working with adults and children for nearly 20 years. As a result, Britt has also gained an interest in face paint and "uses performance and body art to help people engage with their fears and navigate pathways to radical joy". While visiting Conan, Britt put her talents on display when she painted Conan O'Brien's face on live TV.
Tell us what's wrong with this post? How could we improve it? :)
Let us improve this post!