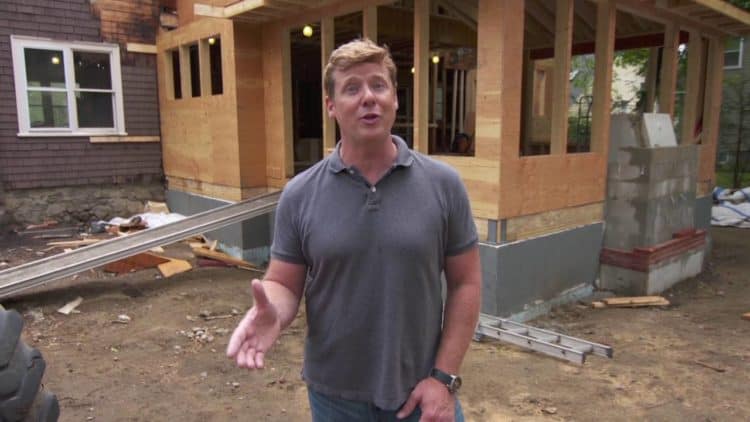 Everything happens for a reason, and Kevin landing the job of a television host of "This Old House" only proves this saying to be true. Kevin O'Connor left his banking job to take on a new path, and he has never looked back. Through the new job, Kevin discovered his passion for construction and has even written a book. It has also been an exciting adventure since he gets to travel to different places while also learning a thing or two about renovation. Let's check out some of the things you may not know about Kevin.
1. He was never interested in being on television
Most television personalities end up on the screens because that was their dream, but Kevin never thought he would one day be on television. His lack of interest, therefore, ensured that he did not bother with theater clubs while in school. He describes himself as "an accidental TV star" because he had no experience in entertainment but still became the host of a show.
2. He does not think of himself as an expert
Kevin's job at "This Old House" was not the first time he was in the construction business. He grew up building skateboards from plywood since he had all the materials needed from his father's job as a civil engineer. For college, Kevin paid his tuition fees by working in construction. Still, despite having the 15 plus years of experience in the industry, he does not consider himself an expert, especially in renovation. Therefore he would rather ask his colleagues whose families have been in construction, thus making them gurus in the profession.
3. How he ended up becoming the host of "This Old House."
When Kevin was 34, he and his wife found it challenging to remove layers of wallpaper from their 1894 Queen Anne Victorian house. Therefore they sent an email to "This Old House" soliciting advice, which prompted the crew to go the house and film a scene for "Ask This Old House." Little did Kevin know that that email would change his life for good; he got along so well with the crew that when they went back, the show's producers called him asking if he would be interested in hosting the new show.
4. Why he was chosen to host "This Old House."
Kevin admitted that he had no background in hosting a television show, but producers were looking for more than just experience. The creator of the show revealed that their interest in Kevin was because of his energy and optimism. He kept asking the crew questions as they helped him with his house, and that level of curiosity was refreshing enough to land him a new job as a host. The creator of the series thought that since Kevin was a first-time homeowner with genuine curiosity, it would earn them a loyal audience.
5. Why he accepted the host job
Some will call it a stroke of luck since stars were aligned in Kevin's favor. However, Kevin knows that although he caught a lucky break, he was prepared if it did not work out. The television host has experience in the finance industry. He was once in working in state government, but upon developing a passion for finance, he decided to pursue it until he got his master's degree. He juggled school and work and is proud that his efforts paid off. Therefore even when he accepted the hosting job, Kevin knew that he had a career that he could fall back on if the television industry was not for him.
6. What excites him about being a host?
Kevin, in his interview with Charles & Hudson, said that to most people, they might think that it is not a typical job, but it is like any other; he has to work hard to ensure the product is fantastic. Although he has achieved celebrity status and people will now stop him on the streets to take a picture, it is just a fleeting phase. For him, the challenges he encounters every day that facilitate his creativity are what motivate him to do his best.
7. His net worth
Investing in shares can be the turning point in your life if you have done your homework and chosen stock that is doing well in the market. Kevin's net worth as of August 2018 stood at $6.66 million, mostly from the units of stock he owns at Bridge. Besides the shares being worth over $5.1 million, the man takes home almost $1.5 million due to his capacity as President, director, and CEO of Bridge, according to Wallmine. The fact that he is paid $10,000 for every episode of "This Old House" also has an impact on the net worth.
8. He believes there is a stigma against blue-collar jobs
Not many youths will prefer to wake up every morning to go to work in a construction company; they would rather put on ties and suits and head to a cubicle. Kevin thinks that this kind of mentality needs to change by encouraging young people to take up a job in the trades. He likes working in the industry so much that if he ever starts a company, it will be in trades.
9. How he spent Christmas holidays as a child
Kevin remembers the Christmas holidays as a struggle between wondering which gifts were opened first. He and his six siblings had to stay upstairs until their parents woke up. The decision between tearing the big boxes under the tree and going for the stockings was always a tough one. Kevin told PBS that stockings were an excellent place to start so that one could get the batteries. He argues that waiting for the gifts under the tree would delay the fun as they waited for each other to assemble their presents. Although he has forgotten the presents, the pent-up excitement remains vivid in Kevin's mind.
10. His ideal house
While most people would like to give a new home a modern touch, Kevin would prefer to build one that looks old. It would, therefore, have very thick walls lined with real insulation. He would also incorporate a mudroom and a back staircase, which he believes gives any house character. Of course, the view would have to be amazing, and since he likes bright houses with great lighting, he would invest in fixtures that cast a soft light.
Tell us what's wrong with this post? How could we improve it? :)
Let us improve this post!