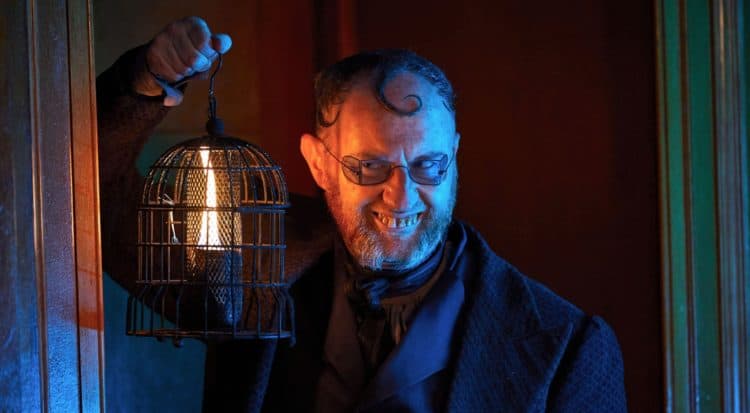 When Mark Gatiss initially fell in love with the idea of being an entertainer, he probably never imagined that he would eventually become a worldwide star. However, over the course of his career, Mark has become known to millions of people. His natural talent combined with his desire to do his best has proven to be the perfect recipe for success. From the big screen to the small screen, Mark has shown that he is a versatile actor who can take on a variety of roles. Many people will recognize him best for his roles in things like Game of Thrones, Sherlock, and Dr. Who. On top of the things he's already accomplished, Mark also has some great projects in the pipeline. Keep reading to learn 10 things you didn't know about Mark Gatiss.
1. He's A Formally Trained Actor
Once Mark decided that acting was what he wanted to do, he knew that he needed to hone his skills in order to be competitive in the industry. He studied theater arts at Bretton Hall College of Education in England. Over the years, the school has produced an impressive list of talented entertainers.
2. He's An Atheist
When people have religious beliefs that differ from the norm, it can be difficult to be open about them. Mark, however, has never been shy about the fact that he is an atheist. It's unclear whether he was raised this way or if he adopted this belief once he entered adulthood.
3. He Has Experience Behind the Camera
Most people are familiar with Mark's work as an actor, but that isn't the only thing he's done in the entertainment industry. He has also proven to be just as talented behind the camera as he is in front of it. He has written, directed, and produced dozens of projects over the years and there will likely be even more in the future.
4. He's Done Voice Work
Some people may think that voice acting is as simple as reading lines off of a page, but that isn't true. Voice work requires just as much skill as live-action work, and that's something Mark knows firsthand. He has been involved in several voice projects and he has worked with BBC Radio regularly.
5. He Isn't Afraid To Get A Little Political
Politics tends to be a touchy subject for a lot of people, and as a result, they often avoid speaking openly about their political beliefs. Mark, however, has made it a point to use his platform to shed light on his political opinions. If there's a cause or issue that he supports, he isn't shy about letting people know where he stands and why.
6. He Has More Than 100 Acting Credits
During his 20 years in the entertainment industry, Mark has worked extremely hard to build a resume that he can be proud of. What's even more impressive is the fact that he's nowhere near finished. Mark's page on IMDB reports that he has 112 acting credits. This includes voice work as well as a few projects that haven't been released yet.
7. He Loves Ghosts
Mark has been a fan of scary movies since he was a little kid and he is particularly drawn to ghosts. During an interview with Entertainment Weekly, Mark said, "I've always loved horror but ghosts were my favorite things. I've been reading ghost stories from a very early age".
8. He's An Award Winner
When you've worked really hard at something, there's no better feeling than having that work recognized. In the entertainment industry, that recognition typically comes in the form of an award. In his career, Mark has been the recipient of several awards including a BAFTA for Best Drama Series. He has also been nominated for four Primetime Emmys. At the rate things have been going for him, there will probably be plenty more awards in his future.
9. He's Fairly Private
There are plenty of celebrities who enjoy putting their every move on display for the world to see. Mark has never been that kind of actor, though. He's always been pretty private when it comes to the details of his personal life, instead preferring to keep all of the attention on his work.
10. He Loves Learning New Things
Mark's days of being a traditional student are a thing of the past, but that doesn't mean that he's done learning. He is always looking for ways to learn new things and he isn't afraid of a challenge. This mindset has been instrumental in everything he's achieved during his career.