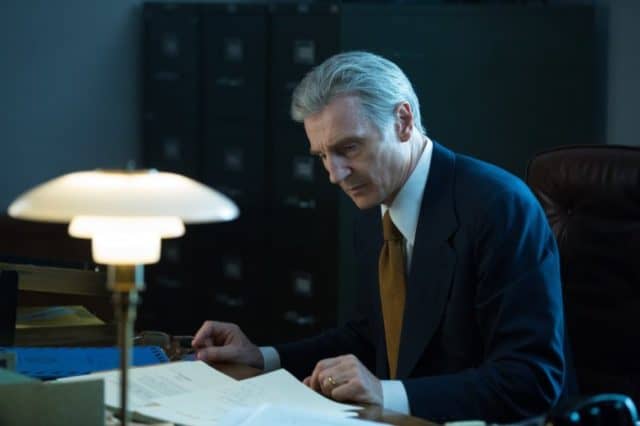 There have been a few movies made about the fall of Nixon and the Watergate scandal, but few that have ever really focused on Mark Felt, the man who supposedly brought down the White House. You might not think that this is a part that Liam Neeson would thrive at but apart from his accent he's actually not too bad in the trailer. What remains to be seen is if whatever historical data they show in the movie will stay tight to whatever version is said to be true or if it will spin off into a dramatic retelling that has little if any real bearing on the Watergate scandal that forced Nixon to resign.
People love controversy, they love a good story, but every now and again they want to story to line up with the facts. In the case of stories such as this they definitely want to be able to look at the representation and "yep, that's how it went". More and more historical dramas are starting to adopt the idea that glamorizing the truth and putting a different spin on it is not that great of an idea, but there are still directors who are more than willing to sacrifice the historical accuracy of a film for their vision. Those directors that do this are the ones that are often uneasy telling a story as it was supposed to really happen and letting their ego fall by the wayside versus telling the story the way they want to see it and allowing their ego to run rampant.
This could be a good film if they stuck to whatever facts the director was willing to reveal, and whatever facts that they were allowed to reveal. Chances are the White House would actually be chiming in on this considering that it has to do with something that was extremely scandalous and could still be considered a sensitive subject. The US government does not like to be embarrassed despite the fact that it happens quite often. They also don't like being reminded of the fact and despite not being able to crack down hard on a film they could make life very difficult for the producers, the director, and anyone connected to the film that bears the title of "executive".
Remember, the US government doesn't have a great sense of humor about some things.
That being said, this could be the type of role that Neeson will start becoming inured to simply because he is starting to get older, he is a distinguished actor, and he can pull such roles off without much trouble. His days of being the guy that goes after someone with gun, fist, and knife are falling behind him at a swift rate and with so much young talent coming up the ranks there's no doubt that while he could still act as an aging tough guy the aging part would still keep him well away from the role of the main protagonist. I think we all saw in the latest Taken that he's starting to feel his age just a bit, and despite this being a part of the movie it feels safe to say that Neeson needs to start taking it easier when it comes to his roles.
This could be the beginning of a very interesting trend for him.
Save