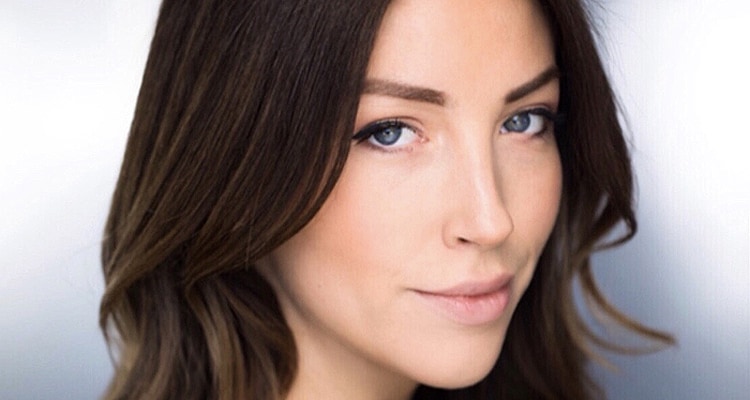 Maria Breese is an actor and film producer who hails originally from Vienna, Virginia. Happily married and the mother of a vivacious two-year-old little boy, Declan. Maria has built a life for herself in Los Angeles, California, for the last ten years! Maria has appeared in a plethora of television shows and feature films. Most notably, her credit in Season 1 of Black Pills' hit online streaming show "All Wrong," starring Christopher Marquette, and her other recent roles in Showtime's "Shameless," Amazon's, "Dark Web," and ABC's "New Girl." Maria has a new movie she is starring in, entitled "Teacher's Watching," coming out this fall on Netflix. In addition to her television and film projects, Maria endeavored into the producing world about five years ago, beginning her work with indie film producer Luke Daniels. She likes to explain her producing style as "bringing old Hollywood back with Millenial intent." With her many years of experience, there are many interesting facts and stories to share. Below you'll learn ten things you didn't know about Maria Breese.
1. Maria is the granddaughter of famed songwriter and composer, Barnee Breeskin
In 1938, Barnee Breeskin became not only well known but well-loved for his contribution of the famed fight song, "Hail To The Redskins," the theme song for the Washington Redskins until their recent name change. Barnee, a friend of many notable Presidents and Vice Presidents, created a wonderful reputation and standard by which Maria chooses to live by. Unfortunately, Barnee passed away soon after Maria was born. His legacy lives on.
2. All in the Family
Maria is the daughter of a now-retired, University Dean and professional pianist. Growing up in Washington DC, she was exposed to incredible amounts of theatre and dance, attending and performing in many of her mother's plays and musicals at the American University and watching her father's many piano concerts at The Ritz Carlton in Georgetown. A scholarship at AU named after her grandparents gives two students an opportunity every year to aid in their tuition through their art abilities.
3. Maria studied at Balliol College at Oxford (In Oxford, England)
In 2010, Maria went over the pond to Oxford, England, where she studied with the British American Drama Academy. She led a concentration in Shakespearian study and contemporary playwriting. She studied under the likes of Maggie Smith, Fiona Shaw, and the late Alan Rickman.
4. Moving to Los Angeles
In 2011, right after graduating from the University of Tampa, Maria decided to move to Los Angeles to pursue her love of acting professionally. She moved out with her family dog, Delilah, who is now 14 years old, 2001 Jeep Liberty, $1000 in graduation money, and a blow-up mattress to sleep on at a family friend's house. Her first job was at a candy store for $10 an hour on Beverly Blvd, and she worked there for nearly a year before quitting to become a nanny. Maria had the pleasure of nannying a wonderful family in Beverly Hills for several years before moving on and taking on the acting world full time. She remains friends with them, even now.
5. Maria was a professional dancer before becoming an actress
Maria began her love of the arts in the dance world at the ripe age of three years old, where she began classes in tap and ballet at Chris Collins Dance Studio in Alexandria, Virginia, for a few years. From there, she decided to take on ballet full time and pursued a more ballet company structure at the Arlington Centre for Dance in association with the Washington Ballet. After several productions of "The Nutcracker," she decided to head back to Chris Collins for a more diverse entry into other dance forms. She became a part of the Chris Collins Senior Elite dance company in 2002, where they were national champions and platinum-winning dancers. She went on to minor in dance in college following her high school graduation. Maria has performed on the Royal Caribbean, Grandeur of the Seas, Epcot, Disney World, and even won Best Choreography in 2007 from The Kennedy Center: Cappies Awards.
6. Fun Fact
Maria is a dual citizen to the United States and the rightful Kingdom of Britain, the country of Wales.
7. Hobbies
While never wanting to pursue this professionally, Maria absolutely loves to sing! In college, she majored in Musical Theatre. She starred in several musicals, including two separate shows of "Sweet Charity," "Seussical The Musical, "Thoroughly Modern Millie," "Once on this Island," "A Funny Thing Happened…," and "Debt." Maria loves to read astrology and is very interested in the stars, surfing, traveling anywhere and everywhere, spending time in nature with her family, and going line dancing!
8. Soccer Life
When Maria started dating her husband, he was a professional soccer player! This was a totally new experience for her but led to a fun and interesting adventure for them throughout their dating life. They've lived in five cities, three states, and eight homes together!
9. Engaged abroad, married in Tahoe
Maria's husband, Patrick McLain, proposed to her in Venice, Italy, during a fun trip abroad for a game in Germany. It was during a lightning storm in San Marco square, and she goes on to explain it was "one of the most magical experiences" of her life. Nine months later, their son, Declan, was born. Declan even attended their wedding in the winter of 2019 in Lake Tahoe, CA.
10. 3:33 Creative
In 2020, during the pandemic, Maria decided to go on her own as a film producer and create her production company, 3:33 Creative, for scripted and nonscripted content. She is super excited about the many projects she has in the works this year and the collaboration with many talented artists.