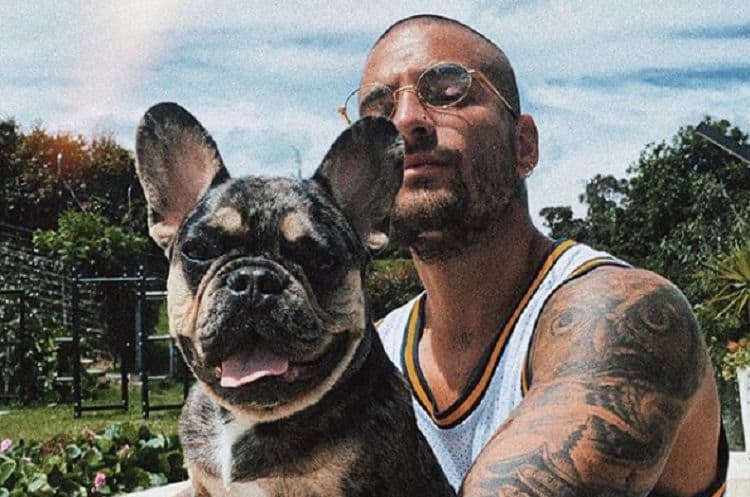 In 2012, Maluma burst onto the scene with his debut album Magia. Since then, he's gone on to become one of the hottest Latin stars of his generation, working alongside such industry icons as Thalía, Shakira, Ricky Martin, and Madonna, winning a clutch of awards (including a Latin Grammy), and building a bigger Instagram following than Nasa. Find out more about the star with these ten fast facts.
1. He nearly became a soccer star
Up until he was around 16 years old, Maluma had always planned on a career in soccer. And then he found music, and overnight, his goals shifted. Telling his parents about his change of heart wasn't easy, but as he told Caras, they eventually came to accept it. "I played (soccer) for eight years and saw it as the way to direct my life, but by fate or chance, at 16 I made the decision to go for music. It was very difficult, I think for my family more than for me. I told them: "I don't want to play again, I want to make music." They looked at me confused but understood that it was a valid decision. When they saw that everything was serious, that I started to travel to several countries, that I signed a contract with Sony Music Colombia and that I recorded my first album (Magic), then they already said: "Ah, well, it is serious.""
2. He was an overnight sensation
Some artists take years to make it big. Not so Maluma. In 2012, he released his first studio album, Magia. As well as going gold in Maluma's native Columbia, the release spawned several hugely successful singles, including "Farandulera", "Loco", "Obsesión", "Magia", "Pasarla Bien" and "Miss Independent" (the last of which resulted in his first top-five song). A year later (and with a 2012 Shock Award nomination for "Best New Artist" already under his belt), Maluma released "La Temperatura": the single went viral, giving Maluma his first entry on the US charts and sending his career stratospheric in the process.
3. His stage name is a tribute to his family
As you've probably guessed already, Maluma wasn't born Maluma. On 28 January 1994, Juan Luis Londoño Arias entered the world. 15 years or so later, Juan became Maluma after he decided to follow the lead of Cher, Madonna, Elvis et al by going under just one name. And the reason for 'Maluma'? According to the man himself, he created it in "tribute to (his family) because I love them and they are the drive of my career". For those not intimately enough acquainted with his family to have guessed the connection, the tribute comes from joining the first two letters of the names of his mother (Marlli), his father (Luis) and his sister (Manuela).
4. His grandfather inspired his love for music
While Maluma could (and quite frequently does) wax lyrical about his love for his parents all day long, it was actually his grandfather that inspired him the most, at least as far as music is concerned. As a kid, Maluma would spend days on end at his grandparent's house, listening to as many of his salsa records as he could. "My grandfather was one of the biggest collectors of salsa in Colombia, so I used to go to his house every Sunday and listen," he told Esquire. "When I started growing up, I started listening to rap and hip-hop, and then I discovered reggaeton, and all of these Latin rhythms that I'm doing now, but my favorite is salsa. That's how I discovered the love I feel for music."
5. His dream collaborator is Justin Timberlake
Maluma's already worked with a score of music heavyweights, from Shakira to Marc Anthony to Madonna. But there's still one legend he's yet to work with… although if he has his way, it'll only be a matter of time before he does. "I wanna work with Justin Timberlake!," he's shared with Esquire. "He's one of my idols, since I was a little kid. I think that I said it so many times [with Madonna] that I wanted to work with her so bad, and it happened. And now I'm giving the energy to Justin Timberlake. Hey, it could happen."
6. He's got a crush on Kendall Jenner
The Latin superstar may be notoriously private about his love life (apart from admitting to a one-year relationship with Cuban-Croatian model Natalia Barulich, he's managed to keep his dating life out of the headlines), but there's one lady he's not afraid of expressing his 'admiration' for.. Kendall Jenner. "Well, everybody knows that my celebrity crush is Kendall Jenner. I'm going to say it again, she's my crush!" he admitted to Access Hollywood. And apparently, Kendall is only too well aware of how he feels. "She could tell the day that I met her, when we did the Calvin Klein campaign," he added. "We were shooting together, and then she saw me, and I got so nervous, that I'm sure that she noticed it, of course."
7. He's huge on social media
Money maketh not the man, but in 2020, social media maketh the celebrity. Even if we put Maluma's Superbowl commercial, his Latin Grammy, and his massive hits to one side, it's obvious from his social media following that we're dealing with a major league star. His Instagram following alone adds up to more than the judging panel of The Voice combined, putting him neck to neck with none other than NASA. And that's not even to mention his YouTube, Twitter, or Facebook followers….
8. He's a trendsetter
Your average man might follow trends, but it takes a brave one to set them. Maluma is obviously cut from a different cloth to most, and has no problem is breaking away from the pack when it comes to his style choices. "I dress how I want, and I don't really like following trends. I'd rather start trends than follow them," he told Men's Health. "I've always said my style is a way to tell the world my feelings, a way to tell the world my way of thought/thinking."
9. He's won a Grammy
Within just a year of releasing his debut album, Maluma was already racking up the awards. In 2013, he managed to win the ultimate accolade of a Latin Grammy Award for Best New Artist. Since then, he's gone on to win numerous other titles, including the El Premio ASCAP for Songwriter of the Year.
10. He's moving into acting
Don't worry, Maluma's got no plans on giving up his day job anytime soon. He is, however, looking to supplement it with a little acting on the side. His first movie appearance will come in the upcoming romantic comedy Marry Me… and with a lineup of costars that includes Jennifer Lopez, Owen Wilson, Sarah Silverman, John Bradley, Michelle Buteau, and Chloe Coleman, he couldn't have picked a better way to get started.