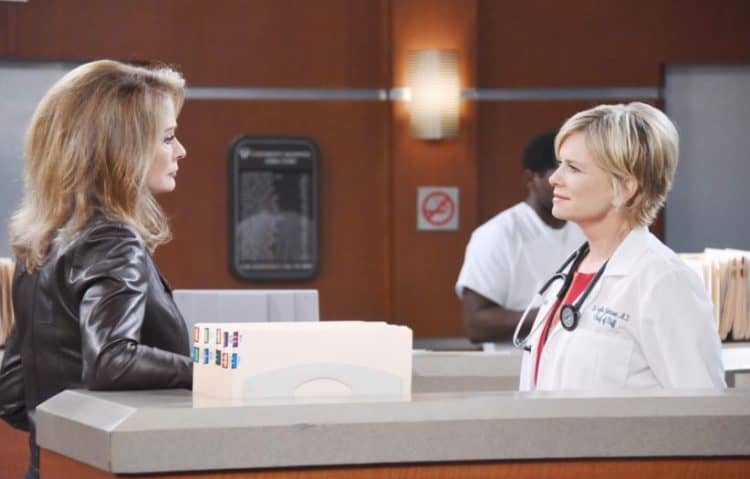 Days of Our Lives fans watched a lot go down last week as things were just so crazy and confusing. We know that Kayla will do anything she can to help her husband, but she's lying to him in the meantime. She can't tell him what she's had to do to get the medication to get his sight back, and she can't tell him what it cost her to get it. She can only hope that he never finds out she's betraying their friend, Kate. And fans know he's not coming back, too, so that makes it all the much worse. We also know there is a lot more going on than we can imagine with Gabi and Abigail and Chad. Gabi wants revenge, and it was hard for us to watch Abby confide in her about her pregnancy results when she will only use them to make her life miserable. We were all upset by it, but it's what it is.
We also know that Theresa is going out of her way to make everyone miserable. She wants to take Tate, and Bray is miserable about it. The case is now officially open, and things are getting uncomfortable for all of us. We also know that Stefan is going to go out of his own way to hurt Kate, and he's making Kayla very upset by doing this. She has no choice in the matter, in her own mind, though. Leo is now looking out to make sure he and Sonny can work together, Paul has confessed his love for Will, and things are just taking some serious turns. We know that Hope and Rafe are still on the lookout for Ciara, who is with Ben, and no one is sure yet what is happening with the crazed murderer.
What's Happening on Days of Our Lives
Has Ben changed his ways? #DAYS https://t.co/4ut2wULuDG

— Days of our Lives (@nbcdays) June 28, 2018
One of the best things about this show is the ability of writers to take a character and change their ways in a matter of minutes, and that's precisely what they've done with Ben. The man is known as a killer. He's made lives miserable, he's killed people, and he's behind all the things. Yet, here we are making it seem like we actually like him just so the show can Tweet the big question. Has Ben changed his ways for the better? We don't know yet.
What's Next on Days of Our Lives
Things are getting crazy as we begin the week, and it is going to start with a little drama between Will and Leo. It turns out that Leo has changed his ways and his mind — or so he says — and these two are going to have a little altercation. Can we assume that there is something else going on her? Perhaps Sonny is using Leo to get back at Will and Paul for not loving him anymore? After all, he was with both of them, married to one and in the middle of his wedding to the other, and they ended up together while he ended up alone and lonely? It could be that, but we don't know if there is a little bit more to that than anyone else is willing to throw out there. It might be, but we don't know how that will go down. Could Leo be upset for Sonny? It would be a little strange, we have to admit.
And then there is the fact that Hope and Rafe find Clyde and go out of their way to question him about what is going on with Ben. Is he dangerous? Does he feel remorse? Is there anything else that might be going on? It is one of those things that doesn't seem to make much sense to anyone else, but it might prove to show us something we didn't see coming. We know this week will be very interesting, but did you know that it might just change the course of more than one character's life?
Stay tuned for more Days of Our Lives and be sure to check out TVOvermind daily for the latest Days of Our Lives spoilers, news, and updates.
Tell us what's wrong with this post? How could we improve it? :)
Let us improve this post!