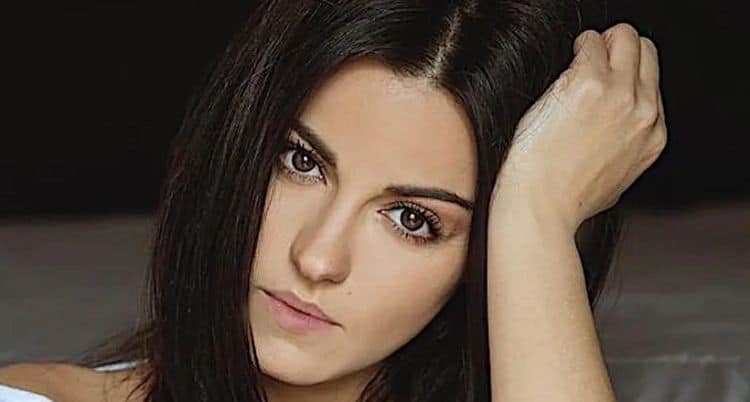 In the world of Mexican music, Maite Perroni is as big as it gets. She began her professional music career in 2004 and is well-known for being a member of the group RBD. In addition to the work she's done with RBD, she has also had a successful solo career. However, music isn't the only place where Maite has been able to become a star. She is also a successful actress who has racked up more than a dozen acting credits since making her debut in 2004. Her recent role in the new Netflix series, Dark Desire, has given her yet another chance to share her acting skills, and it might just make her an international star. Continue reading for 10 things you didn't know about Maite Perroni.
1. Dark Desire Is One Of Her Favorite Projects
If you've ever been lucky enough to have a job that you really love, you know it's truly a priceless feeling. Fortunately for Maite, she got to experience this while working on Dark Desire. She told Forbes that the show is one of "the best" projects she's ever worked on. Even though the role was a little outside of her comfort zone, she is so grateful for the opportunity.
2. She Would Love To Work In An American Project
Maite is a huge star in Mexico and other Spanish speaking countries. However, she isn't quite as well-known in the United States. She hopes one day that won't be the case. She is very proud of Mexico and the work she's done there, but she would love to get the opportunity to work on an American production at some point her career.
3. She Has Her Own Barbie
Maite has accomplished a lot of things throughout her career, but one of the coolest might just be this: having a Barbie made in her likeness. Maite is the first Latina to ever have a Barbie modeled after her. The Barbie was create for Maite's character on the telenovela, Rebelde.
4. She's Very Religious
Faith has always played a really big role in Maite's life. The entertainment industry can be a difficult place to maintain faith, but Maite has managed to make it work. She told Hollow Verse, "I am Catholic. I believe very much in religion, and it is important that you have faith. I believe that life sets the guidelines for what you want. There are things that are given to you, but you have to do your best, give it your all."
5. She Was Nominated For A Grammy
In the music industry, winning a Grammy is one of the highest honors there is. Although Maite has never won a Grammy, she's gotten pretty close. RBD was nominated for a Latin Grammy for Best Pop Album by a Duo Or Group With Vocal in 2006 and 2008.
6. She Always Wanted To Be An Actress
Despite having had a great singing career, music was never Maite's primary focus. In fact, she never really planned on becoming a singer in the first palce. Acting has been Maite's dream for as long as she can remember. She is formally trained and attended Centro de Educación Artística in Mexico City.
7. She's Bilingual
Most of Maite's work has been in Spanish, which is her first language. However, she's also fluent in English. Having the ability to speak more than one language is a great skill. It will definitely come in handy for Maite as she tries to break into the American entertainment industry.
8. She Has A Large Social Media Following
Maite is an avid social media user. She understands the many benefits that come with being active on social media when you're in her line of work. Over the years, she has built a very strong presence on social media. On Instagram, she has more than 7.5 million followers. As Dark Desire continues to get more popular, her Instagram following will likely go up.
9. She's An Advocate For Breast Cancer Awareness
Maite is known for the work she's done in the community. She enjoys using her platform to help those in need. Breast cancer awareness is one of the causes she's most passionate about. In 2014, she even cut her hair to help raise money for breast cancer awareness.
10. She Wants To Start Working Behind The Scenes
Maite has decided to take a break from music until further notice and focus strictly on acting. But being in front of the camera isn't the only thing she's interested in. She also hopes to venture behind the scenes one day and try her hand and directing and producing.
Tell us what's wrong with this post? How could we improve it? :)
Let us improve this post!