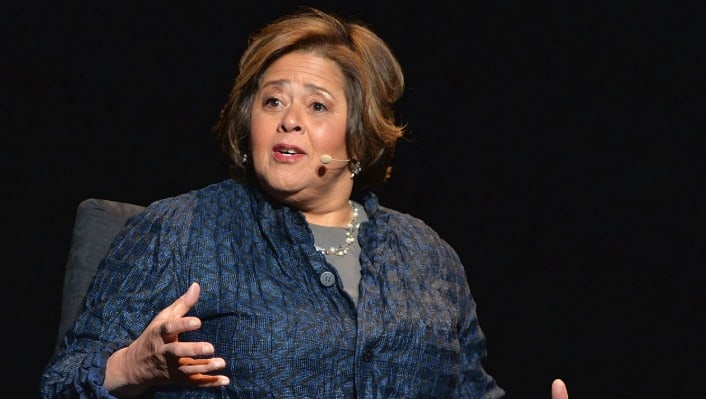 Anna Deavere Smith is that rare person that keeps both feet grounded in reality while allowing everything that comes with that reality to transfer from real life into the drama that unfolds when she steps on stage or in front of a camera. In other words she keeps it about as real as she can for whatever drama she's decided to act in and therefore manages to convey the character she's playing in a way that shows the audience something that is so intensely real that they're blown away by the fact that she's stripped away so much of the fiction even while playing a part. That might seem just a little confusing and possibly a bit vague but the effect is meant to show realism through fiction, meaning that she doesn't sugarcoat her performances as much as Hollywood usually does by softening the blow that comes via the performance at times. Ann puts it on the line in order to open people's eyes, while entertaining them at the same time.
Here are a few things you might not have known about her.
10. She's acted in three productions concerning the White House.
She's been in The American President, Dave, and The West Wing during her time, so it's safe to say that she has done her part to depict life in the White House in a way that might be staged for entertainment but is still representative of how things go in our nation's capital, more or less.
9. She's a teacher.
As if being an actor wasn't already impressive she's managed to balance that with being a teacher as well. Ann is a rather intriguing woman since she's taught in such locations as NYU, USC, and even Stanford just to name a few. There's no doubt that her students tend to learn a great deal more than just what the curriculum demands when her class is in session, since Ann seems to have wealth of knowledge that the attentive can pull from.
8. She's been nominated for some very important awards.
Ann has been nominated for a Pulitzer and a couple of Tony awards for her contributions and has even won a couple of Drama Desk awards during her time. Someone out there believes, and rightly so, that what she's done and what she's brought forth have been worth some serious notice.
7. She's been very prominent on stage.
In fact her stage credits outstrip her TV and movie credits since she's been seen far more when it comes to acting in front of an audience. It seems to be where she finds the most comfort and can spread her message with much more force.
6. She's an author.
This woman doesn't cease to impress since her skills are so varied that it seems only natural that she be one of the greats that somehow doesn't get noticed as much by the general public, even if she is fully appreciated by those that are doing their best to preserve worthwhile drama.
5. She has an honorary doctorate.
Listing all her honorary degrees would take a great deal of time but putting it mildly she has managed to impress so many people that she has enough degrees to fill a small book, meaning that she has indeed been highly influential throughout her career.
4. She's very well known for her one-woman plays.
These performances seem to be what she is known best for in fact since they have been what have really lit up her career and allowed people to notice her. A one-person show can be one of the easiest and most challenging types of shows since you rely on yourself, but you also have no backup and therefore must keep the show going on your own energy.
3. She's very adept at creating fiction that covers current events.
As it was stated above there is no sugarcoating when it comes to her depiction of current events and how they've helped to shape whatever drama she's in. While she doesn't control every aspect of a film or show that she's in, Ann does deliver a very astute rendering of her character and the situations that she's put into.
2. She was on All My Children.
It's kind of hard to see this woman as a soap opera star with as much as she's done in so serious a manner, but at the same time she is an actor and there is a propensity for fiction within her that she is still very adept at. After all, there are times when one must be an actor and let things flow rather than keep such a tight rein on the situation.
1. She was in The Kingdom
The Kingdom was and wasn't popular thanks to its content and the fact that it showcases the continued animosities between the Middle East and America at that time. It's a rather heated movie that showed the horror of current events and in doing so kind of killed itself largely because of the politics involved within the story.
At this point Ann is one of those individuals that tells it like it is and won't spare sensibilities, which is impressive.