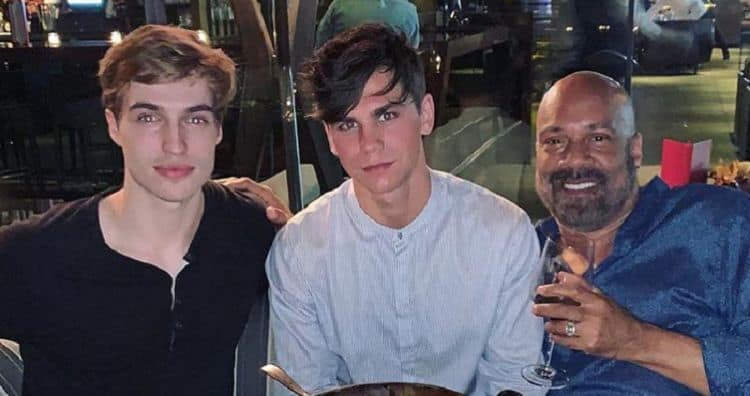 Fans of Riverdale are always happy to see Trevor Stines, even though his character, Jason Blossom is dead, he has a recurring role in flashbacks throughout the series. We adore the series with it's gritty, modern take on how the classic small town characters might work if they'd been created now instead of when the original comic came out on December 22nd, 1941. Naturally, there's more to Trevor than being Jason, so we took a look at this impressive young actor and found ten things you didn't know about Trevor Stines.
1. Poet & Author
In addition to his acting prowess, Trevor is a poet. It's not easy to put yourself 'out there' as a person and share your deepest feelings, but Trevor wanted to bring his thoughts to life in a book, so he set out to publish Leather & Glass. For fans of poetry and Trevor, the book is out now, just in time for the holidays. Doubtless some of his million plus Instagram Followers will be thrilled to pick up a copy of the book with its stunning cover of his face as a fractured and broken person.
2. Not a Redhead
It looks great on him in Riverdale, but that red hair isn't natural. While that may surprise some fans, it's pretty common for actors to change their hair to suit the part they're playing. If you think thats shocking, you'll likely be even more taken aback when we tell you that the Weasley twins from Harry Potter aren't redheads either. In fact they were happy to give up the dye after ten years of having bottle-red locks.
3. Comic Lover
How does Trevor Stines spend his time when he's not on set, or writing his own books of poetry? Well, we don't know how he spends all of his time, but some of it is certainly spent reading comics. Stines is such a big fan of the genre that he's even been featured on the TV show Comic Book Shopping. If you want to know more about which comics Trevor recommends then you'll have to watch for yourself to find out.
4. Cosplay
According to Bleeding Cool, Trevor enjoys cosplay. He has a spider man costume that he once wore to a movie (Captain America) but he hasn't yet gotten seriously involved in the hobby. Never the less, he'd like to spend more time on it. Perhaps someday we'll see a Trevor Stines superhero movie. We know X-Men has already been done, but we could see him as a great Scott Summers. Hopefully there will be a lot of opportunities in his future to get dressed up as his favorites.
5. Cookies
Everyone has a favorite sweet treat. For some people it's a particular type of cake, or ice cream. Not Trevor. He's obsessed with Oreo Cookies. He's the self assigned Unofficial spokesperson for the brand. We'd love to see his passion turn into a series of commercials. Anyone who's that dedicated to a cookie deserves a chance to rep them for real. You can see his many posts about his favorite cookies on his Twitter feed.
6. Fearless Feelings
The revolutionary musical Hamilton, which is based on Ron Chernow's novel Alexander Hamilton, has been making waves in all the right ways since it first hit the stage. The musical numbers are outstanding and undoubtedly gorgeous. They certainly give us all the feels. Apparently, we're not alone. Trevor posted "I have perfected the ability to cry while listening to any (and every) given song from Hamilton." on Twitter earlier this month. We have to admire anyone who knows how to feel so deeply and isn't afraid to tell the world. Trevor is everything we wish we'd see more of from young people these days, honest, enthusiastic, emotionally vulnerable and not afraid of the fact he has thoughts and feelings.
7. Washington
Trevor isn't the only member of the Riverdale cast who was born in Washington state. Madelaine Petsch, who plays his twin sister on the show, the very much alive Cheryl Blossom, is also from Washington. It's no surprise that the show ended up casting young actors from Washington since it's filmed in Vancouver, which is next-door geographically speaking.
8. Spider Man
Every comic book lover has a favorite. You might expect, form what we told you about the costume in #4, that Trevor's favorite is undoubtedly Spiderman. He is a big spidey fan. However, on his Dinomay profile they asked the actor about his favorite super hero, and Trevor sensibly answered that the question isn't fair. Any comic or superhero movie lover can tell you that. We love them all. For Trevor, Spiderman, Batman, Martian Manhunter, Daredevil, Shazam and Captain Marvel all rank among his personal favorites.
9. Influences
Superheroes aren't the only ones who've influenced this talented actor according to his Dinomay profile. When asked about his theatrical influences he gave a similar answer. There's no single influence, but he has great taste. Trevor cited a number of favorites including Denzel Washington, Robert Downey Jr. and the late great Robin Williams.
10. Filmography
We've only begun to see the range and talent from this young actor. Trevor has been in half a dozen TV shows including Riverdale and The Fosters where he played Tristan Chacones for two episodes. He has also been in a number of short films like A Tragic Love Story, The Impasse of Light and Spencer. This year he played Sean in Most Likely to Murder, and Stines has two upcoming films next year, Our Home and There Will Always Be Christmas. Doubtless, this is just the beginning of a brilliant career for Trevor, and we cant wait to see what he does next!
Final Thoughts
We're always happy to learn more about our favorite up and coming young actors like Trevor Stines. Though he's only been acting professionally for a few years, we're impressed with what we've seen so far. Do you know any great Trevor trivia? Share it with us in the comments section.