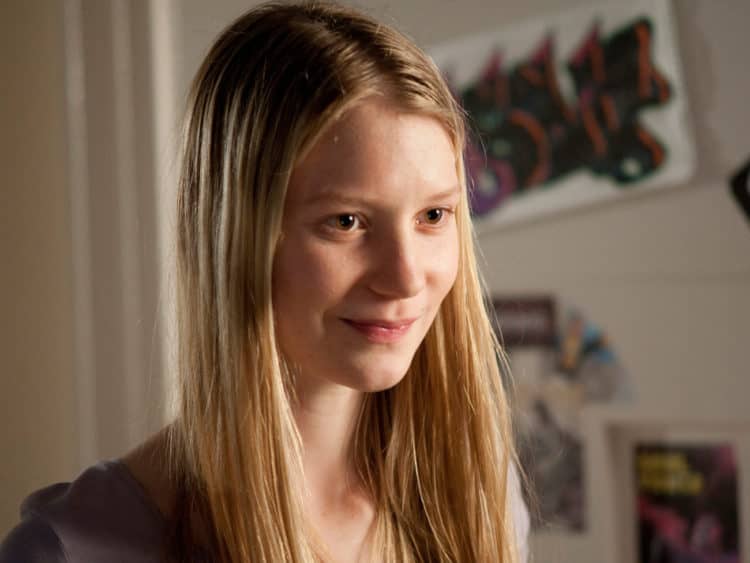 You'll likely know her as Alice from the most recent adaptation of Alice in Wonderland, but Mia Wasikowska has been expanding her Hollywood resume quite a bit since that time. She's a brilliant actress that has what even Tim Burton has called an "old soul", meaning that she is unusually thoughtful and insightful for someone of her age. Such people often have a harder time fitting in but can easily ingratiate themselves among their peers by dint of being far more in tune with the world around them. Mia has thus far displayed the attitude that she is in fact quite capable of fitting into the Hollywood crowd, and is currently doing everything she can to make certain that she can stay where she belongs.
Here are a few other facts you may or may not have known about her.
5. She's Australian.
Despite that lovely British accent she is from Australia. Her father however is an British Australian and this could be a part of where she gets the affinity for the accent. In the Alice movies you can't really tell that she isn't British unless you really pay attention and listen closely when she's speaking.
4. Her first role came when she was only 15.
Not long after she distanced herself from ballet Mia found her calling as an actress. In 2006 she made her film debut in a movie titled [easyazon_link identifier="B001DJ7PYQ" locale="US" tag="tvovermind00a-20″]Suburban Mayhem[/easyazon_link]. She'd just turned 15 at this point and had already landed a role in the Australian soap opera All Saints that saw her in two episodes of the show. Since then her career has been on a roll.
3. She left school to get into acting.
A lot of actors seem to leave their education behind when it comes to finding their calling. Some people admire the drive and inspiration of this but the fact remains that sometime during their pursuit of a career it is usually necessary to complete their education. Otherwise you tend to get actors that might be skilled at their craft but are otherwise ignorant when it comes to a great deal of the world around them.
2. She practiced ballet between the ages of 9 and 14.
Mia was fully prepared to be a ballet dancer when she was only 9 years of age. Her goal was to become a professional ballet dancer and by age 13 she was already dancing en pointe. Unfortunately she had to bow out of ballet after finding that she had bone spur on her heel. That, coupled with the intense pressure that ballet is so well known for, caused her to quit when she was 14. She does still credit ballet for teaching her how to calm her nerves during an audition however.
1. She is an avid photographer.
Mia loves to take in the natural world around her in all its splendor and fully enjoys taking pictures while she is on site during a shoot or during her many trips when she is going back and forth between shooting her roles and to her home in Australia.
As of right now it's still very easy to see her as Alice, but with the coming years it might be easier to see her in more prominent roles than the one that has made her the most famous.
Save