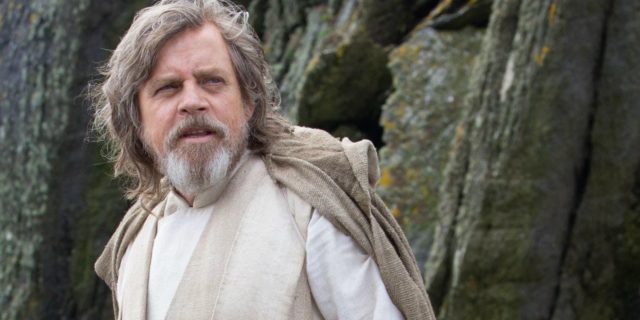 If you have yet to see the latest Star Wars franchise installment, The Last Jedi, it will not be a spoiler if we tell you that at the end of the movie Luke Skywalker disappears. As a viewer you are left to decide whether Luke has actually died or whether it is a precursor to the next adventure, when Skywalker returns as a new, improved version of the old Jedi.
Mark Hamill, who is bonded to the character like no other, does not believe the Jedi has made his last appearance. He told the BBC, "My theory is he just teleported to somewhere else and left his robe behind." For those who follow both the Star Wars and Star Trek franchises, Hamill's statement is reminiscent of what happened when Spock was "killed off" in Star Trek: The Wrath of Khan. When Star Trek: The Search for Spock came out, all that was found in the coffin where Spock's body was placed was — his robe. Hamill may be right in that a Star Wars film without Luke Skywalker is like a Star Trek movie without Spock. Is the statement by Hamill intended to create some early hype for the next installment or is it a way to gauge fan interest in the possibility of a Skywalker return?
But there are significant differences between the two "deaths" that are almost certain to be problematic for potential storylines. To begin with, Spock's entire body from head to toe was half Vulcan, half human. Luke has the problem of this robotic hand he's been slugging around for most of the franchise. When he was swept away at the end of The Last Jedi his robotic hand went with him. So there is one robotic hand that has to be accounted for should Luke return or that somehow his hand is returned to normal by some unknown and unstated power of The Force.
Beyond the storyline issue there is the social media issue that the future writers and director of the next Star Wars installment have to deal with that Star Trek didn't. The truth is Star Trek: The Search for Spock was one of the lower rated movies by Trekkies. There apparently wasn't a good way to bring Spock back. Now with social media being what it is, where everyone is a critic, such a return is certain to lose some Star Wars fans. But the good news is that Mark Hamill is still around to help with the transition and they can learn from the Star Trek 3 effort.
Perhaps the biggest obstacle to hurdle is the fact there were no Star Wars TV spinoffs. This is not talking about the animated versions whose success ranged from "meh" to lasting 168 episodes. Star Wars has been almost exclusively a movie theater event, which can be seen as good or bad. Star Trek was able to move the franchise forward by actually killing off Captain Kirk and introduce an entirely new set of non-animated characters.
To purists: yes, we know that the Star Wars and Star Trek universes are very different. But the Star Trek franchise initially rebooted itself by making sure Spock of Old was eased into the new movie. Maybe Hamill's remark was a hope that he will get one last opportunity to play Luke Skywalker. Remember that Obe-Wan Kanobe's voice stayed with Luke for some time. Technically speaking, there are more CGI options available to the next director, so crossing that bridge is not as difficult as one may think.
It would be kind of creepy if only the robotic hand came back, but at this point anything is possible.