The controversial yet blissful marriage of Magic and Cookie Johnson is really one to study. Their love story is the perfect example of how an unbreakable bond of love can weather any storm, no matter how critical. Magic Johnson, A.K.A Earvin Johnson Jr., is a renowned basketball legend. He has achieved incredible success on the court playing for the Los Angeles Lakers, especially during their 1980s Showtime period. However, his life took an unexpected turn when he announced in 1991 that he had contracted HIV. Amidst the fear and uncertainty surrounding his diagnosis, his wife surprisingly stood by his side with unwavering love and support.
Their love story stands as a testament to the strength and resilience of their relationship. Over the years, they have faced numerous challenges together, including public scrutiny, infidelity, and the constant battle against Johnson's health condition. As a celebration of their love, here's a quick rundown of their journey before the devastating news and after.
How Magic Johnson And Cookie Johnson Met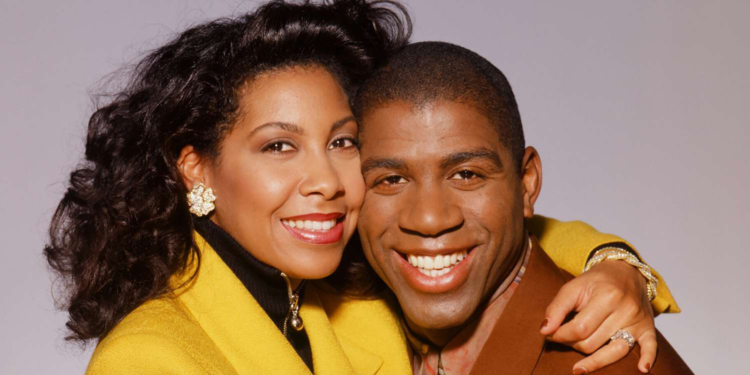 Magic Johnson and Cookie Johnson's relationship started right at Michigan State University. The two crossed paths on the university campus shortly before Christmas break. Apparently, Johnson saw her dancing at one of the college parties and got determined to know her. Before the event ended, he was bold enough to ask Cookie for her number and the rest was history. The duo were already dating before the next semester began.
Their Journey To Getting Hitched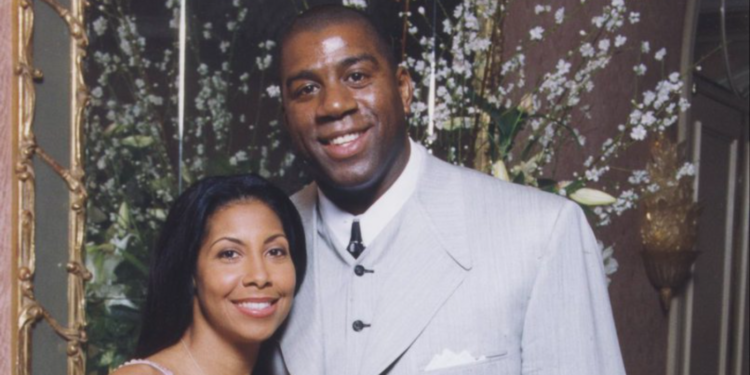 Just like many realistic relationships, Johnson and Cookie's road to the altar was not one without challenges. In fact, the couple split and reconciled a good number of times before Johnson finally popped the big question. That part of their relationship is portrayed in the HBO show, Winning Times – The Rise of the Lakers Dynasty. Tamera Tomakili perfectly embodied Cookie's character in the series, portraying how love can go sour and yet still be very potent.
Having met in the 70s, Johnson and Cookie had been dating for over two decades and were about nine years shy of crossing into the new millennium. However, after he had overcome his doubts about marriage, he finally proposed. This was of course after Johnson already fathered a child with another woman. Still, they got married in an intimate ceremony on the 14th of September in Johnson's hometown of Lansing, Michigan.
The Story Surrounding Johnson's HIV Diagnosis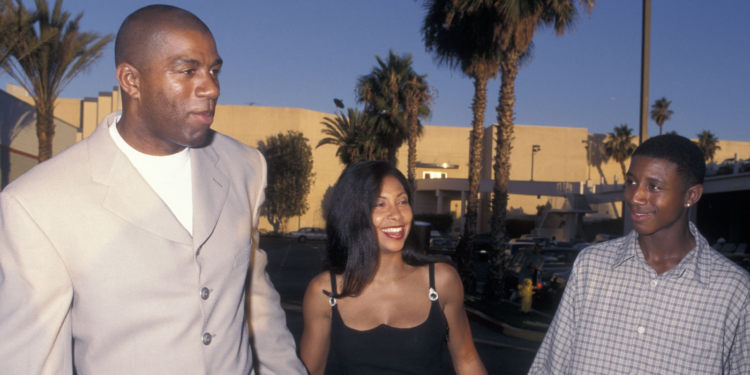 Johnson's HIV diagnosis in 1991 sent shockwaves through the world of basketball and beyond. The news was met with fear and uncertainty, as the virus was still relatively new and misunderstood at the time. His announcement not only affected his own life but also had a profound impact on his relationship with Cookie. The athlete describes telling his wife about the diagnosis as one of the hardest things he has had to do. Especially because they had just gotten married and were expecting their first child.
Cookie also admitted that her first line of action was not to ask questions because of the overwhelming thought that Johnson was going to die. The next line of fear was for their unborn child, who was pretty much under three months old pre-birth. At this point, Johnson honestly thought his wife would leave him. Especially when he admitted that he contracted the virus from sexual relations. However, even before knowing the fate of their baby, she was determined to stay.
Cookie Johnson's Unwavering Dedication To Her Husband's Wellbeing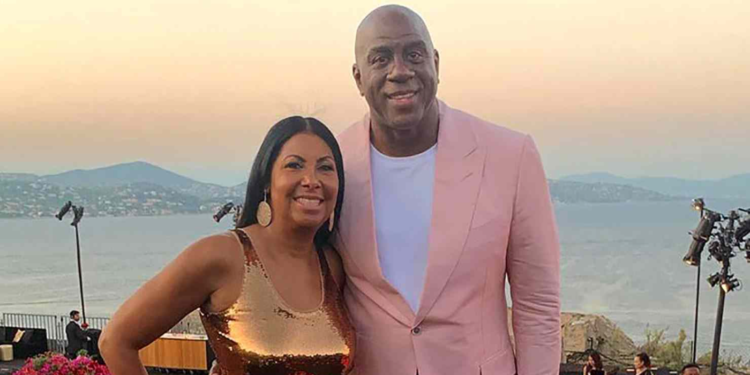 When Cookie's test results came back, they were negative, and the doctor assured her that the baby was also automatically safe from the virus. This helped her focus more on ensuring Johnson was living well. She became an advocate for educating herself and others about the disease, taking charge of their journey to ensure Johnson received the best possible care. However, the opposite was true for the basketball star. In an interview with CBS Mornings, he said, "I wanted to make sure that she was going to be okay, the baby was going to be okay, and then I can move forward with making sure I was going to be okay."
Balancing Love And Public Scrutiny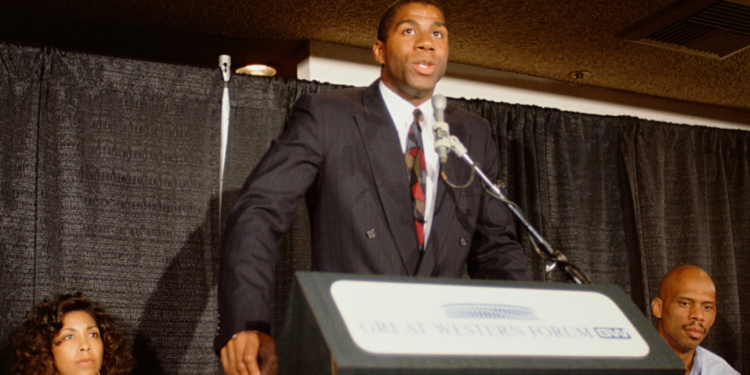 As one of the most famous couples in the world, they faced intense public scrutiny throughout their relationship. This scrutiny intensified after Johnson's HIV diagnosis, as the media and public became consumed with their personal lives. Cookie Johnson admitted that she was initially against him holding a public conference on the state of his health. That's because the stigma surrounding HIV at the time was far more intense than it is today.
She didn't want people treating them like 'lepers', so she discouraged Johnson from making the very public announcement. However, he knew that it was a truth he owed to his family, friends, colleagues, and society. Of course, the aftermath of this announcement was one of the things that forced the talented NBA player into early retirement. Thankfully, not before he was encouraged to play in one last NBA All Stars game in 1992. He also went on to play an extra season for the Lakers from 1995-1996.
Their Joint Philanthropic Efforts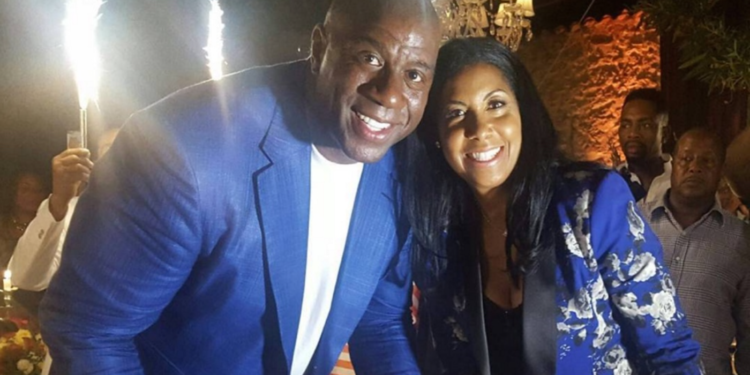 In addition to their personal struggles, the couple is dedicated to making a positive impact on society. They use their platform and resources to contribute to various philanthropic endeavors, particularly in the areas of HIV/AIDS awareness and urban development. Johnson's own experience with HIV inspired him to become an advocate for education and prevention. As such, he established the Magic Johnson Foundation, which focuses on providing resources and support to underserved communities affected by HIV/AIDS. Through their foundation, the couple has helped raise awareness, fund research, and provide assistance to those in need.
Tell us what's wrong with this post? How could we improve it? :)
Let us improve this post!