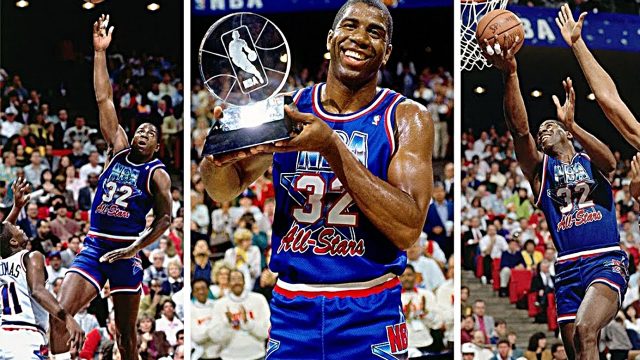 As many of you know this weekend is NBA All-Star weekend. What you might not know is that it marks the 25th anniversary of one of the most memorable All-star games in history. The year was 1992 and Magic Johnson put on an absolute clinic in Orlando. Not known as being a shooter, Magic Johnson lit up the scoreboard and dazzled with his passing in the final four minutes of the game (this is back when players cared about the all-star game).
If you'll also recall, this game took place after Johnson's 1991 announcement about AIDS, perhaps the biggest AIDS announcement to date. It forced him to retire from basketball but the NBA asked Johnson to play in the All-Star game, which he thankfully did. Johnson then went on to play with the Dream Team in what would be the most dominant display of basketball the world has ever seen.
But going back to this game, Johnson completely dominated in a West blowout over the East 153-113. Johnson scored 25 points that game earning MVP honors but that last 4 minutes were magical. The man couldn't miss and he just couldn't do anything wrong. Though he would briefly return to the game in 1995 after a 4-year absence, Magic's All-Star triumph is the defining exclamation point to his amazing career. Here are those 4 minutes.