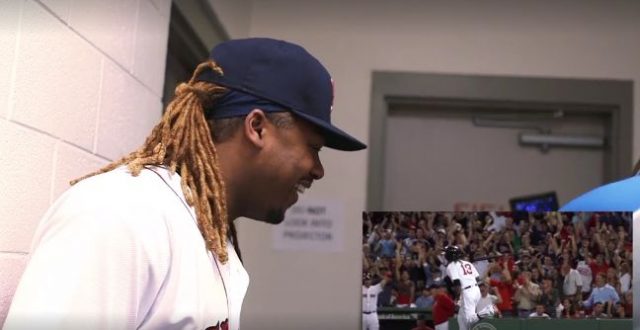 Hanley Ramirez is obviously happy to be back with his old team but perhaps no more than this season. According to the latest odds, the Boston Red Sox are projected to be the World Champs this year. But that's not what this video is all about. This video is about how incredible a laugh Hanley Ramirez has. I don't know how to describe it other than he kind of sounds like some wicked voodoo master who just cast a spell on people and has this crazy laugh about him. One of those horror movie "HA HA HA's." Let's give it some context.
The Red Sox are letting Hanley know that they plan to project an image of him crushing a home run onto his jersey. So in order to get his approval they show him a slow motion clip of the blast. Hanley gets all of the ball and you can tell it was one of his hardest shots of the season. But that's not what's interesting.
What's interesting is actually watching Hanley react to himself hitting the homer. You have to wait for it but he goes nuts. "Flip it! Flip it!" is definitely the best part. Everyone there starts cracking up and his laugh couldn't be more infectious. This is amazing.