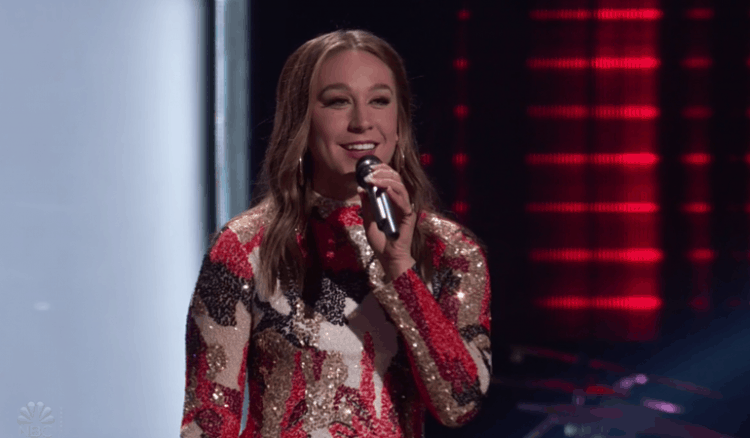 Doing a blind audition for The Voice is an experience that is equally as nerve-wracking as it is exciting. When Madeline Consoer stepped on stage for her performance, she was feeling both of those things, but she knew she had to sing her heart out in order to get one step closer to making her dreams come true. Her performance of "Girl" by Marren Morris was enough to get Kelly Clarkson to spin her chair around, and Madeline couldn't have been more excited. After the first battle round, Madeline proved yet again that she has what it takes to be in the competition and she's hoping to go all the way. Continue reading for 10 things you didn't know about Madeline Consoer.
1. She Has Been Singing All Of Her Life
Music has been a part of Madeline's life for as long as she can remember and she's always loved to sing. Even though she knew she was a talented singer, she didn't start taking it seriously until she won a singing competition when she was a teenager. After that, she was all in and she has been working hard on her craft ever since.
2. She Is Originally From Wisconsin
Madeline was born and raised in Eagle River, WI and she is very proud of her home town. Unfortunately, however, Eagle River isn't the best place to start or build a music career, so she eventually decided to relocate to Nashville to pursue her passion for country music.
3. She Loves Fashion
Music may be Madeline's main focus, but it's certainly not the only way she loves to express herself. She loves fashion and has a great sense of style. Putting together outfits gives her a chance to show off her personality and she seems to love experimenting with bright colors.
4. She Studied Exercise Science
Even though Madeline has always loved singing, she decided to take a more traditional path and she enrolled in college to study exercise science. Although she loved the college experience, she knew that it simply wasn't for her. She eventually decided to leave school early so that she could dedicate more of her time to music. So far, it looks like her decision is paying off.
5. She Auditioned For The Voice Several Times
Getting the chance to be on The Voice is a goal for a lot of talented singers. Being on the show can open lots of doors for a person's career, even if they don't end up winning. During an interview with Vilas County News-Review, Madeline revealed that she's auditioned for the show several times in the past but has never gotten this far.
6. She Works In Fitness
After moving to Nashville, Madeline quickly realized that she would have to find a stable job in order to make ends meet. She was fortunate to find a job at a gym called Barry's Bootcamp where she was hired as a fitness instructor. Madeline continues to work there today.
7. She Released An EP
Madeline has been grinding hard for the last several years. On top of auditioning for The Voice, she's also been working on original music. She released her debut EP, Her, in 2015 when she was just 18-years-old. She's also released several singles over in more recent years.
8. Kelly Clarkson Has Always Been Her Dream Coach
Kelly Clarkson being the judge who turned for Madeline was the perfect scenario. Madeline told Vilas County News-Review, "I said from day one if Kelly turns around and I?have to choose, I want to pick Kelly…They are all so great, but Kelly is always my No. 1…I have looked up to her for so long. I even want to sing her songs." Madeline continued,"I want to do what she does. I think she can really help me hone my talents."
9. Her Parents Have Always Supported Her
Many parents would be very disappointed if their child chose to drop out of school and move to a new city with no money and hopes of pursuing a music career. Madeline's parents didn't feel that way, however. They have always been supportive of her dream of being becoming a professional singer. They even own a local bar where Madeline has performed countless times.
10. She Loves Interacting With Her Fans
Madeline is extremely thankful for all of the people who have been supporting her on her journey and she loves using social media as a way to connect with them. Whether it be on Instagram or Twitter, it's common to see Madeline take the time to respond to people's comments and questions.
Tell us what's wrong with this post? How could we improve it? :)
Let us improve this post!