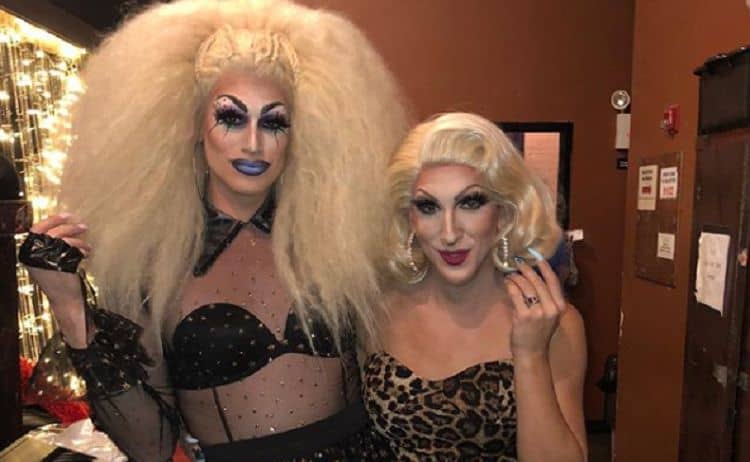 Presently, the world is becoming more accepting of people with various personalities when it comes to gender. As such, previously frowned on showcases such as cross-dressing is not much of a big deal, and the drag queen culture is slowly picking up. If you do not know, a drag queen refers mostly to a male who prefers to dress like a lady for a variety of purposes. Some do it to embrace their sexual identity. One of the most popular drag queens is Dusty Ray Bottoms, who took part in the tenth season of RuPaul's Drag Race and came 11th. So who is Dusty Ray Bottoms? Those unfamiliar to who she is may ask. To answer this question, we bring you ten things you probably did not know about this drag performer.
1. Early Life
Dusty Ray Bottoms was born Dustin Rayburn on the 27th of September 1987, making her 32 years of age presently. She was born and raised in Louisville, Kentucky, and she says she grew up in a very religious family. Some details of her family are still in the dark such as the identity of her parents and whether she has siblings or not.
2. Origin Of Her Nickname
One captivating thing about this drag queen is her nickname. As earlier hinted, she was born Dustin Rayburn. Growing up, she had her boy name shortened to Dusty Ray, and that served as her identity for long. According to Fandom, she got the 'Bottom' name while she was working as a waiter in New York City from her co-workers. The bottom name has a lot of meanings in the drag scene; the most probable would be because of her low ranking during a contest.
3. Her Coming Out
Dusty Ray is not afraid of her sexual orientation and is proud to identify as gay. She came out when she was young and a forced move by his conservative Christian parents. They found something on her computer, and they had to force the truth out of her.
4. Encounter With Exorcism When She Was Young
When she came out when still living with his religious folk, the news did not sit well with them. The option? Exorcise their boy off the gay demon residing in him. Dusty describes this moment as being very intense as from PJ Media. They saw the church as the haven to regain her straight orientation and was even forced to list down everyone she had same-sex with. It was traumatizing for her and did not help change her orientation as she was who she was.
5. Move To New York
When she was past her teenage years, she made a move to New York City to try and venture into the acting scene. As she was growing up, she had an interest in acting, though it is not clear if she took part in this dream while at school or her general formative years. Once in the city, she did not immediately get into the acting scene as she anticipated and worked in various capacities, notably as a waitress in a restaurant.
6. Her Relationships
As mentioned in this article, Dusty Ray is gay, and she is currently in a relationship with long-term boyfriend, Marc Singer. According to the Grizzly Kiki, Marc is an actor, playwright, and an upcoming wig stylist. Their relationship is secure and the two have been tagged as the power couple of the drag scene due to their lengthy relationship. Marc helps his partner with several of her projects as a drag queen, and they also share a love for writing acts. He got the commissioning to write a play, inspired by his fiancé's Peach Plum Pear performance, and none other than Dusty will take on the lead role in the act.
7. Taking Part In RuPaul's Drag Race
In the world of drags, the RuPaul Drag Race is a big show that cements the path for the next drag personality. Dusty Ray Bottoms got the opportunity to take part in the 10th season of the show and got eliminated in episode 4. Judges criticized her style and overall runaway looks, though she received praise for her Miami Summer Realness costume. The elimination point was on her lip-sync performance of Nicki Minaj's 'Pound the Alarm.'
8. She Is Dyslexic
In several interviews, Dusty Ray has come out clean to being dyslexic as a child. Dyslexia is a learning disorder that affects the part of the brain that processes languages. It, therefore, presents itself as a learning disorder, where the identity of speech sounds and their decoding becomes an issue.
9. Social Media Presence
Social media is an excellent tool for anyone in the entertainment scene as it helps you meet up with your fans and also get an idea of what is trending. Dusty has a strong social media presence and has active handles on popular platforms such as Instagram, Facebook, Twitter, and YouTube. Instagram seems to be her platform of choice, boasting of over 294000 followers, and over 3000 posts. Her posts are mostly her photos where she is clad in drag wear. On YouTube, you come across her various videos where she auditions for various contests, among other topics.
10. Hobbies
A look at her Instagram handle, and you get the idea that her hobbies lie in fashion and photography. When it comes to style, she never holds back and opens her creative gates to come up with the best attires. She also loves traveling and meeting up with her fans who love her and her antics. She also takes part in acting and has one movie out. The film is Trainwrecks and came out in 2020.
Final Word
Dusty Ray Bottoms is one unique type of entertainer who takes the drag scene on her palms. She took part in RuPaul's drag race, though her performance was not as expected as she got an early elimination. Above are ten things to know about her to give you an orientation of her background.
Tell us what's wrong with this post? How could we improve it? :)
Let us improve this post!