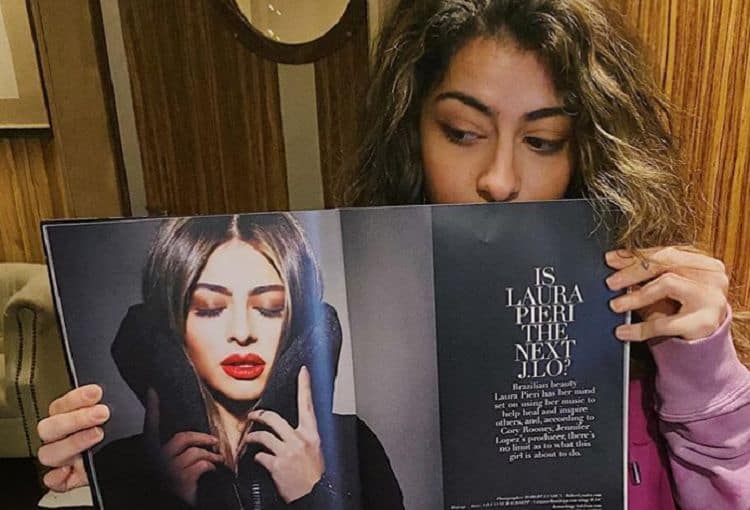 Laura Pieri had to take the bold step of moving into New York, where she did not know anyone, and it became the best thing she could have done for her musical career. While in New York City, she met Cory Rooney through a mutual acquaintance and her career took off. Cory is known for producing songs for celebrity artists like Mariah Carey and Jennifer Lopez, and he has been not only her producer but her mentor as well. Here is everything else about Laura.
1. She feels flattered to be compared to Jennifer Lopez
According to her interview with Hollywood Life, Laura knows that people compare her to Jennifer Lopez. She thinks it is because they share the same producer, but then again, she does not mind the comparison saying they are both Latino women in the American market. Still, she does not think Jennifer has ever heard her music but hopes that one day they get to meet. Unfortunately, Laura knows she will not maintain her composure and believes she will do some ugly crying.
2. She has always wanted to be a musician
Laura has a sharp memory and remembers that while her mother put her to sleep, she would use the good old method of singing to her, thereby igniting in the toddler a love for music. Later on, when she was old enough to sing, Disney movies always had songs that Laura loved singing to, and one of her favorites was "Everybody Wants to Be a Cat." Later on, she applied to different music high schools in the US and got accepted in all of them.
3. Her biggest musical inspiration
Laura disclosed that while her age mates were hoping to grow up and become princesses, she was obsessed with Michael Jackson. She watched his videos repeatedly and never got enough of him. One of his songs, "They Don't Really Care About Us" specifically stood out for Laura because she felt it spoke to her as a Brazilian. She believes that song put Brazil on the map; thus, she continued listening to his other songs thinking that she would also help make a difference through music.
4. She hopes to follow in the footsteps of Jennifer Lopez and Shakira
They say seeing is believing and until Laura saw Jennifer and Shakira, she had never thought that a Latino could have a career in music. She did not even believe she could rock natural hair until Shakira inspired her to do it too. According to Sound Digest, the two celebrity artists have redefined what it means to be a Latino performer, and therefore Laura wants to follow in their footsteps. It must have consequently been a dream come true for Laura to see Jennifer and Shakira perform during the super bowl LIV halftime show in February 2020.
5. She will always consider Sao Paulo her home
As much as Laura confesses that there are similarities between New York and Sao Paulo, traffic being one of them, the two cities hold different meanings to her. New York may be her home now, but her heart will always hold dear Sao Paolo because that is where she grew up. According to her, there are sounds and smells she can only find in Sao Paolo, and that is what makes her miss Sao Paolo the most. She therefore wishes Americans knew more about the Brazilian culture besides it being vibrant and exciting.
6. Why she had to re-release "I Will Follow You."
When Laura first filmed the video for "I Will Follow You," it had a robbery scene and then later, the incident in Parklands made it seem like she was romanticizing gun violence instead of speaking up against it. Since the couple got away with it, Laura wanted to let people know that gun violence is not something to look up to hence decided to take down the original video and edit again. After all, it was her debut and would therefore set the pace for the rest of her songs.
7. She is the first in her family to attend a US College
Laura came to appreciate studying as her passion after she got to New York University. Although she has to manage her time to ensure that music does not interfere with her studies, she believes that college made her a better artist. Then again, NYU is not for the fainthearted and Laura admitted that before going there for her further studies, she used to sit at the back of the classroom and was a bad student. After getting the opportunity to make history in her family by being the first to go to a college in the USA, she realized how important it was for her to get serious.
8. She loves acting too
Just like her role models Jennifer Lopez, Beyoncé and Shakira who are not only musicians but have acted in a few movies as well, Laura admitted that she loves acting. However, the thrill she gets on set is not the same as when she is singing, which she cites as magic on another level. Her acting abilities were revealed through the Snapchat series "Endless" where she was cast in the third season. The singer had watched the first season and loved it thus was excited to meet the cast. She got to learn that Summer was a sweet girl while Dylan is knowledgeable about music. Unfortunately, fans were angry at her although the series is scripted. Laura remarked that if at all, they believed whatever was happening was real, then she must have been doing an excellent job at convincing them.
9. Her advice to upcoming artists
If anyone had told Laura that she would be in Los Angeles making waves in the music industry, she would have laughed it off. However, that is what happened, and she believes that if she had not pressed on her dreams, then she would not have attained them. She consequently advises that for you to become a successful artist, then you must be ready to try and stay true to yourself.
10. Why she believes "All I Need" is a different kind of love song
Laura admits that we have gotten accustomed to toxic love where someone says they cannot eat or sleep when you are away. However, you can still love yourself, and that is the kind of love she meant; that you do not have to be insanely in love with someone else for it to be special.
Tell us what's wrong with this post? How could we improve it? :)
Let us improve this post!