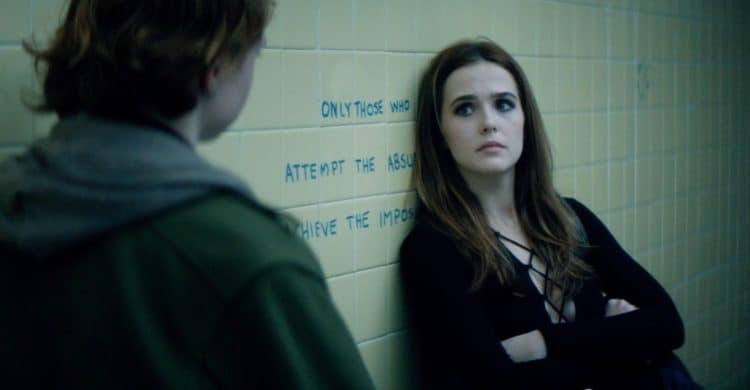 As the new generation of actors is starting to come out it seems wise to start informing people of who they are and what they're all about. Liv Hewson is among that number as she hasn't been on the scene very long but has still been pretty busy trying to make a career and a name for herself. In the acting industry it pays to get your name out there where people can see it and sometimes even make a positive spectacle of yourself so that people know you're for real and are ready to go at any time and with any role that might be offered to you. So far Liv has been doing what she can to make sure that people know about her and are willing to follow what she does throughout her career so as to gain a little more traction on the Hollywood circuit. That's a big part of how it's done, and she's got boots on the ground ready to run.
Here are a few things you might not have known about her.
10. She's been active since 2013.
So quite honestly she hasn't been around that long and can't rightfully call herself a seasoned veteran yet, but considering that she's in the spotlight with other stars that have been there for a while she's holding her own and doing quite well.
9. She was in Before I Fall.
Movies about time loops are becoming quite popular again since they seem to involve a lesson that society is not always getting but needs to remember more often. Being kind and generous to one another is typically the way we move forward, though so many people seem to ignore this fact that it's hard to imagine how society ever keeps moving onward.
8. She's starred primarily in short films.
Everyone's got to start somewhere and in reality even a short film is a good place to start since it does manage to get the actress a lot of practice and a good deal of experience moving forward with their career. Each one is almost like a primer so that she can continue to grow and learn.
7. She's a regular on Santa Clarita Diet.
Zombie films and shows are another trend that have yet to really go out since so many people have found reasons to stick with them and continue to be entertained by them. This particular show is kind of grisly and a little disturbing but it's also comical in a way which takes a lot of the edge off.
6. She has a rather short resume at this point.
Within five years she's still managed to amass a good enough amount of credits to her name that it's fairly impressive and is a good indication that she's moving in the right direction. One could assume that she'll just keep expanding her repertoire as she takes on more roles.
5. She has a modest following on social media.
It almost seems as though the moment that an actor declares that they're coming onto the scene that an account gets opened up and is ready to go as soon as their feet hit the studio floor. That might be a bit of an exaggeration to be honest but it seems closer to an approximation of what could possibly be happening.
4. She was on Marvel's Inhumans.
It's too bad that this show didn't go much of anywhere since the group of heroes that are represented in the comics are pretty awesome. For some reason however the show just failed to inspire anyone and didn't go that far.
3. She's 22 years old.
Liv has a lot of time to create a solid and lasting career and she's already off to a good start since she's proven that she can hang where she's at and still be one of the better actors to come out as of late. The coming years of her career should be interesting.
You probably won't hear this in her speech when she's acting unless she lets go with her normal accent and doesn't have to hide it in any way. But yep, she's from down under like a lot of other actors that have been making their way through Hollywood lately.
1. She watched a lot of American television growing up.
It's kind of like immersing yourself in another culture, you start to pick up the mannerisms and even the speech patterns in a weird way since the exposure starts to change who you are just a bit. While she's still fully-Australian in her accent when she's not acting she can affect an American-English accent just as well as anyone and it's hard to detect anything else unless you listen really closely or watch her in an interview.
She's still kind of on her way up but where she's at as of now is still a great position.