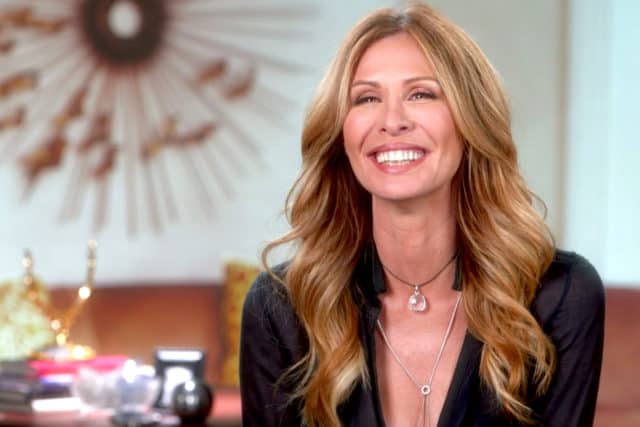 Some RHONYC viewers love Carole Radziwill's dry humor and tendency to dish out backhanded insults disguised as compliments, while others consider her to be a tad on the condescending side. And, there are even a few people who feel like Carole is just too sane to star on The Real Housewives of New York City. Regardless of what you may think about her, you have to admit that there are plenty of memorable quotes that have come out of her mouth. Here are the top 10 Carole Radziwill quotes on RHONYC.
1. "I may be a princess, but I'm definitely not a drama queen."
This gem is Carole's tagline from the first season she appeared on the show, season 5. Technically, she's right. Her husband was Polish prince Anthony Radziwill and you have to admit she's not nearly as dramatic as some of her costars.
2. "I didn't know whether she was dating him or adopting him."
In the season 6 premiere, Carole met Sonja Morgan's new boy toy, "Big Ben." who was a few decades younger than his new girlfriend. Carole just let slip what the other housewives were thinking.
3. "I am like a lion. I sit, I wait, I watch, and then pounce."
According to Carole, this sums up her approach to dating. Like a lion, she sits, waits, and observes her surroundings. Finally, when she is hungry enough and someone catches her attention, she pounces.
4. "I was awoken in the middle of the night by two male voices. One was LuAnn's…"
Who can forget when the housewives decided to take a trip to St. Barts in season 5? There was plenty of opportunities for scandals and drama. One incident just happened to be Luann de Lesseps alleged hookup with a Johnny Depp look-alike. Carole not only helped fuel the gossip, but managed to elude to LuAnn's manliness with this quote.
5. "If you're going to talk about me behind my back, at least check out my great a**."
When season 6 rolled around, Carole was well aware that the other housewives were talking about her behind her back. After all, it's what they do. That's why she changed her tagline to this quote.
6. "All play and no work makes me a happy girl."
When season 7 premiered, the ladies once again changed their taglines to reflect who they are. For Carole, real happiness is plenty of time to play and no worries about work.
7. "You're totally my type looks-wise, but body-wise, not so much."
This statement was directed toward Bethenny Frankel. Apparently, Carole's okay with Bethenny's face, but the Skinnygirl Cocktails founder's body leaves something to be desired. That being said, the duo are still close friends.
8. "I read somewhere on the internet that I have $50 million, and I think what they meant was 50 million pesos."
It looks like references to Carol Radziwill's net worth are grossly exaggerated, at least according to this classic quote. She may not be worth quite this much, but you can rest assured she has some money in the bank. In addition to appearing on the show, she's a published author and she is sure to have inherited money after her husband's death in 1999 from cancer.
9. "Who goes to two brunches? I don't even like to go to one brunch."
During season 7, this was Carole's dry response when the other housewives were struggling to decide who brunch invitation they should accept. Once again, she was probably just saying what all the other housewives were thinking.
10. "The night was ordinary. It usually is, I think, when your life changes. Most people aren't doing anything special when the carefully placed pieces of their life break apart."
Carole didn't say this on the show, but she did make this profound statement in her book, What Remains: A Memoir of Fate, Friendship, and Love. This comment made reference to the death of JFK Jr. and his wife, Carolyn Bessette, who just happened to be her closest friend. Three weeks later, Carole's husband lost his battle with cancer.