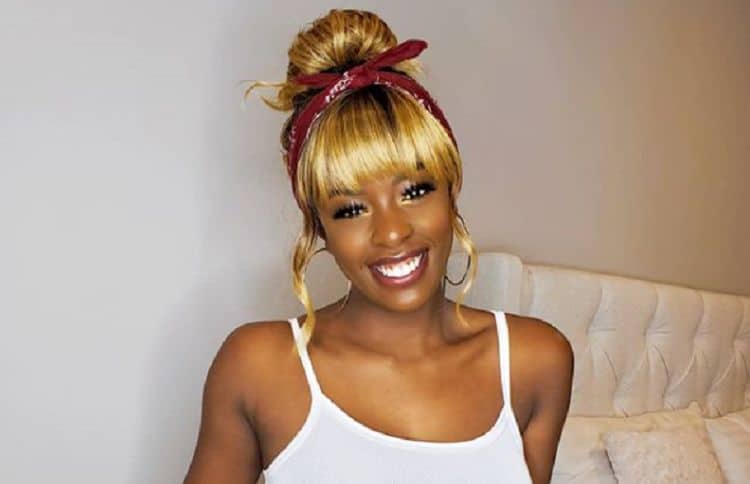 Money and love are two things almost everyone would agree that they want. Thanks to Love Island USA, Justine Ndiba is in the running to get both. The show brings a group of strangers to a beautiful island for the chance to find a romantic match and go home with a nice cash prize. Although there are some contestants who seem to have joined the cast simply for some air time, Justine seems to really be interested in finding love. She joined the show for the second season and so far, things are going well for her on the island. She's met a potential boo and viewers are excited to see where things go for them. Continue reading for 10 things you didn't know about Justine Ndiba.
1. She's A Soccer Player
Justine may look like a 'girly girl', but that doesn't mean that she isn't also an athlete and a fierce competitor. She grew up playing soccer and continued to play all through college. While her days of competitive sports may be over, Justine still likes to get on the field and play for fun.
2. She Loves Wearing Heels
Justine loves to wear heels so height is one of the things she looks for in a man. She says, " I spend 80-percent of my time in heels. I love wearing them because they make me feel confident, sexy, and I just love how they look. " Fortunately, the guy she's connected with the most so far during her time on the island is very tall.
3. She Studied Finance
Education has always been an important part of Justine's life. After finishing high school, she attended County College of Morris where she earned an associates degree in in business administration and management. After that, she attended Bloomfield College where she earned a bachelor's degree in finance. She currently works in the finance space as a billing coordinator.
4. She Survived The Rwandan Genocide
Life hasn't always been easy for Justine. She was born in the Democratic Republic of Congo which went through a period of violence and unrest during the 90s. Justine and her family survived the horrors of the Rwandan Genocide and relocated to the United States in 2001. Prior to moving to the U.S. Justine also lived in Kenya.
5. She Loves The Beach
If Justine doesn't do anything else, she's going to put on a bikini and find a beach to relax on. She loves hanging out by the water and enjoys visiting tropical destinations where she can show off her summer body and have a good time. She has gone to beaches in places like Miami and Mexico.
6. She Enjoys Dancing
Dancing has always been one of Justine's favorite ways to express herself. When she was younger, she and her sister even started a group called The Ndiba Divas. Even though the group is a thing of the past, these days, Justine works at as a part time go go dancer at a local club.
7. Her Faith Is Important To Her
Justine comes from a very religious family. She has continued to remain close to her faith as an adult and she isn't afraid to let that be known. Not only is her relationship with God important to her, but she wants to be with a partner who also shares the same religious beliefs.
8. She's A Big Love Island Fan
Although Love Island is a relatively new show in the United States, the series has actually been around for a while. It originally debuted in the UK 2005 and was canceled after two seasons. It was revived in the UK in 2015 and has been airing there ever since. Over that time, the series has gotten fans from all over the world and Justine is one of them. She loves the show so being cast was extra special for her.
9. She Comes From A Close Knit Family
Having good relationships with her family is one of Justine's top priorities. She comes from a very tight family and she two siblings. She hopes that anyone she brings home to meet her parents can be respectful and make a good impression. In case you were wondering, Justine's parents don't know about her go go dancing side hustle.
10. She's Bilingual
No matter what kind of person you are or what you do for work, being able to speak two languages is definitely an important skill to have. Fortunately for Justine, it's something that she can check off her list. According to her LinkedIn profile, she speaks both English and Swahili.
Tell us what's wrong with this post? How could we improve it? :)
Let us improve this post!