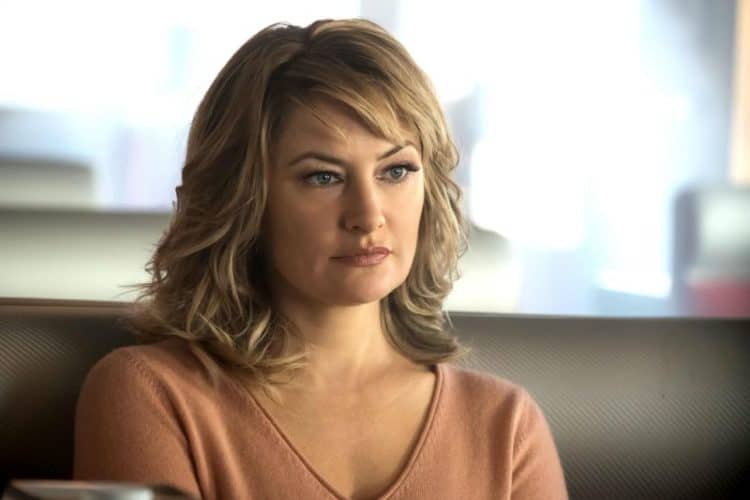 Madchen Amick is an actress and former model who was born in Sparks, Nevada, on December 12, 1970. She began her career in 1988 and is probably best known for playing Shelly Johnson in 'Twin Peaks', its prequel film, and the revival television series. Amick is also known for her television roles in 'Freddie', 'Witches of East End', and 'Central Park West'. In films, she has had starring roles in films including 'Dream Lover' and 'Sleepwalkers'. Currently, Madchen is playing the role of Alice Cooper in 'Riverdale'. Although she is relatively well-known, there are many facts that people do not know about this actress. Here are 10 things that you probably didn't know about Madchen Amick.
1. She Dropped Out of High School
Madchen Amick did not complete her high school education as she dropped out at the age of just 16. This was because she wanted to move to Los Angeles to achieve her dreams of becoming a model and an actress. Her parents backed her decision and allowed her to follow her heart. Although dropping out of school is usually a bad decision, it has worked out well for Amick as she is now successful in her chosen career.
2. Amick is a Talented Musician
Although she is best known for her talents as an actress, Madchen Amick is also a talented musician, says Wet Paint. When she was growing up, she learned to play the piano, violin, and bass. She also has family links to music as her husband is a songwriter, and both her daughter and her stepfather are musicians. Amick also took dancing lessons as a child, including ballet, jazz, and tap.
3. She Has European Roots
According to IMDB, Madchen Amick has European roots. She is half German, a quarter Swedish, and a quarter Norwegian. Her first name reflects her European heritage, as 'Madchen' is the German word for girl. Even though Amick and her parents are American born and bred, her parents wanted an unusual name and that reflected her heritage.
4. She Was Included in Two Separate 'Femme Fatales' Lists
On two separate occasions, Madchen Amick has made it onto one of the top 50 lists in the 'Femme Fatales' magazine. Back in 1996, she was chosen as one of the 50 sexiest sci-fi actresses. She was then in the 2006 Femme Fatales list of the 50 sexiest women on the planet. This is hardly surprising as she is a stunning woman who has previously worked as a model.
5. She is Best Friends with Sarah Michelle Geller
Madchen Amick's best friend is fellow actress Sarah Michelle Geller, says Best of Comic Books. Surprisingly, they did not meet while working together as many other actresses as the pair have never co-starred in a television series or film. They met when Amick co-starred alongside Gellar's husband Freddie Prinze Jr. in the ABC comedy series 'Freddie'.
6. Amick is Married with Children
Madchen Amick has been married to songwriter David Alexis since December 1992. The couple has two children together. Their son, Sylvester Time, was born in July 1992, before Amick and Alexis got married. He was followed by their daughter, Mina Tobias, who was born in September 1993. Mina is a musician who has released a single called 'Freedom' under the name Tobias. She has also filmed a music video that pays homage to Twin Peaks, the series in which her mother starred.
7. She Credits David Lynch with Her Acting Talent
Amick has said that she credits director David Lynch for her acting ability and for the success she has enjoyed in her career. She first met Lynch when he was directing 'Twin Peaks'. The pair were then reunited when Amick resumed her role as Shelly Johnson in the prequel film 'Twin Peaks: Fire Walk with Me' and in the revival series of 'Twin Peaks' in 2017. She has said that she has earned a lot from this director and that he helped her to develop as an actress.
8. A Date Coincidence Connects Three of Her Roles
There is an unusual date coincidence that connects three of the television series in which Madchen Amick. This coincidence is that the first episodes in which she appeared in three of her series were all aired on April 21, 2005. These were 'ER', 'Joey', and 'Jake in Progress'. 2005 had been a busy year for Madchen Amick as she also appeared in the series 'Freddie', a television film called 'Lies and Deception', and the film 'Four Corners of Suburbia'.
9. Mental Health Issues is a Subject Close to Her Heart
A topic that is close to Madchen Amick's heart is mental health issues. In an interview with Black Book, she revealed that her son had been diagnosed with bipolar disorder and that the family had struggled to find the resources to support him. This inspired her to produce a docuseries about mental health in America. She hopes that the docuseries will reach out to people who are going through the same thing.
10. She Struggles with Fame
Although Madchen Amick always wanted to become an actress, she never really wanted to become famous. While she accepted that fame came with the job, it always made her feel a little weird being in the public eye and having people interested in her life. For this reason, she has tried to avoid it whenever possible. When her children were younger, Amick and her husband decided to keep their children out of the limelight. They moved away from Los Angeles to give them some normality in their limelight. Now that her children are adults, the family has returned to Los Angeles, and she has begun to include them in some aspects of her career as she does not feel the same need to protect them from the media.