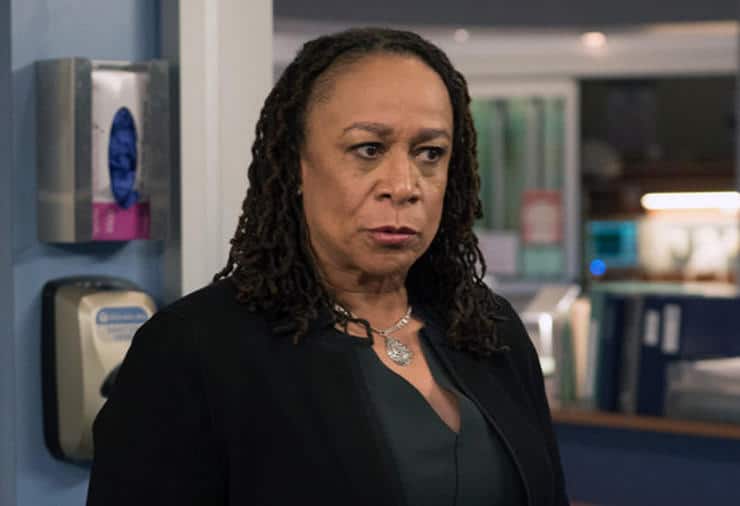 The United States film industry is the oldest entertainment sector in the world as it started over 120 years ago. A report by Tufilamu Pictures disclosed that the U.S film industry generated an estimated $10.2 billion in revenues in 2017, making it the most profitable film industry on the planet. Such a developed industry is bound to have exemplary actors, and one of them is S. Epatha Merkerson. She is a 66-year-old film, television, and stage actress who has been acting for more than three decades and has appeared in lots of movies and TV shows.
1. Her background
She was born on November 28th, 1952, in Saginaw, Michigan. Sharon was brought up by a single mother after her parent's separation when she was five years. The actress who has five siblings grew up in a Detroit neighborhood and attended Cooley High School, where she graduated in 1970. She then joined Eastern Michigan University to study dance but transferred to Indiana University Bloomington. She later moved to Wayne State University, where she graduated in 1976 with a Bachelor of Fine Arts.
2. Her acting debut
After completing her college, Epatha moved to Albany, New York, where she joined a children's theater company in 1978. She then went to New York City, where she landed her first significant acting role in the 1986 CBS show, "Pee-Wee's Playhouse." The series followed its host Herman as he headed to play in a marvelous Playhouse filled by children's gadgets, toys, and talking appliances. Epatha played Reba, the Mail Lady, a mail transporter who was always misunderstanding the rules of the Playhouse. The show became a huge success and went on to produce its spin-off movie that became a massive success in the box office.
3. Her notable acting projects
In her 30 plus years acting career, Epatha has featured in some of the world's biggest movies and TV shows. She is known by many for casting in NBC's play, "Law & Order" for more than 15 years, making her the longest-serving cast of the series. She joined its cast in 1993 during its fourth season and played Lieutenant Anita Van Buren, a character tasked with running police and legal procedures. In 1994, she co-starred in the movie "A Place for Annie," where she played a social worker known as Alice Blakely. The film was about creating awareness on HIV stigmatization and was received positively by critics who termed it as "touching drama." Other high-selling movies she has featured in include "A Mother's Prayer" in 1995, "Breaking Through" in 1996, and "Lackawanna Blues" in 2005.
4. Her Awards
She is one of the most outstanding U.S actresses, and numerous acting events have recognized her work as she boasts of over fifteen nominations and awards. In 2006, she won an Emmy Award for Outstanding Lead Actress in a mini-TV show and for playing Rachael Crosby in the film "Lackawanna Blues." Golden Globe and Screen Actors Guild also recognized her as the Best 2006 Actress for her effort in the movie. In 2010 and 2011, Epatha was honored by the National Association Advancement of Colored People (NAACP) Awards for Best Supporting Actress in "Law & Order." Other awards include Obie Awards for her role in "I'm Not Stupid," and a Prism Awards Performance for "Lackawanna Blues."
5. Her philanthropic work
According to Medscape, lung cancer is the most common disease that people are diagnosed with globally. It accounts for 11% of worldwide cancer cases. Epatha was one of the many smokers globally who are at risk of contracting the killer disease before she decided to quit smoking. In 1995, her closest friend was diagnosed with the disease and died ten days later. In an interview, Epatha remembered how she went to the hospital to pick the clothes of her deceased friend. She found the last cigarette in the pocket, an image she said she has never forgotten. It took a while after that incident for her to quit smoking, but she eventually did on February 4th, 1996, and has since dedicated herself to fighting the habit. Sharon now uses her platform as an actress to spread the word about how she lost people she loves to lung cancer, hoping to create awareness on the effects of smoking.
6. She has worked as a TV host
Over 30% of missing person cases in the U.S involve African Americans, and that is what prompted Epatha to take the role as the host of the TV One reality show, "Find Our Missing" in 2012. It sheds light on missing black persons in the U.S who do not have the attention of national media houses.
7. She has four Honorary Doctorates
Honorary degrees are awarded by some institutions in the U.S for the recipient's contributions to society and do not consider education qualifications. In 2009, Wayne State University granted her an Honorary Doctor of Humane Letters for her contribution to society as a black actress. She went on to receive similar distinctions in 2012 from the University of Maryland Eastern Shore and the Montclair State University in 2013. In 2017, the University of Pittsburgh honored her with yet another honorary degree in the same merit.
8. Her legal battles
On December 26th, 2008, Gersh Agency sued Epatha for withholding their commission. According to TMZ, the talent firm filed a petition alleging she owned them a 10% commission from her "Law & Order" earnings. The court discarded the agency's appeal because the agreement was entirely oral, and no paperwork was involved. In 2012, she sued the Washington Heights Building for allegedly failing to repair the leaking roof of an apartment they sold her as the building's management had promised. In the petition, the actress was seeking to compel the company to mend the flat and repay her $2 million in damages caused by the leaking.
9. Her net worth
Throughout her long-spanning career, Epatha has amassed a significant amount of wealth and is reportedly worth $9 million. She has earned most of her fortune from acting and a considerable amount from various investments.
10. Her love life
The actress keeps her marital life private, but we are aware she married Toussaint L. Jones in 1994, and the two do not have any children together. Their marriage ended after 12 years in 2006, and since then, she has not been in the dating scene. The actress is currently single and has no children.
Tell us what's wrong with this post? How could we improve it? :)
Let us improve this post!