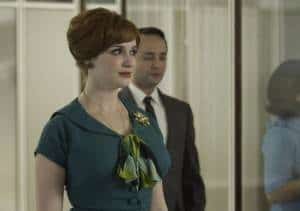 Television can challenge the viewer in a variety of ways and Mad Men uses the advertising backdrop to explore different narratives; whether it is a pitch for a Samsonite suitcase that left Peggy (Elisabeth Moss) and Don (Jon Hamm) emotionally exposed last season or the American Airlines account that would have shown how big the firm and Duck Phillips (Mark Moses) could have been. Each account can reveal something about these characters and the Jaguar campaign is no different and shows just how far some of these characters are willing to go to get the big names on their books.
SCDP is not in the same dire financial position as we saw last season but that doesn't mean that this account isn't vital for the financial stability of the firm; they still don't have a Lucky Strike size client on their books, but this does not justify the events that occurred in "The Other Woman." This is the only way that these four men can take any comfort (not there should be any) in allowing this to proceed, though Pete (Vincent Kartheiser) really does seem to be one who has the least qualms about organizing the whole thing. Ken is horrified at the dinner that leads to Herb (Gary Basaraba) asking for one night with Joan (Christina Hendricks) but has no power to stop or control the situation. Don is even more against the whole thing and visits Joan at home to tell her that the business isn't worth this much. The intercutting between Don's Jaguar pitch that focuses on desire with the Joan and Herb scenes makes you feel suitably horrified about this indiscretion and is even more heartbreaking when it is revealed that Don got to Joan's apartment too late and that she has already gone through with it.
Don is unaware that there has been any kind of vote between the partners about using Joan and is suitably disgusted at Pete when he finds out; could this be because his mother was a prostitute or is it because Don is "one of the good ones?" We have certainly seen Don committing what could be called immoral acts in the past but this season Don has been rather virtuous comparably speaking. There is an intimacy between Joan and Don that does sizzle with sexual chemistry but goes much further than that and is a relationship of respect and this is another reason why the Jaguar business is not worth this personal sacrifice.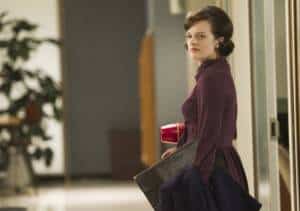 While the Jaguar story is the central focus of "The Other Woman" another momentous decision is made by Peggy (Elisabeth Moss) who thanks to her gender is not part of the Jaguar pitch and is in charge of all the other accounts. This new list of responsibilities is limited though as is her place at SCDP thanks to how Don (Jon Hamm) treats her on a day to day basis. In a new low Don throws money in Peggy's face (that really is not what the money is for). A few seasons ago Peggy might have just taken this and carried on regardless, but now she does something about it. With some help from Freddy Rumsen (Joel Murray) Peggy gets the confidence boost she needs to approach other firms and thanks to her talent she is snapped up pretty fast by rival Ted Chaough (Kevin Rahm).
Don doesn't understand that Peggy is really quitting at first and his goofy grin soon disappears when he does, he thinks he can get Peggy to stay with more money but if the season 3 finale and "The Suitcase" have shown us this is about so much more than that. In a moment like this Don can show Peggy the respect she desires and deserves, but this is something he forgets in the long run. This scene between Don and Peggy coupled with the money throwing felt like a mini version of "The Suitcase" that could only end with Peggy leaving. Peggy has always felt part of the agency but on the outside on many occasions and the juxtaposition of the Jaguar success party and Peggy's solitary walk to the elevator embodies this. I have no idea what will happen with Peggy now and how she will fit into the story and while I was yelling no at the screen while she was leaving it is a brave move by this character and for this character. The gender problem will still exist at her new firm but there won't be the Don Draper issue there for her.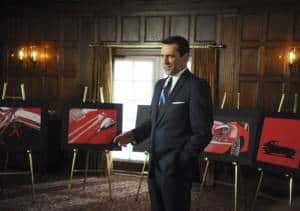 Talent wise SCDP might be relatively fine without Peggy but they have definitely lost her 'transparent eyeball.' Ginsberg (Ben Feldman) is showing his value with coming up with the Jaguar campaign line and he seems to do his best work when he is told to forget about a certain strategy and he manages to twist that on its head. Ginsberg also doesn't seem to get distracted by the same things as the rest of the males in the office and instead of watching Megan's (Jessica Paré) friend writhing around on the table provocatively he instead ponders Megan's ability to come and go as she pleases.
In this world of the SCDP office Megan is confident and in control of what she does but when it comes to auditions she is anything but and she once again does not win the part. There is still conflict between Megan and Don when it comes to her new career path and he is still asking for her opinion and help with campaigns and this seems like a way to entice her back to her old job. Megan is still showing interest though and stops short from talking about her acting prospects, this could of course be a method to stop their arguing. Megan does reinforce the idea that she wants nothing but success for Don but she believes that he doesn't want the same for her, Don disagrees telling her that "You know I don't want you to fail" but is this a question or a statement? All is not perfect in the Draper household but it hasn't been since the start of the season even if they are projected as the ideal couple to their colleagues. If Megan does get a role that takes her away from New York this could be the nudge that Don needs to take him into old territory and this might be why he is so against this venture.
Other Observations
-While Pete is discussing the Joan indecent proposal with the partners you can see the photo of Trudy (Alison Brie) in the background, showing that while Pete is a family man with a wife at home he is more than capable of deplorable acts. Pete also suggests to Trudy that he gets an apartment in the city for 'business,' Trudy believes it is because he misses the city but is Pete becoming his train pal Howard? Pete complains that Trudy is dressed for bed by dinner and that getting home is like 'an epic poem' and it sounds like he is the man they are trying to advertise to who desires something he doesn't have. Pete's behaviour this season has stooped to new levels and he is becoming harder to defend with each passing episode.
-It was surprising that we didn't get a scene where Roger (Roger Slattery) attempting to stop Joan even though he did utter his displeasure in the partners meeting. It is also telling that while Joan refuses Roger's money for Kevin she takes this option instead. This named partnership gives the illusion of independence but the original source is anything but. This is some "very dirty business."
-Whenever anyone mentions Peggy's desire to have children or not it always feels like a kick to the gut because we know what she has had to give up.
-A handshake refused as Pete offers his hand to Joan and one that turns into an awkward but emotionally honest kiss on the hand between Don and Peggy.
-I have referenced "The Suitcase" several times but it is also reminiscent of the season 4 episode "The Beautiful Girls" which also explored the women of Mad Men and their roles in the office and in society.
-The look on Joan's face as her dress is unzipped reminded me of her expression when Greg (Sam Page) raped her in Don's office and it broke my heart all over again. Joan's sexuality is something she uses in a confident manner and in both these scenarios it has been exploited and twisted into a horrifying act against her. Joan is the kind of character who will strive past this but Pete Campbell is another guy who needs a vase broken over his head.
-When the call came to say whether they had got the account it stirred up nerves and while it is great that they were successful there is definitely a bitter taste over how they did it and we will never know whether their pitch alone would be enough.
-Each time the bonuses get mentioned and then denied Lane (Jared Harris) gets closer to being discovered for his fraudulent act last week. He is safe for now but this can't remain that way for long.
A truly excellent episode of Mad Men and one that is emotionally draining; with just two more episodes left to go this season there is probably more of that to come. Matthew Weiner doesn't seem afraid to banish characters for a few episodes or seasons even (see Sal) but with someone like Peggy it is hard to imagine that this is her final goodbye. When Joan left Sterling Cooper her appearances were limited but hopefully they will find a way to keep Peggy around as her point of view has been incredibly important to the narrative of Mad Men.
What did you think of "The Other Woman?" Was Joan right to go through with it? Is the Jaguar account forever tainted? Will Peggy return to SCDP? Let us know your thoughts in the comments below.