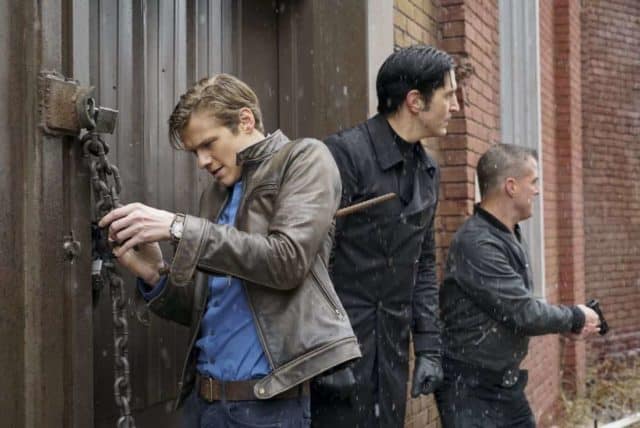 It's the showdown we've been waiting for since the MacGyver reboot was first announced. The original Murdoc, Michael Des Barres, guest stars as a cold killer with a dark agenda. How is that different from his role on the original MacGyver? Because this time he is Murdoc's sadistic, vengeful mentor. Des Barres carries himself with charisma and focus, but his alter ego this time around has a very specific axe to grind. It's Murdoc vs. Murdoc, and only one is left standing. But does the 'how' of it all rise to expectations, or fall flat?
Riley is feeling very optimistic about life, so much so that she wants to play matchmaker between her mom and Jack again. All of that goes out the window when former school teacher/hired assassin Fletcher shows up on MacGyver's doorstep, just as mom is there to witness it all. That makes for an interesting conversation about Riley's true profession later.
Recall that Murdoc scooped up Fletcher from Phoenix's grasp for unknown purposes. This was before he came back to town for the sole purpose of shooting Cage. Murdoc added Fletcher to his makeshift group of baddies, dubbed "The Collective". Murdoc's team then turned on him, and was willing to turn over their former boss in exchange for $10 million. The whole situation makes Jack itchy, but everyone wants the big fish.
The exchange itself goes off without too much damage, save for the escape helicopter blowing up. What's worse than your minions turning on you? How about your mentor? Nicholas Helman (Des Barres) comes onto the scene to kill his protégée. Considering the man is also hunting Mac and Jack, Mac is inclined to agree with Murdoc's plan, however begrudgingly. Going on the run from Helman together seems the best option. Helman may be a stone-cold killer, but Murdoc is a sad, sick animal. To be fair, he didn't mean to kill Helman's wife. That doesn't mean he regretted it much. The only thing he regretted was that his missed shot put him on Helman's kill list. In the midst of all the mayhem Murdoc has been dishing out, there's a reason he's been so sporadic in his movements. It wasn't just to keep MacGyver on his toes. The more he moved, the less chance there was of Helman finding him.
While Jack, Mac, and Murdoc run for their lives, Mattie is left to explain the Phoenix Foundation to Riley's mom Diane. All things considered, Diane takes the news that her daughter is a spy rather well. She definitely could have been more angry with Jack for bringing Riley in. But Diane's known Jack long enough to know he would protect Riley from any danger, so maybe Riley's hope for a reunited family can come true.
Murdoc, Jack, and Mac's time on the run is high-strung, and ends in Murdoc shutting his mentor down for good. He even saves Mac's life in the process, albeit by putting a bullet through Mac to get to Helman. It's all very anticlimactic, and truth be told, a little bit of a let down for Des Barres's character. Whether it be because of Des Barres's availability, or too broad an episode which could have had more focus on Helman and Murdoc's bond, the callback to the original Murdoc fell a little flat.
What this does do is up the anti on our current Murdoc's story. By saving MacGyver's life, Murdoc ensured himself a favor: the chance to see his son. We all know Murdoc can't be trusted out of handcuffs, but a lot of people like to take their chances. Because there's no way a deranged killer would murder a federal agent with his son in the room, right? And there's no way he would kidnap his son for a vacation that doubles as a killing spree, right?
Did Murdoc vs. Murdoc miss a golden opportunity?
Tell us what's wrong with this post? How could we improve it? :)
Let us improve this post!