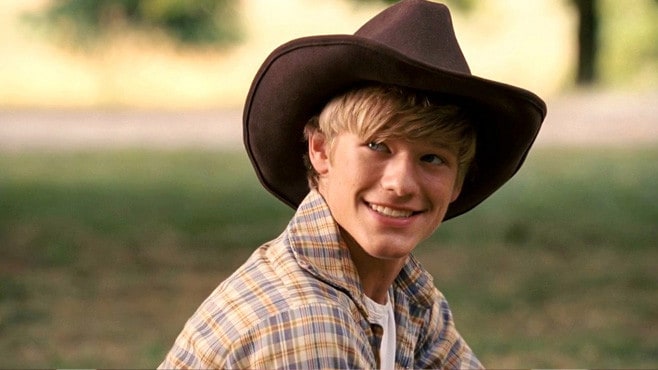 There are actors you look at and wonder where you know them from and Lucas Till is one of those for a lot of people since he does have that customary look that says he's been in a few productions that people might recognize, but it might take just a second to place him. He's one of the few people that has made the successful transition from child and then teen star to active adult star without as many bumps along the road as people might expect. In fact he's been keeping people entertained and satisfied with his characters for a while now, reaching towards his second decade in the business since he started back in 2003. There are moments when his silence in movies tends to make people think that he's not quite as talented, but usually those silent moments are there simply because that's how the script works, since he's all in when it's his turn to step up.
Here are a few things you might not have known about Lucas.
10. Admittedly there are a few actors he would like to work with.
A lot of actors tend to want to work with others due to their skill, experience, and just because they've been fans for a long time, and Lucas is no different. He envisions working with people such as Brad Pitt, Matt Damon, Al Pacino, and a few others. It's all a matter of what movie and how things are set up to be honest.
9. He admits to being a gamer.
There's nothing wrong with being a gamer unless you take it to the kind of extremes that eventually star messing with your life in ways that are harmful and possibly make you a shut-in. A lot of gamers still have active and productive lives while allowing them to enjoy their pastime and/or hobby.
8. It sounds like he was kind of a dork in middle school, by his words.
A lot of us were kind of awkward in middle school, even those that were supposedly cool, hip, and had it all going for them. The point of middle school is that you're just starting to figure out who you want to be and what kind of person you want everyone to think you are. Honestly, few, if any, students have it all figured out when they're in middle school and we were all dorks in some way.
7. He learned Brazilian Jiu Jitsu while in high school.
It's a wonder if he took anything away from it or just got out of the habit once he graduated. Acting seems to have taken over his life in a big way which is fine and all, but the skills he learned might have come in handy for a few different roles had he continued it. Maybe he still knows a few things, as four years is enough time to retain quite a bit.
6. Lucas spent three weeks in Germany as an exchange student.
Three weeks might not sound like a lot and really it isn't, but when you're in a foreign land and don't know much of anything or anyone it can be an interesting experience so long as you're open to it and take the time to learn about the surroundings and the people. That's a big part of what being an exchange student is after all.
5. He's pretty active on social media.
Lucas has quite a few followers on his Instagram account alone and it's funny to see that he even has the character Havok as his profile picture, as obviously this became his character in the X-Men movies up until Age of Apocalypse when his character unfortunately died.
4. His acting talent was noticed by his parents early on.
Lucas was ten years old when his mother enrolled him in acting classes and he was noticed by someone that helped his career along by the time he was eleven. His ability only grew from that point on and it's kind of surprising that he hasn't gone a bit further yet, but there's still plenty of time.
3. His X-Men character Havok/Alex Summers is actually younger than Cyclops/Scott Summers in the comics.
At this point you almost expect the comics to be switched around a bit when they make the jump to the big screen since in the comics Alex is the younger brother of Scott, and the older brother of a character that hasn't been introduced, Vulcan.
2. He was in the Hannah Montana movie.
It seems as though he was the love interest in this movie, though once he was done filming he went right back to school, which is great to hear since he would then finish and then go on to an acting career.
1. If you don't remember he played Jack Cash in Walk the Line.
It might be hard to recall since his hair was dyed brown for this role, but he did play Jack Cash, Johnny's older brother who died at a young age.
He's got talent, now he just needs more opportunity to show what he can do.